PARIS Spring Summer 2018 Collection Reviews PART 1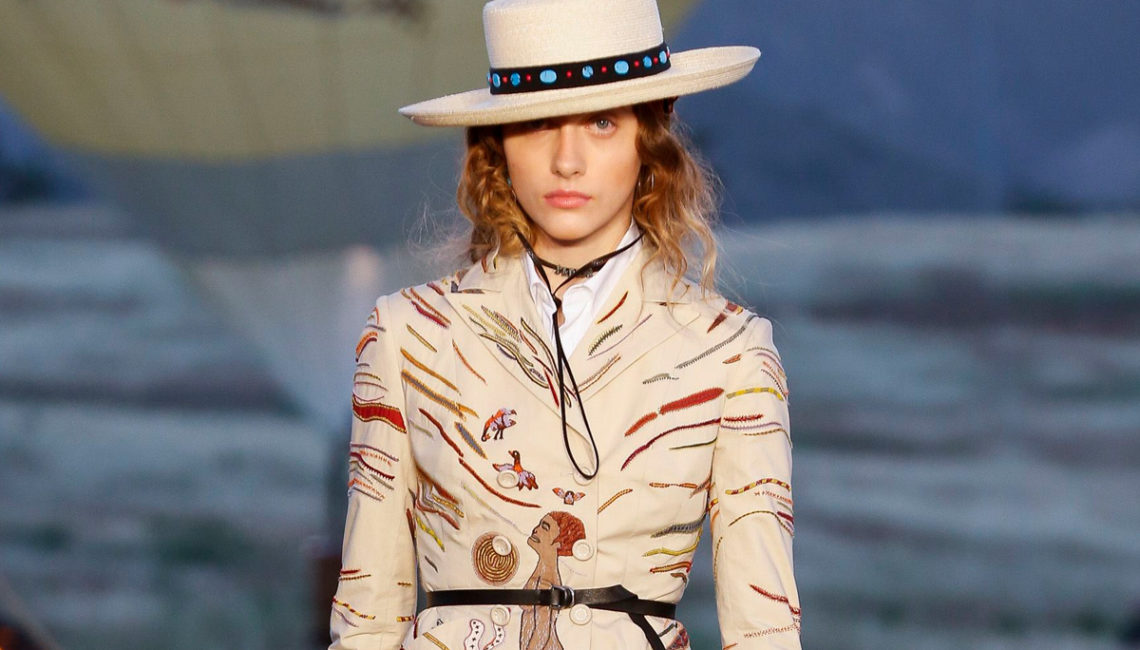 When it comes to fashion and style, the French have a certain "je ne sais quoi."  It comes from an innate ability to balance chic and effortless so perfectly.  Fashion here is a bit more timeless with a focus on tailoring to accent the body.  There is an appreciation for femininity and for the finer details that define luxury.  Parisian women dress for themselves, and they aren't afraid to spend the time and the money to look their best.  As we kick off the Paris SpringSummer 2018 collections, this approach to fashion hints at an exciting week ahead!
Paris Spring Summer 2018 Kickoff
"I am woman, hear me roar" was the mantra beating through our head upon reviewing dior. Under the stewardship of Maria Grazia Chiuri, the brand that was synonymous with Audrey Hepburn and Jackie O is now presenting styles for girls too young to even know who these women were, let alone what Dior looked like on them.  Is this a problem? Not for us. This collection was bold and fresh with lots of denim, short shorts with breakaway skirts, curly lamb coats, goat hair toppers, statement handbags and flat booties. This is exactly the kind of fashion that appeals to the millennial appetite and this collection should easily satisfy their cravings.
The Koché spring/summer 2018 collection was like a grouping of walking billboards as designer Christelle Kocher played up on her many commercial partnerships.  Ms. Kocher designed uniforms for a local Paris football team and their logo appeared in the collection.  So, too did the logo for sponsor Emirates Airlines.  And then there were the reworked sports jerseys with the Nike "Swoosh. " Pairing these pieces with ball gown skirts and lingerie slip dresses, Kocher showed another one of her historical partnerships – that's the one with her couture roots. It might be best for her to circle back there next season minus the name dropping logos.
Saint Laurent's spring/summer 2018 RTW show was exactly what we've come to expect from creative director, Anthony Vaccarello. This kind of fashion is in-your-face, hopped up on catnip kind of erotic chic. There was lots of leather, dark colors, short skirts and shorts.  Touches of feathers and architectural shapes gave the collection the bold drama that is part of the more recent Saint Laurent DNA.  The sense of cool was confirmed by the shiny, sleek and sexy looks.   In the world of Anthony Vaccarello  more is more, and we respect that. The slouch boot continues to play a role for Saint Laurent but this season it included an over the knee marabou feather boot. Yep, more is definitely more and we'll have seconds!
There's no sense trying to understand the fashion that is Y/Project. Creative genius Glenn Martens takes practicality and chucks it out the window. His spring/summer 2018 RTW collection was a demonstration in fabric contortion. Cut out crotch lines and nipple jewelry were just a few of the alternative fashion looks Martens put out there.  Still, among the ruffles and sheer fabrics, the floral embellishments and pearl beading and some pretty, elegant draping there was a soft, feminine appeal.  This is the kind of fashion that requires close examination, patience, and reverence for originality, but it reminds us of what fashion can be.  Well done!
With a relaxed sensibility and casual confidence, the Loewe spring/summer 2018 RTW collection eased its way down the runway. Lead creative director Jonathan Anderson used muted pastel color tones, light weight linens, and chestnut leather trims. These were approachable, wearable pieces. Largely made up of maxi dresses and palazzo pants, there was a modesty we haven't seen much in Paris lately.
If Alessandro Dell'Acqua for Rochas ss2018 RTW didn't have you at "duchess satin", certainly he captured your heart with color. Rich, elegant, and top drawer would be only a few of the ways to describe what sauntered down the runway. Voluminous blouses and skirts only served to enhance the already elegant feel to the collection. And for a house known for their shoes, there was plenty to drool over. Satin slippers and heels in royal blue, teal, and violet were just the right finishing touch.
Richard René is the current creative force behind the iconic house of Guy Laroche and knowing that René has cut his teeth at Hermès, Jean Paul Gaultier, and Vilebrequin we have some pretty high expectations for the label.  For spring/summer 2018 he did A LOT with a little. A self-described "radical minimalist," his 19 looks were clean and modern with knife edge cuts. Black and white was the predominant color palette as might be expected from a minimalist. While we loved the looks, they really could have used the rich texture of a bit of fur to add to the luxury dimension.  Maybe next time! Hint, hint.
Related articles