CRUISE 2018 COLLECTIONS REVIEW PART 1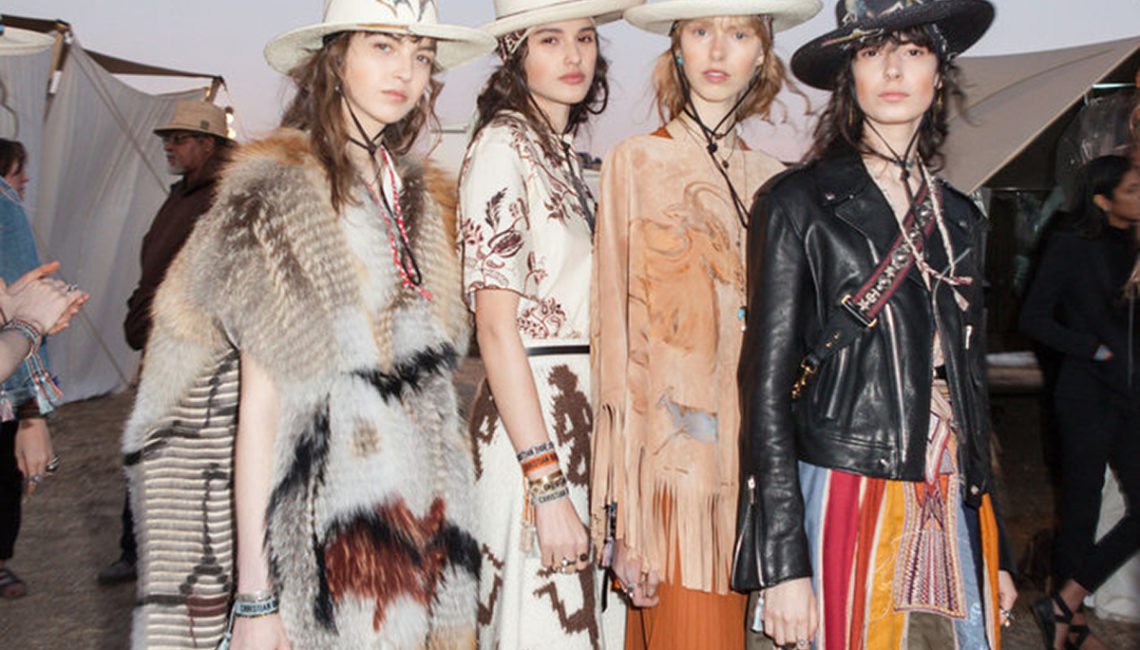 We've officially set sail for the Cruise 2018, or Resort 2018, collections!  Open your mind to exotic destination backdrops and relaxed luxuriously supple fabrications for the uber rich who take lounging and play very seriously.
Cruise 2018 / Resort 2018 : A Rose By Any Other Name
There were 82 looks in Maria Grazia Chiuri's  Cruise 2018 collection, her first cruise collection for Dior.  And what a showcase of luxury fashion it was!  While you may be inclined to think that makes for an unbearably long and bewildering show, every one of these looks had merit in its own right and told an important part of her story.
Against the backdrop of the Santa Monica Mountains in Calabasas,CA (another reflection of LA's growing prominence on the fashion scene) Ms. Chiuri paraded  a broad range of silhouettes  in  bold animal print motifs, Navajo stripes and plaids and lots of fringe reflecting  California's historical and cultural influences.   In the hands of another, things could have appeared a bit costumey, but Ms. Chiuri's handcrafted details and artisanal touches demanded attention and showcased  Dior's luxury fashion attitude.   Fur, shearling, leather and feathers were on the menu, but there was a lighter side, too, with diaphanous dresses, tulle skirts, lace and even denim.  Rich, colorful brocades came down the runway followed by crisp black and white looks.  A denim maxi-skirt and long jacket  and a fun feather dress both shared a western influence, but told the story in an entirely different way.  A leather moto jacket topped an embroidered tulle skirt.  The unexpected pairings and the mere range of the collection took our breath away.
The elegant kimonos and obis of the Geisha provided inspiration for Nicolas Ghesquière's  Louis Vuitton Cruise 2018 collection but so did the bolder, more hard-edged references of the Kabuki theater and the Samurai.  It was an exciting and beautiful mash up of Japanese culture and history.  And where better to introduce his unique sartorial stylings than Kyoto, Japan?
Mr. Ghesquière has established himself as a master of luxury fashion, adapting rich materials and skilled tailoring to create modern looks with an edgy, youthful appeal.  For this collection he played with contrasts,  pairing crisp, oversized shirts with fitted jackets or beautiful sheer beaded dresses with bold metallic leggings.  Dramatic animal prints and almost dizzying techno prints shared the runway with softer prints inspired by delicate Japanese landscape drawings.  Feeling tough?  The warrior-like woven leather vests delivered a powerful message.  But there was playfulness too, as in the oversized silver sequined dress with a cartoon graphic by Kansai Yamamoto.  Fur played a prominent role in the collection too.  The color-blocked patchwork jacket with an unexpected leopard print shoulder treatment shows that statement outerwear is not reserved for fall/winter.  Another fur jacket in contrasting animal prints with crinkled leather trim is sure to turn heads year-round.  Mr.  Ghesquière's brilliant styling aside, this collection was filled with strong separates that are easily adaptable to the wardrobes of today's woman.
More cruising to come…
Related articles