Cruise 2018 Collection Reviews Part 8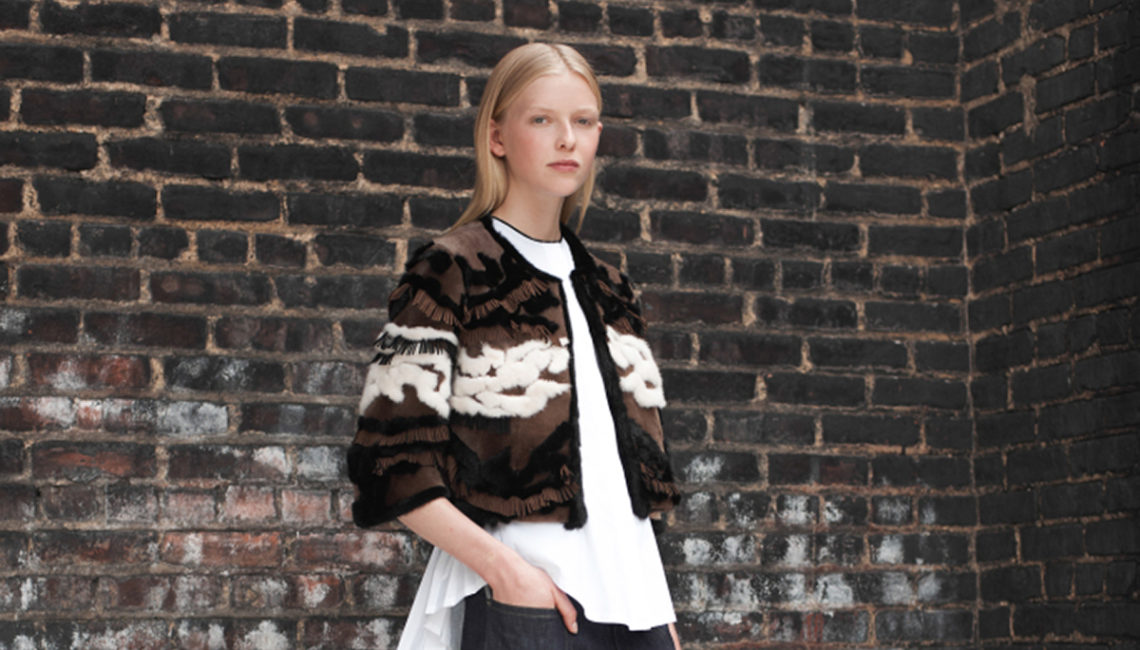 Designers across the board are bringing an added dose of fun to luxury fashion with their Cruise 2018 collections.  And from the looks of it, a little bit of fur seems to be a key accent for the season.  From precious little mink collars that add the perfect ladylike luxe to graphic intarsia mink jackets reflecting the bright energy of the season, designers continue to embrace the creative promise of fur.
Fun With Luxury at the Cruise 2018 Collections
With wide-legged bell bottoms, denims and corduroys, crocheted bags and dresses and retro stripes, Sonia Rykiel took a trip back to the late 1960's for  their Cruise 2018 collection.  Bright pops of color and sweet floral prints set the resort tone.  A Boho feel came in the loose silhouettes and unfinished hems, capped off with the flower necklaces.  Wide-legged pants and culottes were paired with oversized cotton shirts and cropped blazers for Rykiels' ode to modern workwear.  The soft olive velour skirt and top was simple and chic in its own right, but perfect for the kind of accessorizing that the French do so well. The ubiquitous trench coat, a staple of French fashion, had a new spin in a shiny blue patent leather or a white version with a graphic logo pattern.  For the fashionista "in the know", the intarsia white mink stole with the Parisian store address might just be the secret of the season.
Cool and confident describes the Sandy Liang girl. Her style is effortless and chic.  For Cruise 2018, Ms. Liang gives them plenty of easy, casual looks to create their individual style statements.  Ms. Liang appears to have a relaxed sartorial sense, but look closely and you will see the careful tailoring and construction that goes into her clothes.  A cutout here, an unfinished hem there, nothing is random.  She manages to blend soft romantic elements including flounces and tie detail with sexy, bare shoulder looks and even a mannish pajama top to hit all the moods of her client.  Her colorful print of cars is unexpected and fun, exactly the iconoclastic detail her girls will love.  For the strongest tribute to the rebel in her girls Ms. Liang offered a varsity jacket with a bold striped shearling sleeve.  Who wouldn't want to be a Sandy Liang girl?
Yigal Azrouël gives a new edge to sophisticated dressing for Cruise 2018.  Precise tailoring, architectural constructions and artful detailing showcase his impressive sartorial skills.  His clothes are rich and polished, yet sexy and modern.  Plisse pleats, touches of lace and scalloped hems hint at refined, feminine dressing.  But the metallics, sexy cut-outs and studded leather jacket drive a downtown vibe.  A jacket of mink and ruffles is subtle in its artistry and so versatile and wearable that it is sure to be a hallmark of the season.  Mr. Azrouël has given his clients the perfect range of wardrobe building blocks to define their personal style for the season.
Cannes may have been the inspiration for Dennis Basso's Cruise 2018 collection.  After all, Mr. Basso has the elite clientele that make the legendary film festival an annual event in their busy social season.  From flirty day dresses to elegant evening wear he gave his clients plenty of fashion ammunition sure to place them on the "best-dressed" lists.  Pretty floral prints and embroideries kept things young and fresh.  Vibrant reds, high slits and perfectly placed cut-outs  were powerful and sexy.  With deft tailoring and exquisite draping he delivered jaw-dropping evening looks sure to shine on the red carpet.  His pale pink evening pants with super high slits showcased a modern new take on glam dressing.  Fur has been the foundation of Basso's business and he reminded us of his mastery of the luxe fabric.  A tiered fox jacket and a vest of mink strips sewn to organza had a light-as-air quality showcasing the seasonless appeal of fur.  A pale pink mink coat with floral appliqués had a sweet spring-like appeal.  The standout was a jacket of pale blue broadtail with floral embroidery and a sable collar that was so young and cool.  This season Basso captured the attitude of his wide range of clients from his PYT's to his society doyennes with a strong collection sure to show up in all the right places.
Related articles