Leave a Comment
NYFW Spring/Summer 2017 Collection Reviews Part 4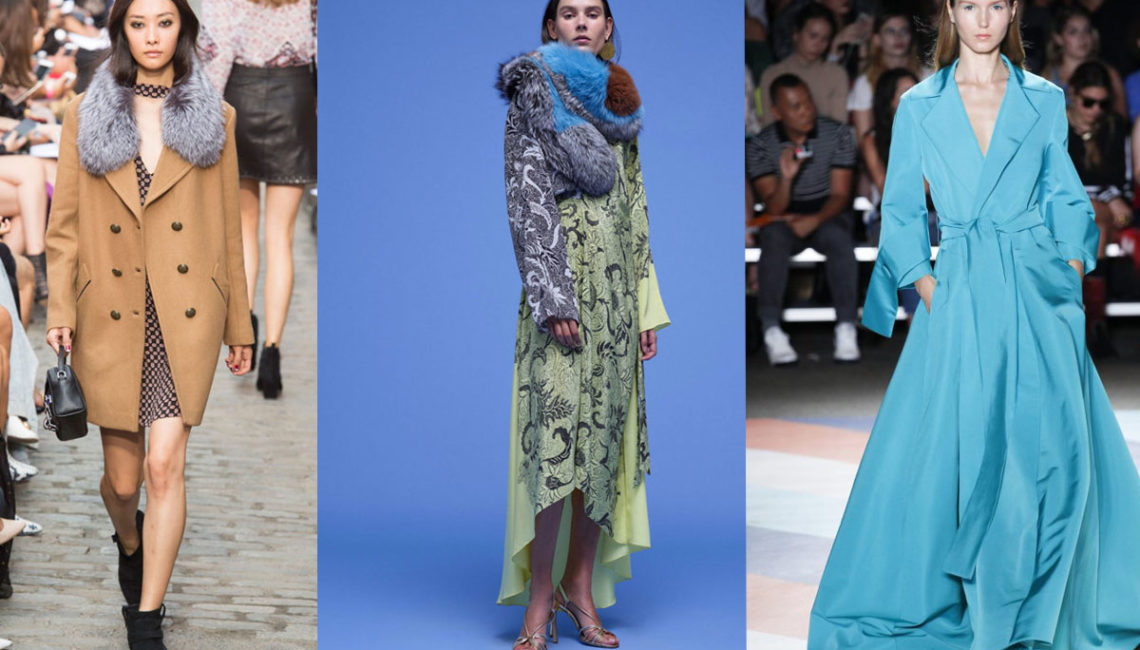 With the diversity of show strategies this season whereby some designers are presenting SS2017, others are showing fall 2016 and some are tossing in a bit of resort 2017 the breakdown of seasonal trends is a bit more challenging. But some key directions for SS 2017 are beginning to emerge.  Florals, whether as prints, embroideries or appliqués are appearing in fresh new applications to capture the spring feel.  Ruffles are used effectively to bring a languid movement and deliver a soft, flirty feel.  We're seeing a shift to more pretty, feminine looks than in past seasons.  But we're only midway through New York with so much more to come and we can't wait to see more!
The Jill Stuart spring RTW Spring/Summer 2017 collection was an endless buffet of fashion choices that were a medley and a mélange that almost seemed like a presentation of four separate collections.  Bold color-blocked jersey pants and dresses reflected a modernistic, sportswear sensibility. Floral slip dresses and light airy chiffons showed a soft, girlish side. Cropped pants that laced up the sides had a harder edge. The introduction of gold lamé brought us back to the Studio 54 era. Though the collection lacked cohesiveness, the designer seemed to hedge her bets by offering something for everyone.
We love Christian Siriano for stepping up to give Leslie Jones her stunning red carpet look and proving that beauty comes in all sizes. He carried the theme through his SS 2017 show with plus size models (the only designer we've seen so far) walking his runway in body shaping silhouettes.  What Siriano does especially well is to add a cape effect to dresses. It's a creative way to add drama and works well for all shapes and sizes. Pretty abstract prints, sharp striped fabrics, ruffles and beading made for bold and dramatic looks.  Still hitting his stride, he went overboard at times combining patterns as in the striped tunic over floral print pants or the abstract floral bra top over the striped shirt.  Excessive use of ruffles and bows on some dresses made things too complicated. Still, he did show some striking red carpet gowns.
When the time comes to turn your 40 year old brand over to new talent the challenges can be pretty daunting.  How do you find the ideal talent that will evolve the legacy of the brand, hold onto your client base and attract new followers?  DVF picked the right guy in Jonathan Saunders.  For SS 2017 this Scottish designer took the iconic silhouettes we know and love so well and infused them with new life, vitality and modernity that made mama bear proud. Using handkerchief hemlines, interesting prints and patterns, Saunders was able to rally the current DVF client but also attract a new posse. His own creative touch was well reflected in the windowpane checked jacket with intarsia fox stole collar that was the perfect complement to a shimmery silver dress and showed there's much more to look forward to in the future.
The Jonathan Simkhai spring 2017 collection gives a girl plenty of ways to make an entrance.  Mostly consisting of white, architectural dresses with extravagant embellishments, layers of ruffles, fringe and lace appliqués, these looks were demi-couture quality.  Plunging necklines added a white-hot sex appeal with the accessory du jour, a choker. In the mix were a few crochet dresses giving a beach cover up kind of honeymoon vibe. Simkhai might have taken it a bit too far with bra tops that reduced the otherwise sophisticated collection.
Girl about town, wandering down a brick street with a line of bystanders admiring you as you walk by……what a dream, right?  But this was reality at the Rebecca Minkoff show this week. She joined the ranks of the "See Now, Buy Now" supporters with a presentation of fall 2016 set on  Greene Street in SoHo.  True to her point of view Minkoff fearlessly offered mini mod dresses and skirts paired with the ubiquitous moto jacket that should easily capture the hearts (and credit cards) of the  'tough, hot, don't mess with my style' girl! She also included skinny white jeans paired with a suede coat and ice blue fox collar that delivered her trademark rock-glam. What made our eyes pop out of our head with excitement was a parka lined in multi-color fur paired with a micro mini lace LBD.  Can anyone say "date night"??!!
Related articles