Cruise 2018 Collection Reviews Part 7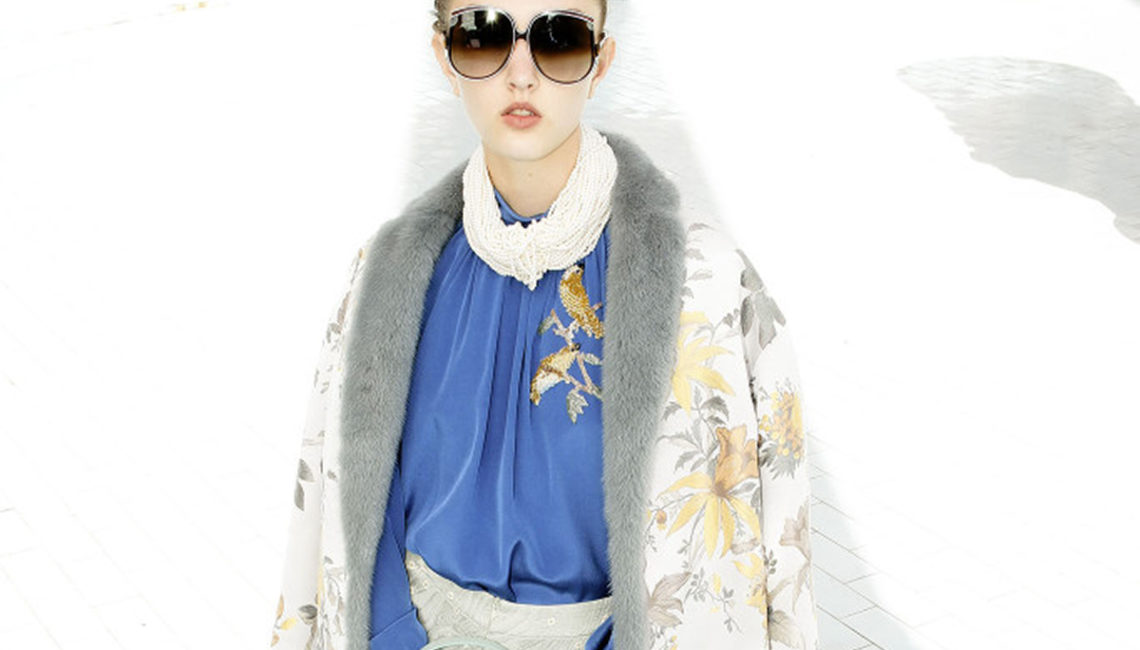 The Spring Menswear collections begin as the final shows of Cruise 2018 continue.  The luxury fashion calendar seems to get more and more packed as designers respond to the constant drumming of consumer demands for fresh fashion.  It is a challenge,  but as these Cruise 2018 collections show, there is no shortage of creativity, innovation and craftsmanship.  Designers are up to the task.
Get Carried Away with More Cruise 2018 Collections
Thom Browne gives us his take on preppy for Cruise 2018 and what a fun ride it is!  Mr. Browne continues to redefine luxury fashion with unexpected twists and his own brand of whimsy, keeping things fresh and interesting.    With impeccable tailoring and the finest fabrics he turns blazers, pleated skirts and Bermuda shorts, the staples of preppy-ism, into high fashion.  His shearling varsity jacket is a case in point as is his stadium coat of white mink strips sewn on black fabric.  The yellow rain slicker becomes uber-chic with black piping and a shearling collar.  In anyone else's hands the remarkable layering , play on proportions and unconventional  pairings of patterns might be uncomfortable, but here they support Thom Browne 's unique sartorial stylings and we love the results!
With metallics, feathers and her trademark bold patterns the Normal Kamali Cruise 2018 collection is ready to party!  From plush fur cocoon coats to cool cocktail dresses to sexy swimwear Ms. Kamali has covered all the bases.  The vibe is high-energy across the collection of easy-to-wear looks that are just as jet-set as they are downtown.   Designed to travel well and layer effortlessly, these are clothes that make for strong wardrobe building blocks for the traveler or the girl about town.
Simple elegance and modernity define Adam Lippe's Cruise 2018 collection.  The butter soft suedes, pleated chiffons that seem to float and crisp cottons with bold stripes are destined to become classics.  Details including the silk lining on a denim jacket or the lace treatment on a sleeve confirm his commitment to luxury.  Soft floral prints and delicate lace touches add to the lady-like appeal.  Wide-legged cropped pants and neon hues deliver a youthful edge.  His plush navy shearling double-breasted coat is an easy year-round "must have".
Who said resort wear had to be simple and easy?  Certainly not Alena Akhmadullina.  Her collection for Cruise 2018 had the trademark opulence and folkloric references that we've come to expect from this Russian born designer. Fabric covered buttons, high collars and poufy sleeves are the lavish touches that evoke images of the Tsarina and her court.  Silhouettes run from refined and ladylike to downright majestic.  Rich embroideries and elaborate prints add to her luxury message.   Of course no Russian story is complete without fur and Ms. Akhmadullina shows her mastery of technique with extraordinary embroidered broadtails and spectacular intarsia minks.  .  If your idea of resort travel is a stay at the Winter Palace in St. Petersburg then this is the collection for you.
Related articles