MILAN: 2017 RTW Spring Summer Menswear Collections Part 4 Finale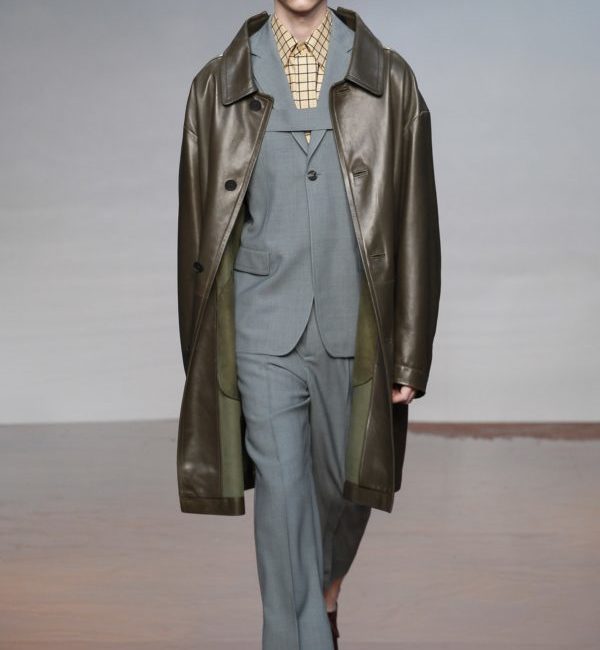 The harmonious play of proportions, the minimalist designs, and the sleek choice of fabrics, the Marni spring 2017 RTW endeavors to modernize men's dressing. From leather walking shorts to wide cuffed cropped pants, men can step out in style that will turn heads. The brand crafted leather trench coats and blazers that were so fresh and tight, it puts this designer on the map as a leader in the artistry of natural textiles.
The house of Jil Sander's orthodox and rigid rules for minimalist design is evident season after season. Their adept and proficient ability to adhere to a "less is more" standard keeps designer Rodolfo Paglialunga on the straight and narrow-literally! However, in the spring 2017 RTW presentation Paglialunga said, "I wanted to convey a sense of relaxed lightness." He did this by choosing soft hues of ivory, dove grey, taupe, and olive. He also designed hombre fading suits-a very cool effect to an otherwise stark look. Mixing in a bit of fun, a gorgeous orange leather jacket bent a few rules on austerity.
Of all the spring RTW men's collections, Etro had the most genius idea. The fashion was delightful, which we'll get to in a sec, but what's more is that the Etro family recruited customers to model the clothes. They were asked to coordinate an outfit to their liking and the wear it in the show! Ummm….that's gonna translate into sales! The fashion was an attractive blend of earth tones and Aztec patterns. Relaxed and generous proportions, the usual mixing of patterns was there but in a more subtle way. The models gave high fives, hugs, and a lot of smiles. It certainly made you wanna wear these clothes and join in the fun!
If winged unicorns exist, you might find them prancing around Alessandro Michele's Gucci spring men's RTW collection. The show was set amidst a green carpet and vines, the models looked as fictitious as the clothes. But we love fairytales and we love to daydream. These pieces were in cotton candy pink and apple green. A black leather coat was embossed with green ivy trellised around the body. And yes, in every great dream, there's fur! Among the fantastical options were a white rabbit topper with colorful intarsia snakes or a ceremonial dress frock coat Captain Hook would wear in pure splendor chasing Peter Pan.