Cruise 2018 Collection Reviews Part 6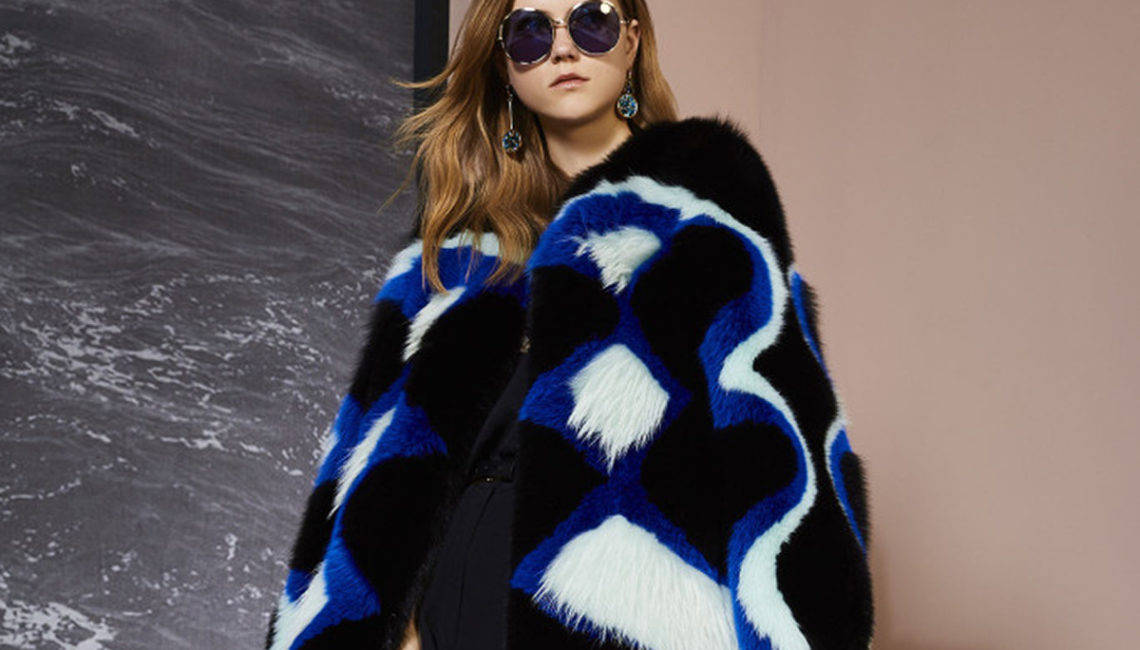 Overall, refined trademarks touches dominated the Cruise 2018 collections delivering strong signature pieces and and cohesive collection themes throughout.
Refinement Personified in the Cruise 2018 Collections
Few designers have a better understanding of the high points of luxury fashion than Carolina Herrera.  Impeccable tailoring, luxe fabrics and elegant detailing are the highlights of her collections season after season.  These trademarks were there, to be sure, for her take on Cruise 2018.  A lightness and energy gave the collection a spring-like feel.  A pretty floral theme was carried throughout in prints and appliqués.  Polka dots and bold stripes added to the burst of fun.  Pinks and greens, soft blues and yellows dominated the palette.  The silhouettes were simple, but allowed for movement and a bit of flirty fun.  Even her fur treatments had a light and breezy air.  A color-blocked mink coat in white, pink and green was fresh and lovely. A tiered fox seemed featherweight.    Floral appliqués on a white lamb coat lent just the right notes of easy elegance.
Elie Saab's Cruise 2018 collection took our breath away with its intensity, vibrancy and power.  Vivid colors and bold patterns demanded attention.    Pleated and beaded leathers and lace inserts gave this collection a strong, sexy vibe with an unexpected edge. Striking intarsia fox jackets were pure fun.  But ruffles and lace were also used for a softer approach.  Mr. Saab's trademark opulence was still on display, but there was a hip, modern edge here that should bring new clients to the fold.
Jonny Johansson presented hard-edged, bold looks with plenty of street style attitude for his Acne Studio collection for Cruise 2018.  But it was his model, Veruschka, that caught our attention.  Perhaps best known for her role in the "The Great Fur Caravan" the epic editorial created by Diana Vreeland and shot by Richard Avedon for Vogue in 1966, Veruschka proved she's still got it as she walked the runway for this powerful collection.
Julien Labat gave his girls plenty of fun, modern, easy wardrobe options with his Edun Cruise2018 collection.  Edun has always been about individual style and from the multi-toned thick platform flip-flops to the bold logo tops there was no shortage of stand-out statement pieces.  Along with solid basics including the white jumpsuit, denim bell-bottoms and white slip dress, this collection would make packing a breeze for any young fashionista.   Tropical prints and color blocking infused the collection with energy.   Super-wide legged pants, bell-bottoms and fringe detail gave the collection a strong sixties vibe that was best reflected in the snakeskin bell-bottomed pantsuit with shearling collar.  Labat's looks will have Instagram blowing up when they hit the stores this fall.
Monique Lhullier knows a thing or two about creating pretty, feminine looks.  After all, she's known for making brides their most beautiful on that special day.  But with her Cruise 2018 collection she has added to her oeuvre with an array of sleek, sophisticated separates that will make their mark.  Floral prints played a prominent role appearing on a range of silhouettes including white lace top shown with a yellow pleated skirt and a lovely  slip dress in a pastel floral print.   For a slightly more polished look she presented a white bell-sleeve blouse paired with a slim silk floral print skirt.  Upping the power quotient and sex appeal she showcased her tailoring skills with a black peplum top and slim pants.  Of course there were beautiful evening looks and princess gowns too, and to top it off, a ruffle-collared short mink jacket that added just the perfect luxe touch.
Related articles