We haven't made you say hmm..for awhile, so here goes!
By utilizing "famous faces" in their campaigns, animal rights groups have tried tirelessly to garner support from Hollywood elite, but we'd say they've  failed miserably. We'll leave that decision up to you.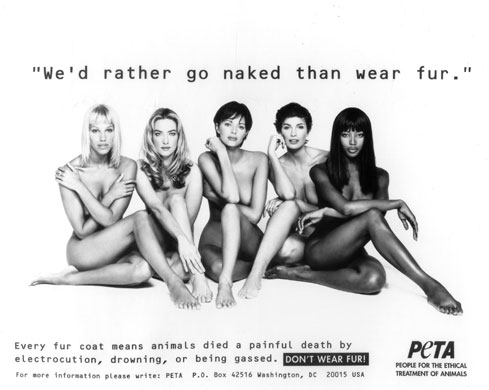 1994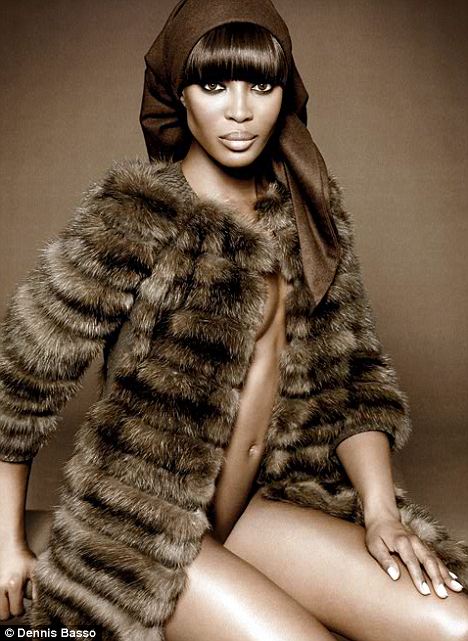 15 years later, Naomi Campbell becomes face of Dennis Basso.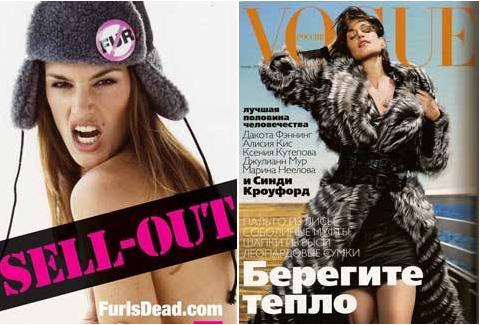 Cindy Crawford signs with PETA for their Fur Is Dead campaign only to turn around and grace the cover of Vogue in fur.
Khloe Kardashian poses for PETA for their "I'd Rather Go Naked" campaign. Months later, Khloe took to her blog to express her anti-PETA stance after their violent acts toward her sister, Kim Kardashian, who happens to be an avid fur lover. Khloe stated that she will never support something that violates people for their opinions.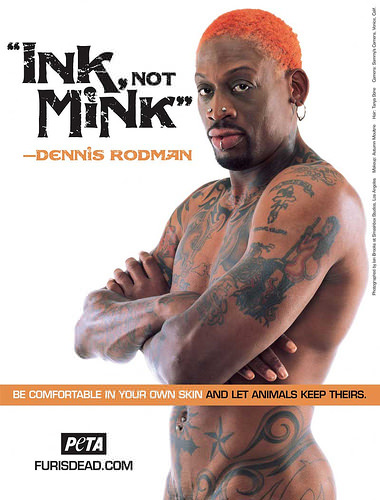 Dennis Rodman, known for his flamboyant style, shed his clothes for the "Ink Not Mink" campaign.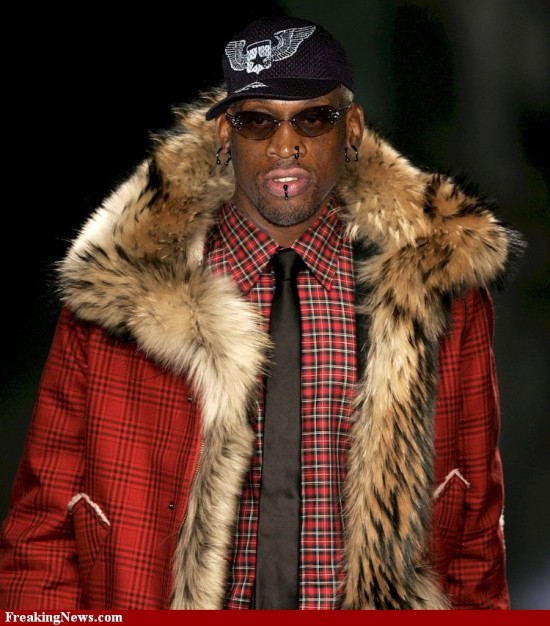 Oh hey, Dennis! Looking good in that fur trim!
Things have also gotten a little inappropriate and must we say, a bit awkward.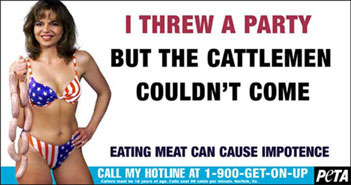 Meat can, huh? How about absolutely no shame?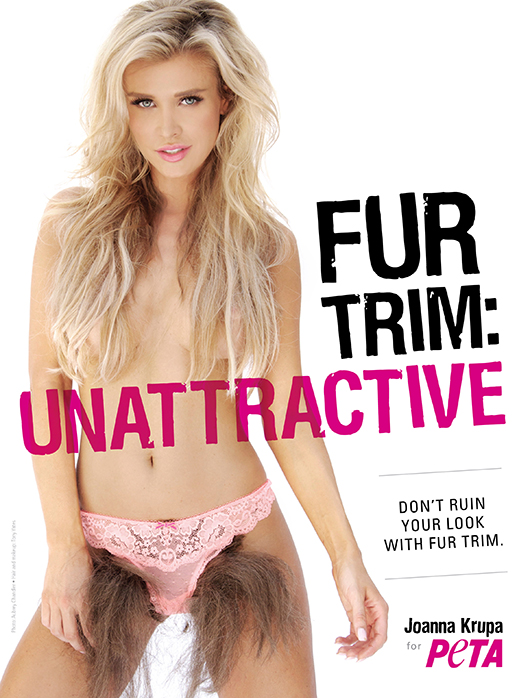 So women should feel that keeping it natural down south and wearing fur are equally wrong? Um, no.
Who Is Wearing Fur?
With nearly 500 top international designers using fur in their collections, US sales nearing $1.3 billion, and global sales nearing $15 billion, it is clear that fur is still relevant in our culture. And though anti-fur groups may seem to find some…er…"stars" for their campaigns, the most well-known celebrities of our time are actively wearing fur fashion.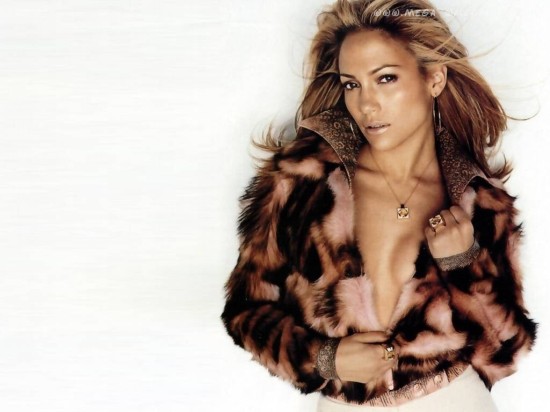 Our favorite girl from the block, Jennifer Lopez.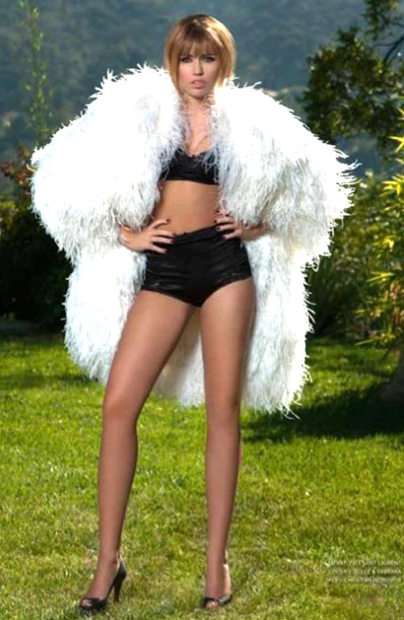 Pop sensation, Miley Cyrus, has been seen wearing fur in many of her videos.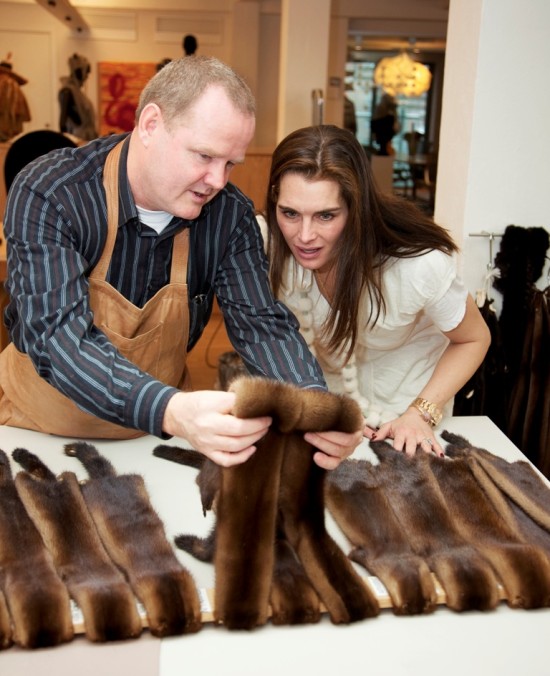 Brooke Shields showing appreciation for the industry as a whole as she designs her own fur coat at Kopenhagen Fur Center.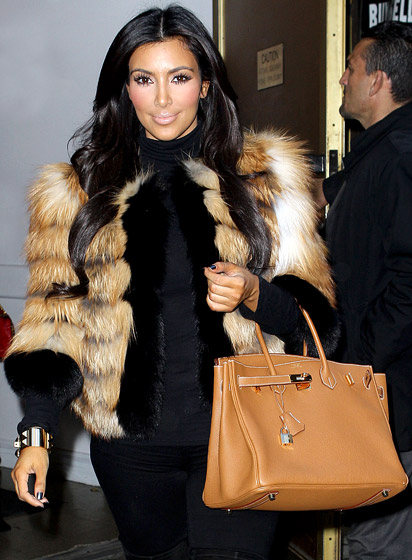 Reality star, Kim Kardashian, is always seen showing off her extensive fur collection.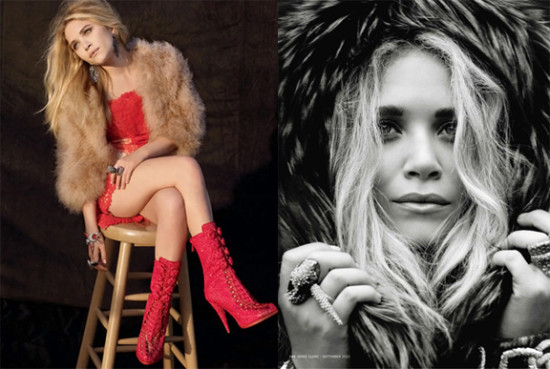 Fashion icons and designers, Mary Kate and Ashley Olsen, constantly perfect their bohemian style with a splash of fur.
Them Vs. Us
How relevant are some of the "stars" of anti-fur campaigns? Again, we leave that decision up to you.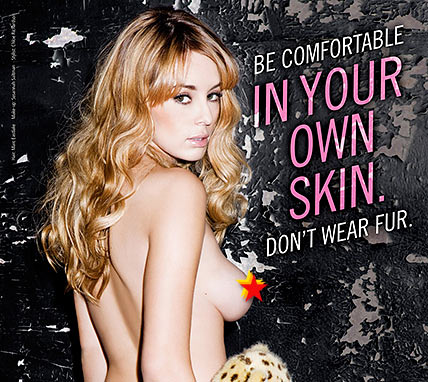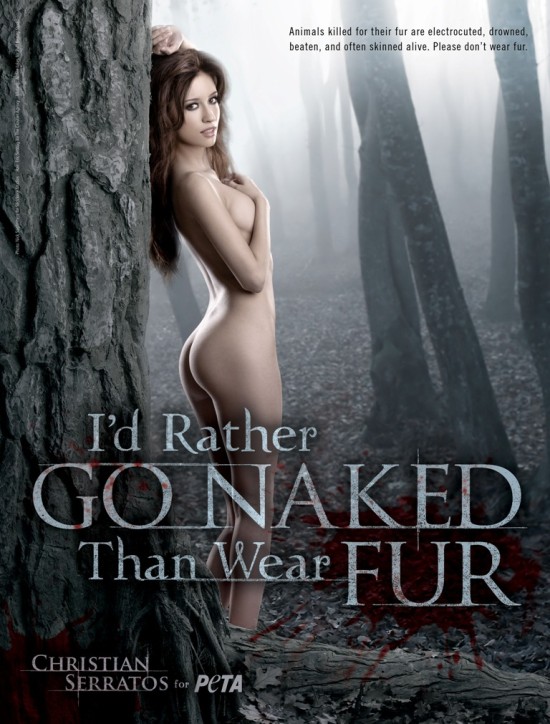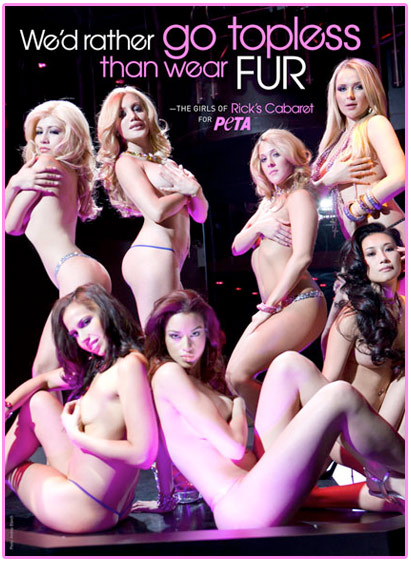 Alright, we've seen enough.
Animal rights extremists' main claim is that celebrities are not wearing fur and disagree with fur as a hot fashion item, but the reality is that celebrities are wearing fur.
Fur, one of the most sustainable materials on the planet, has a creative adaptability that has led over 500 internationally renowned designers to incorporate fur into their designs in more ways to create the greatest collection of fur fashion and accessories ever. With the rise of social media, the truth about the industry is easily and readily accessible to the public to make a decision on their own. Knowledge backed by facts, mixed with the creative innovations of designers, all leads to people buying more fur than ever. 
 Now you can say, hmmm….