Trend Alert: Ready-to-Wear Fur Fashion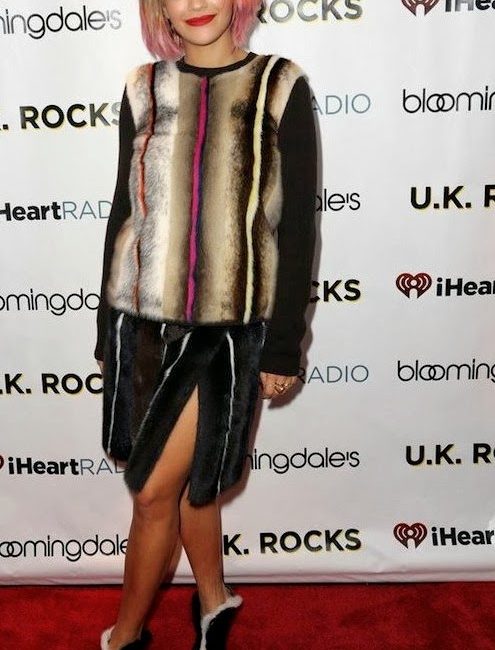 If you've only been thinking about fur as an option to bring luxe style status to outerwear and accessories…think again!! Designers seem to have something totally different in mind this season as the creativity explodes in fur and boldly fur-trimmed ready-to-wear. Based on what we've seen coming off the global runways we can only conclude ready-to-wear fur fashion is no longer just a one-off status…it's now the norm; and we love it.
A favorite celebrity trend that designers are fueling is the fur skirt or fur-trimmed dress which creates an edgy and definitely distinctive style. We have to admit, the fur skirt is not for everyone. Depending on the placement of the fur and its bulkiness, this furry look can add the appearance of extra poundage from the hips down. It all depends on the cut, the tailoring and the volume of fur added. But with plenty of options available there is a great furry skirt look for virtually any woman.
Here's our top picks for fur sweaters and other ready-to-wear looks that will make you a style icon this winter:
Right off the TOP
Fur sweaters, pullovers and sweatshirts (as we've said before) are all the rage! Whether mink, broadtail, or fox you can't go wrong when considering adding one of these exquisite toppers to your wardrobe. A fur sweater screams refinement and timeless elegance and provides a look that will not and cannot be rivaled in any setting. It's the perfect introductory piece for those fashionistas just entering into the fur fashion realm because it strikes the perfect style note.
Dressed to Impress
The fur dress is the stuff that dreams are made of. Body hugging, or body skimming the addition of fur on a dress is nothing short of magical for the polished gal who has an eye for making an entrance.
Pants On Fire
We would be a liar if we didn't tell you that these fur pants are on fire! (sorry we couldn't resist) Hey, for those that can pull off the fur pants look, kudos to you; they make a bold and flattering statement for the stylish woman on the go.
Skirting the Issue
Like we said before, if you can please do. A fur skirts is a perfect go-to piece in any closet. Punky, funky or elegant and polished this little number says and does it all.
"Same old, same old" just doesn't work when it comes to fashion. From the look of things, designers are embracing fur as never before, creating an entirely new category of fur ready-to-wear that gives fashion leaders a great new tool box for making bold fashion statements. Are you ready to join the fur ready-to-wear movement?
Related articles