Spring/ Summer 2018 Collections Reviews PART 9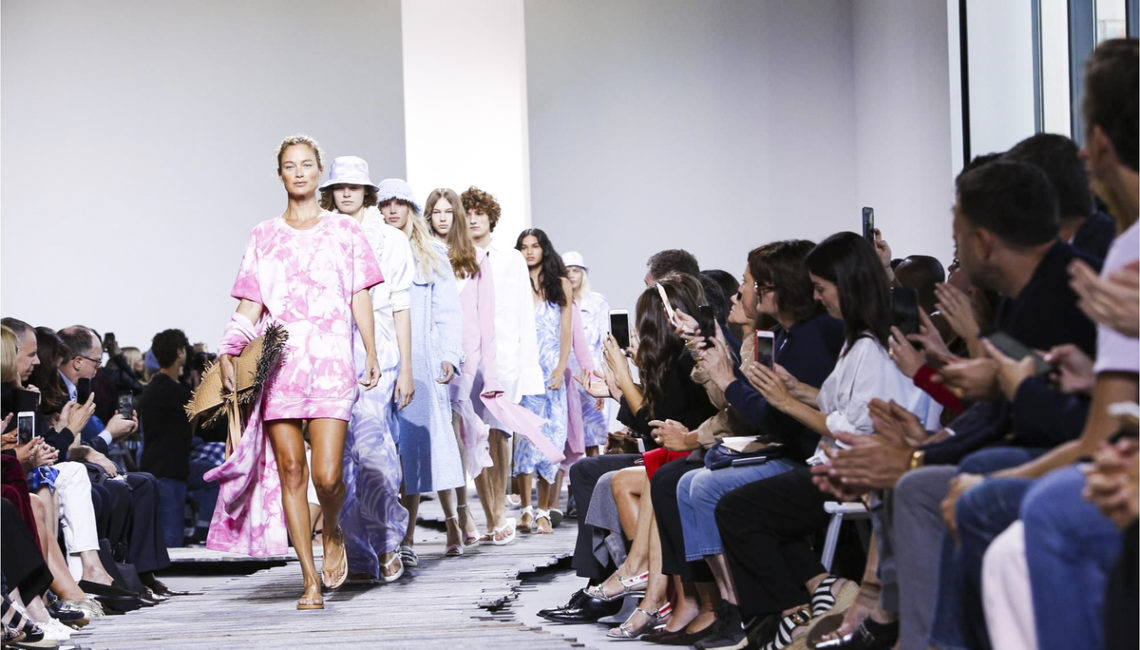 Looking for pretty?  There were plenty of pretty clothes on the spring/ summer 2018 runways in New York.  There was some impressive tailoring too. Designers showed their sartorial skills, and that is an important component of fashion.  But where was the fun?  The creativity?  The innovation? New York's spring/summer 2018 collections were marked by restraint as designers kept to the basics.  We miss the unexpected and the fantasy that make fashion fun.   Will we see designers taking more chances as Spring Summer 2018 moves on to London, Milan and Paris?  We hope so!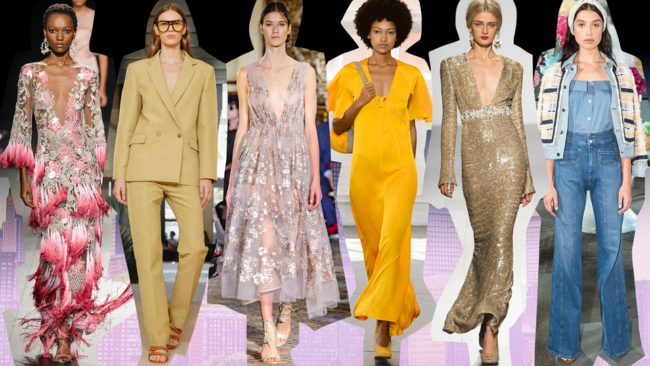 A Last Look at NYFW Spring/ Summer 2018
Looking for the perfect thing to wear for those sexy moonlit nights?  Sally La Pointe has it for you in her spring/summer 2018 RTW collection.  Sparkly emerald and jet black sequins made up short shorts, jumpsuits, and saucy tops. Liquid silver fabrics crafted palazzo pants and capes. But the standouts of her collection were the laser cut leather jackets with rows and rows of fringe that are sure to turn heads on those cool nights.
Jonathan Cohen played with proportions in his spring/summer 2018 RTW collection. Notably casual in nature, the presentation included sheath dresses with flutter sleeves, prairie skirts with ruche tops, and baggie pants paired with poplin blouses.  Among the broad range of looks were plenty of solid RTW separates to give a girl a solid foundation for creating her individual style story for spring.
Leather is fast becoming a key trend for the season, making appearances everywhere this spring/ summer 2018. For Marissa Webb's spring/summer 2018 collection it came in the form of jodhpur pants, garbage bag cinched shorts, and a laser cut leather dress that was irresistible.  Ms. Webb understands how to make daytime dressing versatile, girly, and of the moment.  Her tools of choice include florals, chiffons, ruffles, and eyelet. All in all, this collection has a distinctive style that should appeal to the "it" girl.
Michael Kors is the master of the luxury American sportswear look.   For spring/summer 2018, he put forth his signature style with a bit of a twist. The usual layered looks were there along with sarong skirts, blouses, and trench toppers.  The differences? He played with pattern and volume. Palm leaf prints were a-plenty. His generous cuts on the clothes felt less crisp and clean than what we're used to from Kors. An increased focus on full figure fashion was a smart move for Kors, and will no doubt further his success.
Exclusively committed to special occasion dressing, Viktor Horsting and Rolf Snoeren delivered a tightly edited collection for their spring/summer 2018 Viktor & Rolf Soir, show. Their signature oversized bow adorned sheath dresses, a jumpsuit and dressy tops to suggest a ladylike elegance.  Satin fabrics added to the richness of these looks. A pink tulle ball gown with black beaded bodice and beaded floral appliques was fit for a princess.  For a more modern twist we loved the peach gown of billowing tulle in multiple tiers with asymmetrical hemlines.  Viktor & Rolf know how to put the "special" in special occasion dressing.
Call the Fashion Doctor, we've found a pulse at New York's spring/summer 2018 collections!  Kith's collection was exactly what retailers are looking for to get those cash registers ringing. Smartly leveraging pop culture, they introduced edgy fashion that emulated the style of favorite rappers, rock stars, or NBA players. This was street style at its best.  Athleisure looks included hoodie jackets, jersey dresses and velour sweat suits that were presented in layers but made for solid wardrobe staples. There were flannels and florals and big logos.  Collaborations with Moncler and Adidas delivered must-have looks.  Shearling jackets added just the right swagger.  And if there wasn't already enough cool coming down the runway, appearances by Scottie Pippen and LeBron James sealed the deal.
Gotta' have that orange curly lamb walking coat -Pronto! (It was equally hot in lavender and teal).  Sies Marjan gave us nothing but a happy feeling inside watching their spring/summer 2018 RTW collection. A belted orange topper coat grabbed our attention and wouldn't let go. This color has been so strong this season and will show your fashion IQ. A metallic brocade pantsuit had an edgy elegance.  Lemon sorbet chiffon in a side-slit maxi dress was as cool and refreshing as the sweet treat itself. The silky pajama sets shown for men didn't quite work for us, but they might be even cooler on the ladies.
Next up…London Part 1.
Related articles