Spring/ Summer 2018 Collections Reviews PART 7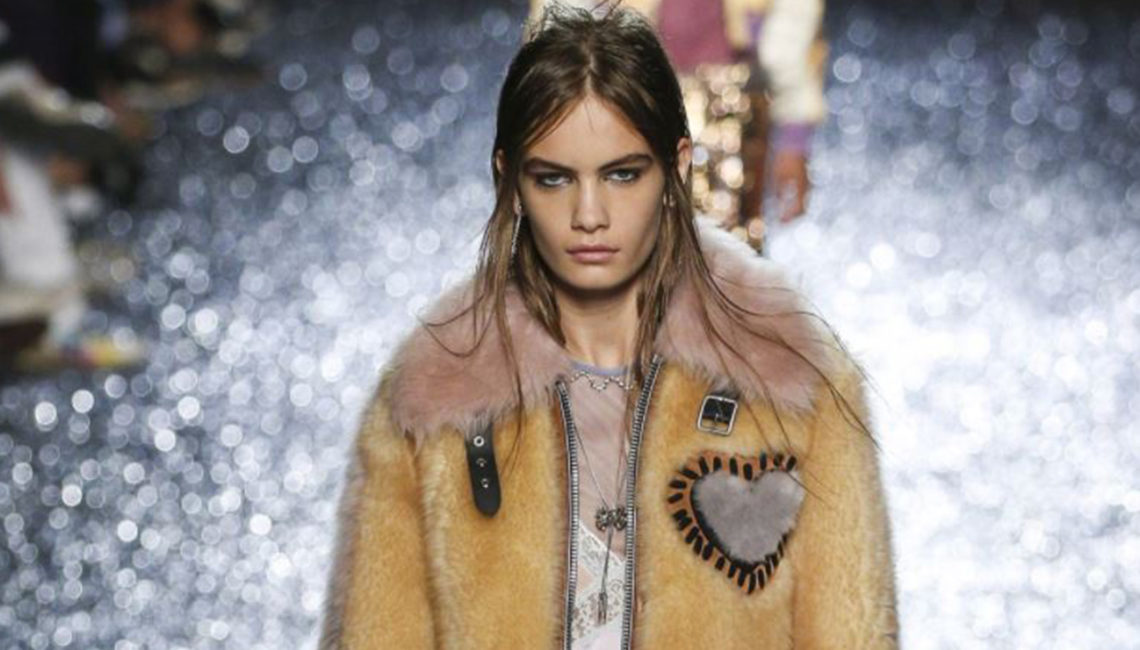 A fresh femininity has dominated the spring/ summer 2018 collections, with plenty of saleable, wearable looks.  And across quite a few collections the 70's are playing a significant role, evoking the feeling of a simpler, more innocent time.  In these tumultuous times this nod to nostalgia may be just what retailers need.  But we are missing the bold creativity and innovation that make fashion fun.
Nostalgic for  Summer 2018?
For her spring/summer 2018 collection Anna Sui took a trip back to the 70's.  Crochet, lace and denim delivered a boho chic vibe the evoked 70's Stevie Nicks.  Bell sleeves and fringe added to the vocabulary.  An amazing array of gauzy dresses, crocheted ponchos and scarves provided looks that managed to be fun and sophisticated at the same time. The accessories rounded out the looks in the most perfect way with beaded, feather necklaces adding the perfect finishing touch. But, actually, Sui could have interjected some fur and it would have taken this collection to the next level!
Veronica Miele Beard and Veronica Swanson Beard presented their own nod to the 70's for spring/summer 2018.  Wide legged pants and jeans, culottes and off-the-shoulder looks made for fresh, easy looks that evoked a bit of a jet-set summer scene.  Mixing stripes, florals and plaids, they gave the collection a unique point-of-view.  It all looked so easy and effortless, perfect for their on-the-go clients.
Man, do the boys of Badgley Mischka know how to dress a woman! Their SS2018 RTW collection was a melange of breathtaking day to evening decadence. Fine, delicate fabrics were bedazzled with just enough bling.  Oversized ruffles and flowers in organza accented bathing suits to ball gowns.  Leveraging the trend to more casual dressing they introduced several key pieces including the first Badgley Mischka tee shirt! Move over, Gap, there a new tee in town!
We love a great dress and Tadashi Shoji's spring/summer 2018 was full of great options.  Lightweight silk dresses in spring brights had an easy elegance perfectly suited to the season.  Here, too there was a 70's vibe with ruffled off-the-shoulder looks and bell sleeves helping to create a boho vibe.  There were plenty of solid wardrobe building options to be sure, but it all seemed so safe and predictable. Without being too hard on Shoji, we are certain this was an anomaly and the next season he'll be back on track with more forward-thinking designs.
Stuart Vevers understands luxury and for his spring/summer 2018 collection for Coach 1941 he elevates even the most classic shapes and pieces to new levels of opulence.  With rich fabrics, exquisite embellishments and artistic detailing he transforms t-shirts, slip-dresses and varsity jackets.   Delicate lace and beading add depth and romance to shimmering silk satin dresses.  Metallic leathers give jackets a fresh, modern edge.  Patchwork and beading redefine denim.  Pattern mixing and fabric juxtapositions added depth and drama. The iconic artwork of Keith Haring was featured on t-shirts, jackets and accessories throughout the collection.   And then there were his shearling vests and jackets.  Mr. Vevers has firmly established Coach 1941 as the go-to label for luxury shearlings and the two-tone shearling vest with the Keith Haring patchwork design didn't disappoint.  In a season of safe, predictable fashion Stuart Vevers, pushed boundaries and reminded us of just how exciting fashion can be.
Somebody over at Alice + Olivia threw open the windows and let spring 2018 blow right in.   Stacey Bendet delivered a fresh bouquet of beautiful fashion options in her spring/summer 2018 collection that was  perfect for her pretty young things.   Lots of bold, colorful floral patterns combined with ruffles upon ruffles, these clothes just screamed "happy times!". As a matter of fact, a key tee shirt screen print said, "the world needs more sparkle." As such, Bendet crafted cute mini dresses with just enough "oomph" to keep you up all night and looking your finest.
Carolina Herrera career is marked by her ability to evolve, insuring her success season after season.  And for spring/summer 2018 she teamed up with Wes Gordon to add a fresh vision sure to broaden her appeal. Strutting their stuff for spring/summer 2018, the design duo delivered rich taffetas and raw silks that were the perfect working materials to create the signature Herrera look. Polished and demure, the RTW and ball gowns had  all the trademarks of the sophisticated fashion she's known for and her fan base loves. Using a beautiful color palette of candy colors, she put forth a luxe sheared mink intarsia coat that was light and airy and sure to be a statement piece for the season.
Related articles