Spring/ Summer 2018 Collections Reviews PART 5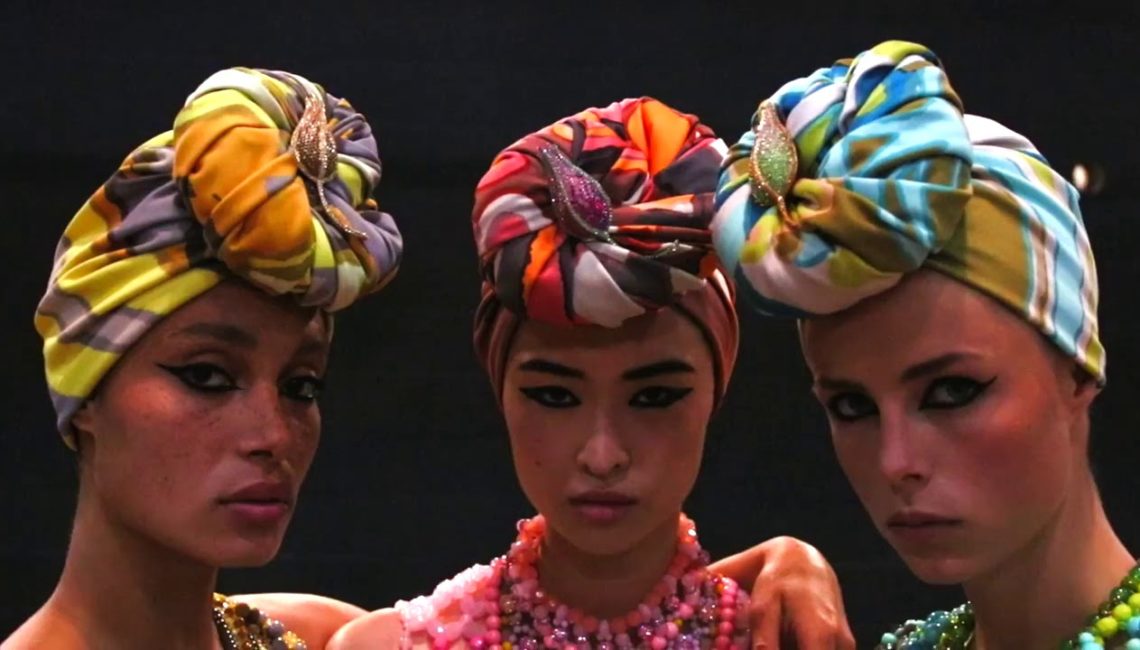 More from the Spring/ Summer 2018 runways of New York…
Spring/ Summer 2018 Takes Shape
Victoria Beckham, in her spring/summer 2018 RTW collection, riffed on a men's wear theme. Boxy, oversize shirts, blazers with large lapel collars, and three piece suited styles dominated her collection but Beckham softened the looks with pretty pastel colors and supple fabrics. She continues to evolve as a leading designer with her attention to detail, simplistic approach, and just the right balance between fashion forward and approachable styling. A notable piece was a crimson shirt dress that reflects her signature style.
Carmen Marc Valvo has spoiled us season after season with his devastatingly gorgeous eveningwear.  So the parade of chiffon maxi-dresses in rather pedestrian tropical prints for spring/summer 2018 seemed a bit ho-hum.  Even so, Mr. Valvo knows his clients and these were wearable, salable pieces that will serve a purpose.
From boxy to flouncy to Grecian and contemporary, Prabal Gurung didn't deny any one of his fashion impulses in his spring/summer 2018 collection.  This made it hard to identify themes, though his use of bright colors helped bring cohesiveness to the broad range of RTW options. Two standout favorites included a clay colored patent trench coat that had a "wear everywhere" appeal and a wine colored pant paired with a coordinating blouse. With a high-waisted belt and exciting fabric choices of satin and shine, this was a look not to be missed or easily duplicated.
Though we are big fans of Diane Von Furstenberg, her spring/summer 2018 collection was not one of our favorites. Designer in residence Jonathan Saunders tried to stay true to the brand's 70's fashion motif delivering high-waisted and belted coats with fox fur collars that had a cool, sophisticated retro vibe. Lots of handkerchief hemlines, asymmetrical striping and bright color blocking gave his designs life and vibrancy. Unfortunately way too much fabric was used, engulfing silhouettes and making them feel bulky and tent-like.   The shapes were less than flattering and lacked the easy sex appeal that has been a trademark of DVF.
Sandy Liang's spring/summer 2018 collection was a rock solid showing of fashion with an edge. Combining textures including brocade, curly lamb,  leather, and lace, the clothes all had something to say.  There was an old fashioned appeal to her collection with designs that reflected a vintage vibe while still looking fresh. A favorite piece was a micro mini black leather moto jacket that was just a sweet as it was sassy.
It might require an expert seamstress' vocabulary to properly describe and give credit to the deft tailoring seen from Nicky Zimmermann in her spring/summer RTW collection for 2018. There was a sense of old world craftsmanship that was not rushed or forced. White crochet knits, knotted cut-outs, accordion prints, and lace embellishments made this very delicate collection something very special.   There were two white pantsuit ensembles that took our breath away. Organza shirts with strong shoulders paired with white palazzo pants were simply divine!
The color palette chosen by Lela Rose for SS2018 RTW was by far the most exciting we've seen to date. Chartreuse, Kelly green, and blood orange were among some of the strongest. Expertly crafting solid RTW out of crisp cottons, she put forth strong separates that are must-adds to your warm weather wardrobe. Her use of black and white mini stripes as a backdrop for bright floral overlays was exciting and modern.
Related articles