Spring/ Summer 2018 Collections Reviews PART 3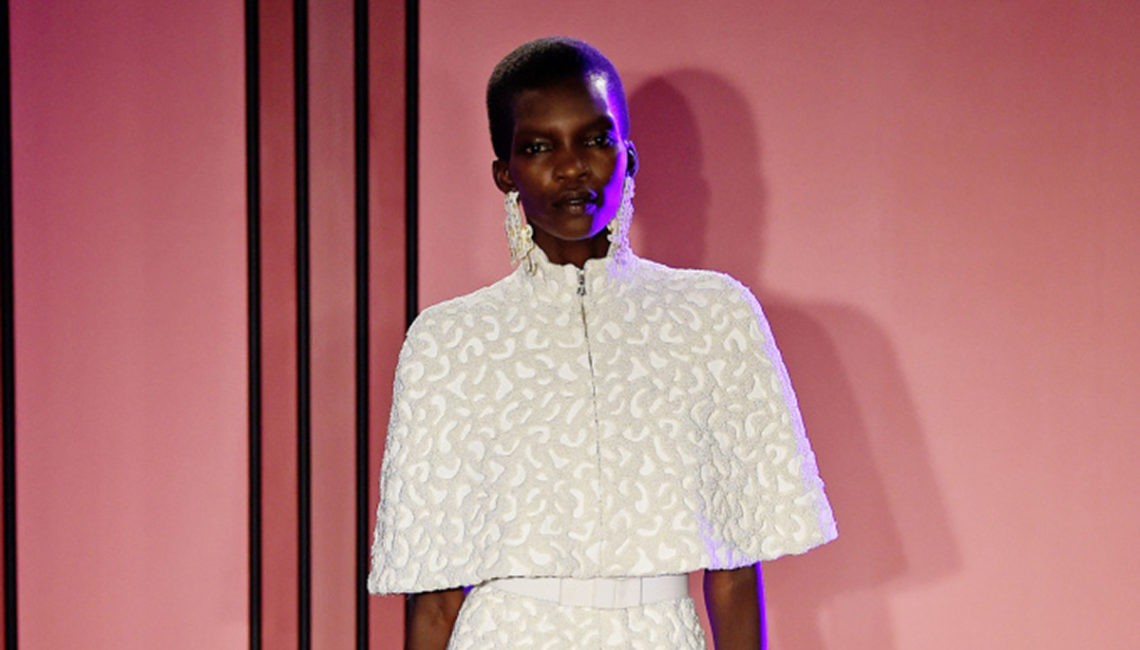 There is an unapologetic femininity dominating the Spring Summer 2018 collections and it feels like a breath of fresh air.  Proving that soft and pretty can be sexy and powerful, designers are celebrating the female spirit.  The approach is modern and chic, with plenty of solid wardrobe building options.  And if things seem a bit safe, perhaps that is called for in these tumultuous times.  At the end of the day, it comes down to retail sales, and so far, this looks to be a pretty good season.
A Celebration of Strength in Summer 2018
Like every First Lady who has preceded Melina Trump, fashion follows her. Trump has put the bell sleeve on the map, the jumpsuit front and center, and curve hugging dresses have become a mainstay. Fast forward to the Cushnie et Ochs spring/summer RTW collection for 2018 and you'll see life imitating art or vice versa.  Carly Cushnie and Michelle Ochs, the girls behind the brand,  love to create fashion that is fiercely feminine and sexy on steroids and it looks as if they've given a nod to Trump and her style.  Silky fabrics and jersey helped heighten the allure. Touches of ruffles trimmed the looks – a trend we are seeing across designers
A little background is necessary to fully appreciate the spring/summer RTW collection from Tory Burch for 2018. Reaching out to her long term friend Ashely Hicks, she was given access to his father's library of work. David Hicks was an influential interior designer in love with color and patterns. A titan in his day, Hicks steered the direction of what it meant to treat your interior space like a museum. Burch does the same for a women's closet.  With a focus on loose fitting tunics, pants, and dresses, Burch does a few things that stand out including a color-blocked suede and leather jacket that stands out as a key piece. Her accessories, specifically a brown leather belt, gave the gauzy looks needed structure. The redesign of her signature double T was a brilliant rebranding.
Gonna' be hard to put into words the magic that is Bibhu Mohapatra, but here goes. Obi silk wrap belts or corsets on top of illusion and embroidered blouses, tulle skirts with tea length hemlines, and just the right cut outs, all made up these artistically significant pieces rife with lady-like charm. While the spring summer  2018 RTW collection was interesting to watch and study, it's appeal may be limited to a narrow group of fashionistas.
We're calling a technical foul on the Monse spring/summer 2018 RTW collection. Set in a basketball gym to tie in the Americana styling, did this collection really need more of an emphasis on sports? What happened? Was this an attempt at wear now, buy now? Athleisure? Grunge and teen spirit? No surprise that the color story was red, white and blue. From stripes to window pane, there wasn't anything new here. The best of the best-and SERIOUSLY not trying to be biased-were the fur touches. A blue and white star stole and a red and white stripe fling, both in fox, were the kind of luxe drama that makes fashion fun.
Brandon Maxwell gave us what daytime chic is and desperate housewives want! His spring/ summer 2018 RTW collection was as perfect as one can get. Bubble gum pink paired with ruby red in the richest fabrics and super cool skinny, high waisted jeans-um, yeah-let's do lunch! Chardonnay, garçon! But it's cool if your husband  needs his better half for a power dinner with his investors.   Maxwell's got you covered for that too. Slip in to any one of his sexy sweater dresses to seal the deal.
You're not really going to recognize the Nicole Miller spring/summer 2018 RTW collection as classic Miller-but that's okay. While we've become accustomed to her sexy, youthful designs, this season is a 180 degree departure.  The  look is more sedate and mature. Cute tan dresses and shorts were key staples that make for timeless building blocks. One favorite dress was a high/low hemline dress with a strapless top and a palm leaf pattern – just the right blend of young and sophisticated.
Creatures of the Wind's spring/summer 2018 RTW show was largely a vintage feel and the brown raccoon lined trench coat with "mary jane" embroidered leaves said it best. Paired with a paisley jumpsuit, these were not your grandmother's looks. Even with an old fashioned appeal, the collection had an edgy, downtown vibe. The design team of Shane Gabier and Chris Peters have also repositioned their line to a more friendly price point. Hey, all you college girls who think old is the new cool, this show is for you.
Related articles