Spring 2017 Couture Collection Reviews Part 3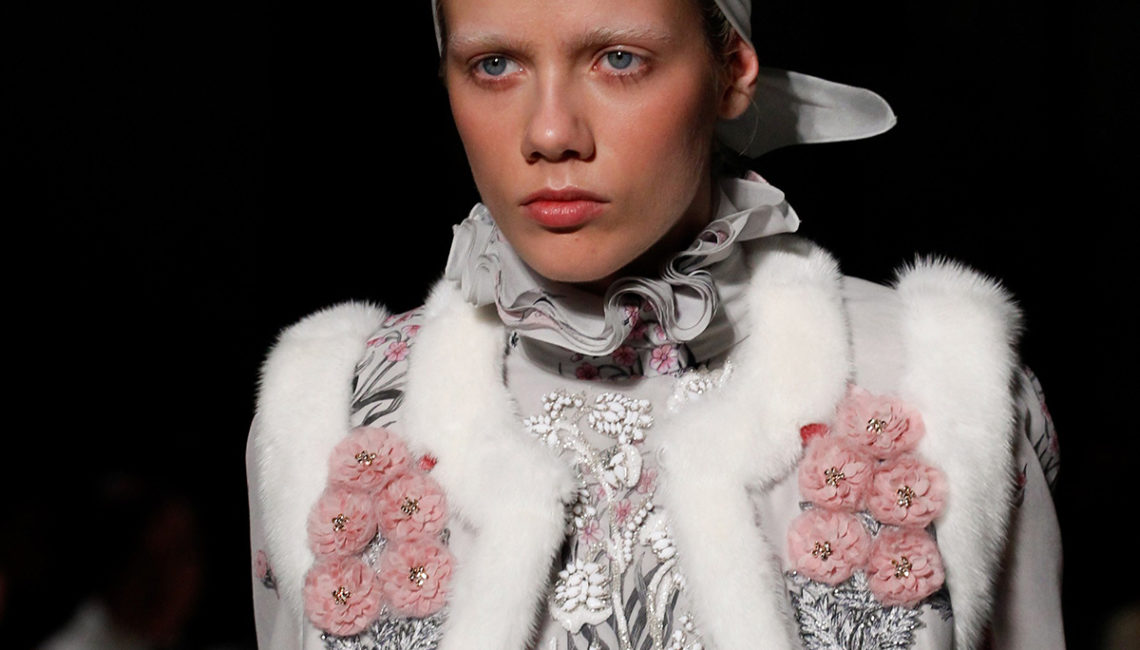 The last set of trends to come out of the Spring 2017 Couture collections spoke loudly to the woman who is a power player. Designers collectively looked to the 80's for inspiration. Less is clearly not more for Haute Couture Spring Summer 2017.  For you women of a certain age, you'll recognize the strong shoulders, colored leathers and the pant suits that have returned and were out in full force and ready for action.
Bold Shoulder / Spring 2017 Couture
Rise head and shoulders above the rest by choosing a puffy sleeve or a portrait collar. It's all about accentuating the upper body and calling attention to what's most important – the beautiful face of the woman who's wearing it. It came as no surprise that Stephane Rolland would rise to the occasion with stunning architectural shapes in gorgeous silk organza gathered and puffed 12 inches high at the neck and arm.  Elie Saab celebrated the bare shoulder with elegantly beaded shapes that provided beautiful framing,  but his ostrich feather cap sleeve was anything but subtle in interpretation. Alexandre Vauthier used the same technique in taffeta which was gathered to create an off-the-shoulder crop top with blouson shirt sleeves. Jean Paul Gaultier combined the cape trend and added a regal Victorian high collar fit for a queen. Tulle shoulder ruffles were another detail designers couldn't get enough of this season. Zuhair Murad did it best and with abandon. Using fabrics in hot pink tulle or sparkled black organza, this was an 80's revival trend that shouts "We want our MTV."
Colored Leather/ Spring 2017 Couture
We love leather- how could we not – but give it to us in gold and silver…..pure joy!  Designers pushed the boundaries, crafting leather fit for a tough girl persona with nothing but trouble on her mind. Alexandre Vauthier put forth a micro mini silver leather wrap dress with the requisite puffy shoulder that was all that and a bag of chips! Schiaparelli went with gold leather, giving it a dash of Asian influence with a black obi belt with an embroidered dragon. It was Redemption that was truly the most inspiring with their bright gold sleeveless leather moto, slim fitting and with padded shoulders. Pairing it with purple satin made it so hot and powerful it might resurrect Prince from the grave. Colored leather of all kinds were out in full force too. Orange seemed to be the accent color of choice and Armani Privé proved its power with a croc blazer that could go from work to weekend. Orange, high-waisted leather crop pants from Jean Paul Gaultier were a great basic that mixed and matched well with the separates in his collection.
I'm With Her/ Spring 2017 Couture
While the election of Hilary Clinton may not have turned out as expected, it's no surprise that the pant suit remained a winner in every way. For the society ladies, Elie Saab came on strong with rich duchess satin in colors of ivory and taupe. You could almost sense the occasion with just one glance. Armani Privé kept true to its brand by crafting elegant and contemporary pant suits that goes from the board room to the King Cole bar. For the young, jet set, a hot pink harem pant with plunging v-neck coat was anything but expected and predictable.
As is true of trends, everything old is new again. With tweaks and special touches, designers continue to evolve and push the boundaries of fashion. This season the trends were within reach and will translate easily to even the mere commoner who can't afford couture but wants to dress as if she can.
Related articles