The forecast for spring predicts partly sexy with a chance of fun. As the temperatures rise, let the layers melt. Soft feminine fabrics, girly designs, and bright colors all make us giddy with excitement. The Spring RTW 2016 collections are blooming with limitless options.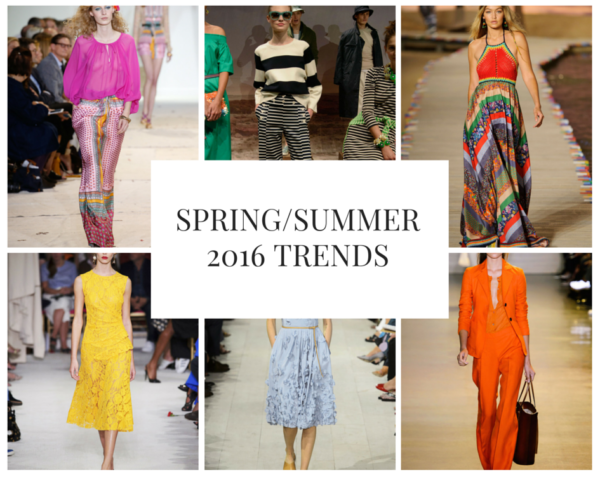 Persephone ascends from the underworld and breathes new life into terra ferma and her offspring. Flowers burst on the scene and are in full view inspiring fashion. Floral patterns adorn boxy crop tops, midi skirts and topper coats. Fashion mirrors nature as we shed the dull greys away. A sunrise combination of colors and exotic patterns evoke a perfect vacation dream come true. Nicole Miller, Elie Saab, and Alexander McQueen were just a few of many who made a special delivery with floral prints. Grab a colorful curly lamb hair purse and you've got the look nailed!
The color white is as ubiquitous to spring/summer as are pool parties and barbeques. Each in its own way, they are always fun even though somewhat expected. This season designers gave white a revamp by adding texture. Crisp, white menswear shirts are reinvented with eyelet and lace to add ladylike glam. Elie Saab and Rochas used a geometric, 3D effect that was modern and uber cool. But leave it to Dennis Basso to deliver the fait accomplis…..his laser cut white leather and fur pieces leave you breathless and enchanted. Basso's craftsmanship and his imagination are second to none.
The moto jacket is here to stay forever and ever amen. It's a must-have in black leather first and then pick it up in distressed brown with shearling lining. Trust me, no regrets! What to pair it with for spring?…….Move over skinny pant and make way for your more voluptuous cousin because the wide leg trouser is taking center stage. In soft, flowing fabrics, this is the perfect silhouette for this season. A carefree yet classic style, this pant is a breath of fresh air. The white palazzo pant is a key piece and can be paired with a crop top, tight tee or a blouse knotted at the waist. Leave it to designer Ralph Lauren to nail this look. A vertical stripe trouser is your secret weapon to make you taller and thinner than ever before. It's up to you if you want to share the secret. Any way you style it; these pants are a winner in every way.
Ladies, listen up because here's the key piece for decades to come. Sophia Loren made it famous, Anna Wintour uses it as her go-to, and now you can join in their ranks…..a lightweight cheetah print or pony hair walking coat is your secret weapon to complete style domination. Designers Saint Laurent and Bally highlight this look and make a lasting impression. The cheetah print and cow hide make up today's modern trench and provide the perfect complement to your busy lifestyle. Black pants, jeans, or your LuLu Lemon leggings, this topper coat completes any look.
Spring fashion is such a welcome friend and reminder to live footloose and fancy free. Fluid fabrics that dance in the wind and bright colors that shine new light, warm weather dressing is about loosening the tension, opening the window and letting the spring fever begin.