Pre-Fall 2017 Collections – New York Part 4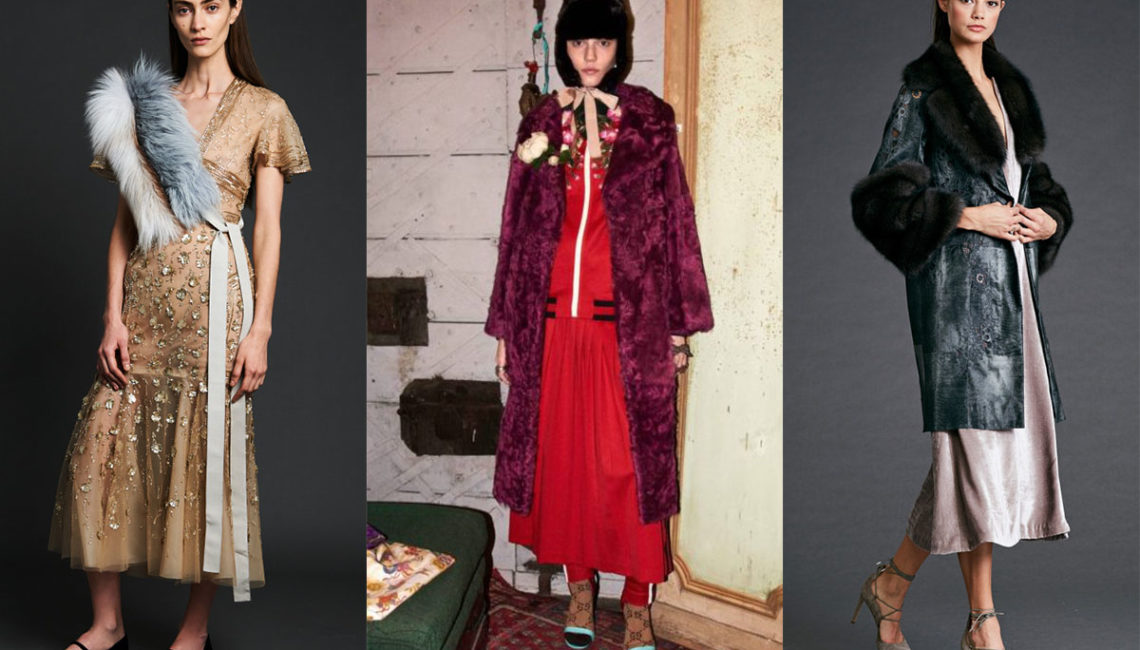 Pre-fall 2017….we're back!    The Veuve Clicquot empties are gone to recycling, the dress has been dropped off at the dry cleaners and the last vestiges of New Year's Eve have been swept away.  Happy 2017!.  Now let's see….Pre-fall 2017, where were we?
More Haute Trends from the Pre-fall 2017 Collections
J. Mendel brought a rocker edge and a bit of flamenco influence to his trademark femininity and sophistication for pre-fall 2017. For this season he told his story through ruffles and guipure lace, animal prints and soft, faded colors set against rich jewel tones. A dusty rose chubby evoked the rock 'roll vibe of the 1970's.  Mendel once again proved his mastery of fur with "seasonless" fur looks that define statement outerwear for the transitional season.
Nothing was off limits for Alessandro Michele's pre-fall 2017 collection for Gucci.  A range of historical references delivered unexpected pairings of silhouettes and shapes.  Detailed floral prints were paired with checks or iconic Gucci stripes.  Bold, cartoon-y graphics held their place amidst ladylike bows and ruffles.  All together the message was one of opulence and artistry with a bohemian flair and plenty of opportunity to create an individual style statement.  Fur played a strong role in this collection, adding to the luxe message.  An intarsia mink hooded cape was pure wearable art.  A studded mink corduroy jacket redefined the possibilities of fur.
Dennis Basso, the established go-to designer for a generation of society ladies is deservedly earning his place among the "next generation" with a pre-fall 2017 collection that is full of innovation and surprise.  Soft, pretty floral prints, delicate lace and intricate embroideries felt romantic and purely elegant, yet fresh, modern and young at the same time.   From the clean lines of a simple shirt dress to the sexy, beaded gown with a high slit and cap sleeves or the sensually draped plisse pleated gown, the message was pure sophistication and a cool chic.  And oh those furs! Light-as-air foxes will be the perfect luxury statement for those cool evenings as summer transitions into fall.   But this season Mr. Basso, the undisputed master of luxury furs, single-handedly pushed the art of fur design to an entirely new level. A pleated accordion skirt was fabricated from chiffon and broadtail.   Broadtail "lace" became the hem of a sable jacket with chinchilla strips.  Nothing was as you expected, but the surprise was sublime.
There is a pronounced femininity to the pre-fall 2017 collections and Prabal Gurung ably embraced the theme. Flounces, tiers and ruffles allowed simple silhouettes to seemingly float.  Floral prints and fine detailing had a ladylike appeal.  Rich fabrics featuring color-blocked patterns that evoked the works of Rothko heightened the sense of luxury and created a distinct note for the collection.
Season after season we can't wait to feast our eyes upon the opulence and elegance of Naeem Khan's work.  For pre-fall 2017 he didn't disappoint with his exquisite beading and embroideries creating more red-carpet worthy gowns.  But, expanding on his spring theme he added more casual looks that can carry over from day to evening.  Floral prints dominated here with touches of lace and even knit crochet on separates and dresses that defy seasonality.  Mr. Khan has proven that he can deliver more versatile and functional looks without losing his unique voice….Bravo!
Related articles