Pre-Fall 2017 Collections – New York Part 3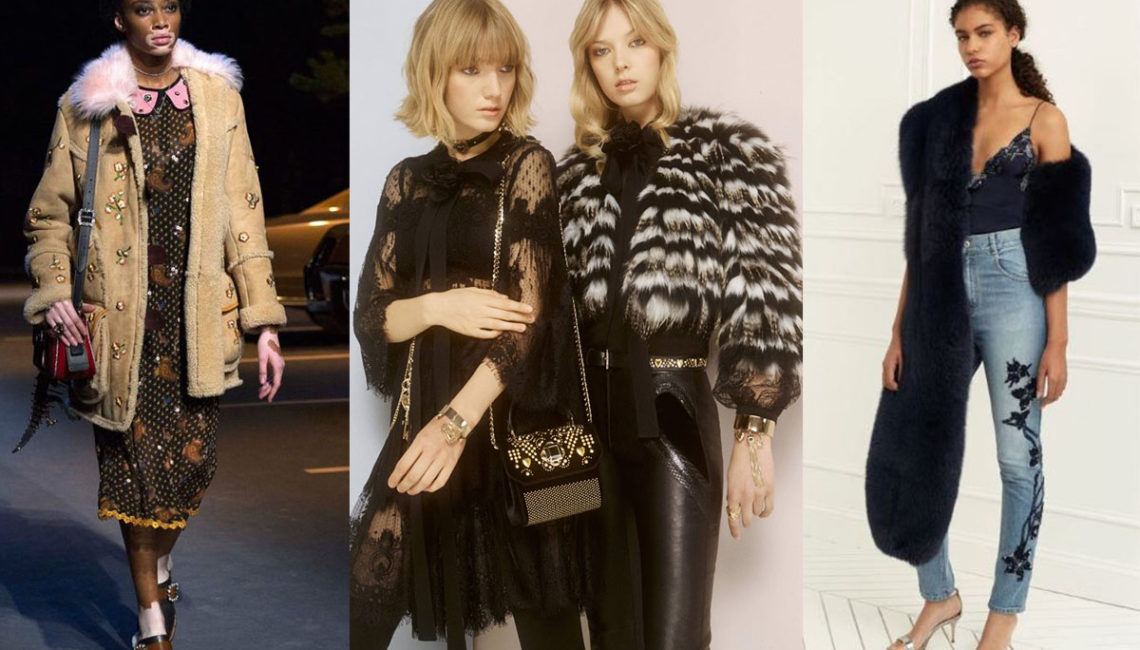 Pre-Fall 2017 Trends to Love Now and Into Next Year
When it comes to special occasion dressing Elie Saab is king.  Whether for daywear, cocktail or evening, his lavish embellishments and penchant for glitz and glamour deliver head-turning looks that are sure to make an entrance.  For pre-fall 2017 he turned to the 1980's, a nostalgic turn that is trending, adding to the high-drama of his clothes with power shoulders and a mix of opulent velvets, leathers, lace and fur that defined the era.  If you've got somewhere special to go, this collection has you covered.
It seems you can hardly log onto WWD lately without reading something about Fernando Garcia and Laura Kim of Monse. With so much going on it is hard to imagine where they found the time to develop this pre-fall 2017 collection.  But we're glad they did.  Their message is clear here; fun, chic and easy-to-wear clothes. Stripes and polka-dots, bold colors and their trademark exposed-shoulder looks lay the platform for a range of fresh, modern looks in blouses, dresses and pants that easily cover all the dayparts and wardrobe needs of their clients' lives.
Jonathan Simkhai uses pre-fall 2017 to prove that he can go casual.  More renowned for his eveningwear, this season he showcases a range of daywear that reflects an easy, comfortable confidence.  Deconstructed looks lend a modern edge while menswear references and tailoring give a sense of power dressing.  The softer side comes in sexy camisoles, guipure lace and plush fur accents.    And of course, when Mr. Simkhai introduces denim it has to have a special flair and his denims with floral embroideries are perfectly fresh and on point.
If Creatures of the Wind has a running theme it is to expect the unexpected.  It seems that each collection brings forth carefully researched historical references creatively explored and re-imagined.  Frankly, we are fans!  Though it is tough to pin-point the influences for pre-fall 2017, this collection had a clean, unfussy feel.  These are clothes meant to show a sense of style without pigeonholing or defining the woman who wears them.  Each piece can easily adapt to a wide vocabulary of styles.  Particularly outstanding for us was the mink intarsia scarf with daisy motif…so seemingly simple, yet so intricately crafted.
Overwhelmed might best describe our reaction to the Coach 1941 presentation for pre-fall 2017.  In fairness, this was a presentation of women's pre-fall and men's fall mixed together.  And, making it even more extensive was that the show marked the celebration of the brand's 75th anniversary.  But we also got lost in the heavy array of patterns and graphics and detail.  What did come through clearly was the Americana theme with the retro graphics and NASA logos along with the iconic American varsity jackets.  Making it all worthwhile was their extraordinary collection of leathers and shearlings.  Stuart Vevers' creative vision has allowed him to execute the most exciting and innovative shearlings on the market today and this season's twist of beaded flowers in his shearling designs raised the bar for statement outerwear.
Versace has evolved from the hyper-sexual, over-the-top opulent looks that became their trademark in the late 1990's and the early years of the new millennium to a more subdued glamour.  That's not to say it lacks excitement.  To the contrary.  Donatella Versace proves this with her pre-fall 2017 collection mixing an edgy urban vibe with more polished, feminine silhouettes.  Innovative fabrics, original prints and distinctive detailing provide the cutting-edge styles that have made Versace a coveted fashion label for everyone from music icons to society dames.  Her mastery of leather is on full display with powerful, sexy biker jackets.  A blue ombré mink coat and a brocade pattern intarsia mink cape prove she has not lost her ability to create the kind of ultimate statement pieces that demand attention.
Related articles