Pre-Fall 2017 Collections – New York Part 2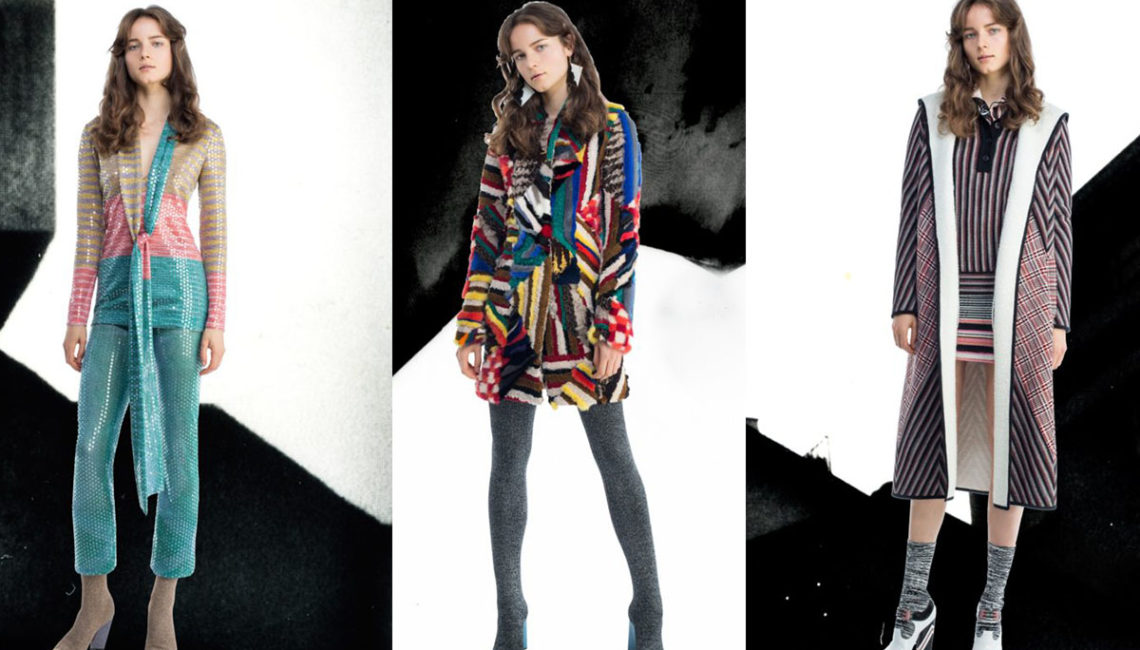 As more and more designers move towards the "See Now, Buy Now" ideology, pre-fall makes a lot of sense.  After all, transitional wear is, by definition, designed to bridge the seasons, thereby making it more easily wearable and saleable no matter the date on the calendar.  Pre-fall 2017 proves the growing importance of this fashion cycle with an extensive, and impressive roster of more collections than we can cover.  But we're going to do our best to bring you highlights of the best.
There was a duality to the Carolina Herrera pre-fall 2017 collection.  Strong tailored suits of crisp black or handsome plaids or windowpane checks reflected a masculine aesthetic.  But gowns with delicate ruffles, tiered hemlines and floral appliques showed a more ladylike side.  It was a departure for Ms. Herrera with strong art deco references and an edgy, modern vibe geared to broaden her client base.   A brown leather coat dress with intarsia mink cape sleeves showcased the kind of confident dressing that may be a new mantra.
Missoni has a great take on pre-fall.  Her manifestation of the transitional season is a collection of pieces that can easily be mixed and matched and layered to reflect the changing temperatures and moods. Her trademark richly textured patterns and stripes were on full display here with a bit of a boho-70's feel.    A multi-colored striped cardigan can be worn over a beige cropped knit pant one day, a striped cropped, flared pant another and a skirt with a multi-colored chevron pattern on another.  For any one piece there were a multitude of options to create a range of looks.  The standout looks of this collection came in her extraordinary colorful patterned shearlings….like nothing we have ever seen before.
Phillip Lim took the opportunity to make an entirely new statement with pre – fall 2017, using some of his spring vocabulary as building blocks but introducing a collection heavy on details.  Pearl buttons, corsets, lace detailing and Victorian collars told his story of an edgy, romantic elegance.   Curly lamb collars on several coats and jackets added just the right luxe appeal.
Monique Lhullier has become the go-to designer for feminine elegance.  Season after season she introduces soft draping, luxurious fabrics and delicate embroideries that are sure to make any woman feel like a princess.  Her pre-fall 2017 collection didn't disappoint.  In another designer's hand the bold flamenco ruffles and Matador jackets of Spain may have looked a bit costume-y, but Ms. Lhullier manages to fold them easily into her vision of graceful glamour.  Her embroidered lace gowns topped with her exquisitely embroidered mink jackets are sure to make a notable entrance.
We are loving Christian Siriano more and more.  He understands that women come in a variety of shapes and sizes, cares about how and why they wear clothes and recognizes individual taste and style.  One look at his rather extensive pre-fall 2017 collection and you can see, he is working hard to bring women into the Christian Siriano universe.  This time around he shows a flair for drama adding bold sleeves to simple silhouettes or showcasing peplums, ruffles, bows and trains.  But rather than overwhelm, these details make his clothes eminently interesting and wearable.
Jonathan Saunders, new chief creative director for Diane Von Furstenberg is breathing new life and energy into the label with a pre-fall 2017 collection that was strong on bright colors, fun prints and unexpected, but very effective pairings.  These clothes define easy chic, each piece strong on its own but well-suited to stylized layering as well.  Case(s) in point, a lilac laser-cut sheath worn over a yellow clingy knit shirt with the luxe touch of a deep red fox stole.  This was a collection full of great wardrobe building separates that will easily bridge seasons for a wealth of versatility and wearability.
Dion Lee's pre-fall 2017 collection caught our attention for his sophisticated, distinctive and luxe outerwear. Rich felted wools, velvets, shearlings and satins make their mark in bombers, aviator jackets, long capes and easy, vintage car coat styles.  These toppers complement a wardrobe of modern sportswear looks focused on  ath-leisure and military references.  Mr. Lee manages to provide solid wardrobe pieces that are sure to be equally at home downtown or uptown.
Related articles