Persian lamb & The Grand Budapest Hotel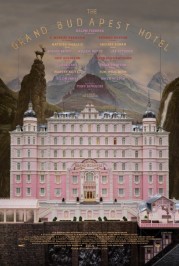 On February 6th, 2014, Wes Anderson's highly anticipated "The Grand Budapest Hotel" opened the 2014 Berlin International Film Festival, the 64th Berlinale, to great fanfare. Now, the madcap film is coming to theaters everywhere, making new fans of Wes Anderson's trademark cinematography, recognized for its impeccable compositions and painterly quality.
What grabbed our attention here at FURINSIDER was a beautiful, if not retro-camp, grey Persian lamb coat worn by Edward Norton's character, Henckels. Yes, it turns out that the past 3 fashion cycles have steadily reintroduced Persian lamb… Astrakhan… Karakul… Broadtail….to the fashion scene (Miuccia Prada, for one, is all-out on a Broadtail kick).
Not that long ago, Persian lamb was a womenswear must-have, especially when worn with a mink collar of contrasting color. Menswear adopted this short tightly curled fur as a de facto men's fur for well over a century. Some exquisite examples from the Belle Époque up to the 1920's showed large black or grey coats lined in fur (often mink) with or without oversized collars of another fur type like fox or otter.
Today, the Persian Lamb look appeals to a much younger client base, especially once dyed in fun colors challenging nature's traditional color palette. We saw how Fall 2014-Winter 2015 delivered a few extra twists on the Persian Lamb Classics.
Factoids about the film:
The comedy details the adventures of Gustave H. (Ralph Fiennes), a "legendary concierge" at a famous European hotel between the wars, and Zero Moustafa (Tony Revolori), the lobby boy who becomes his most trusted friend.
The cast of characters they encounter include F. Murray Abraham, Mathieu Amalric, Adrien Brody, Willem Dafoe, Jeff Goldblum, Harvey Keitel, Jude Law, Bill Murray, Edward Norton, Saoirse Ronan, Jason Schwartzman, Tilda Swinton, Léa Seydoux, Tom Wilkinson and Owen Wilson.
See you at the movies!
Related articles