PARIS Spring Summer 2018 Collection Reviews PART 9 FINALE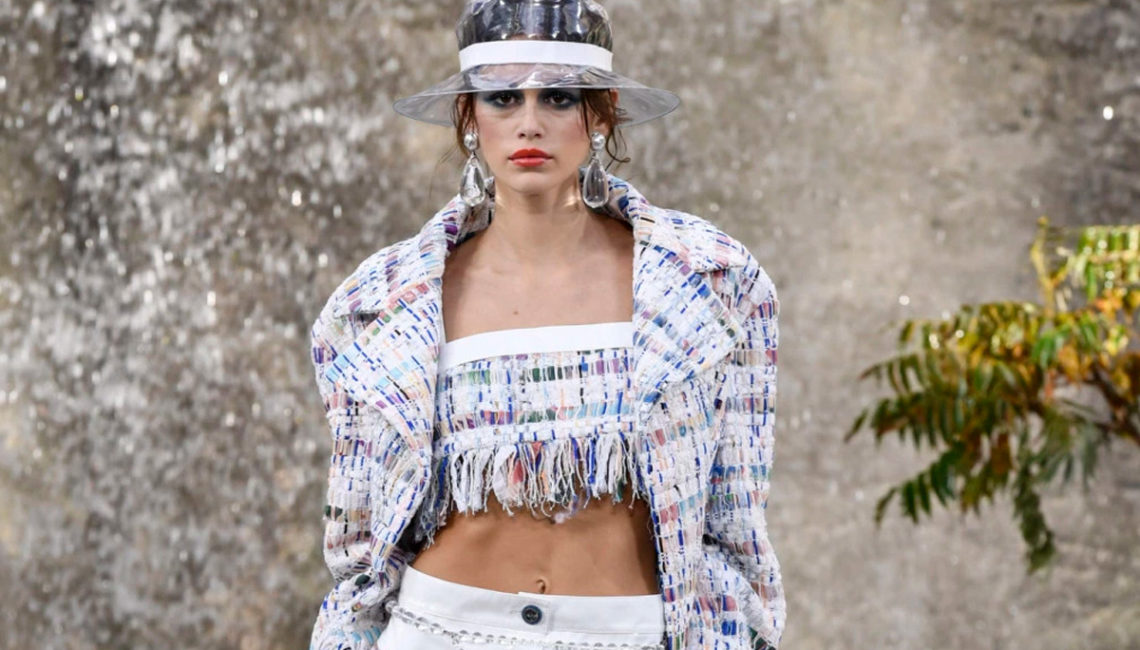 From easy, effortless chic to edgy and street smart to uber-luxurious, the Paris spring summer 2018 collections offered plenty of strong fashion options to fit every age and lifestyle.  Designers here somehow didn't feel the constraints of other cities, nor did they seem to feel so compelled to respond to the social and political turbulence that surrounds them.  The focus was on fashion and with innovation and craftsman-like skill they created collections full of sartorial treasures.
The Curtain Closes on Paris Spring Summer 2018
Karl Lagerfeld and Chanel.   Like wine and cheese it is the perfect pairing. Lagerfeld has been making mad fashion since 1957 so anyone who thinks that the more "seasoned" can't evolve and crush the youth, just take a look at Karl.  Presenting another huge collection for spring/summer 2018 he once again wowed us with his over-the-top showmanship, this time building an outdoor wonderland complete with waterfalls.  For this collection he played with plastic, which seems to be an emerging trend for the season. But we can't talk about Chanel without mentioning their custom, in-house fabrics. Yep. They do that too!  Light was key to the more youthful energy of this collection, playing off of shiny plastics and metallic threads in tweeds, lace and knits. A blue dégradé sarong over matching bathing suit was a showstopper. Try out a tiered chiffon skirt with a hint of a plaid pattern or a dress made of gold lurex threads that glistened like a lit sparkler on 4th of July.  If your goal is to dress to impress, Chanel must be on your radar this season.
Miuccia Prada has us guessing with her spring/summer 2018 collection for Miu Miu.   This collection was not as kitschy as we've come to expect from the label, but her unexpected combinations of sweater vests, socks and sandals, and lumberjack plaids confirmed her unique take on dressing.  Contrasting these tomboy chic looks, her softer side was showcased in delicate lace dresses and dresses with beautiful beaded embroideries.  Tailored cropped pants, blazers and shorts bridged the gap between the masculine and feminine vocabulary of the collection.  Topcoats ranged from hearty distressed leathers to pretty floral prints to coats with beaded appliqués, each making a strong individual style statement.   As we have come to respect with Ms.Prada, the artistry comes forth in considering one piece at a time. Peeling back the layers exposes the true genius of Prada's hand, and underneath the unexpected pairings were plenty of solid, wardrobe building staples.
Gilt to the hilt is how we can best describe Louis Vuitton's spring/summer 2018 RTW show.  Coats of rich metallic brocades and fine embroidered silks were unexpectedly paired with clean silk sportswear separates to evoke the 18th century regalia that inspired Nicolas Ghesquière.    Reflecting his more modern sensibilities, a fitted black leather dress with balloon skirt may just be the best LBD of the season.  Mr. Ghesquière created a distinct and important voice for the label effectively mixing the modern with the antique to create pieces that will keep collectors happy and stand the test of time.
Wearable, approachable, girl-next-door kind of fashion radiated from the runway at Paul & Joe for spring/summer 2018. Sophie Mechaly, the visionary behind the brand, kept it clean and simple with crisp cotton blouses, pants, and shorts. Upping her game, she added a hand printed moto jacket that literally could coordinate with any of her pieces. A handful of satin, printed blouses had a vintage vibe with a buy now, wear now sensibility.  This was easy, timeless fashion with that Parisian chic.
The painstaking precision and unbridled innovation with which Thom Browne conjures up and creates his fashion proves him to be a true artist of our time. The looks may not always be, if ever, wearable, but they tell us something about what's possible and they encourage further exploration. Like looking at a Pollack painting, it requires deep concentration just to appreciate the work in the abstract let alone the technique used to create it. For spring/summer 2018 Browne's milieu was tulle, and it was adapted brilliantly to create looks in madras, checks and seersucker.  But it was his use of fur that gave his looks life and a 3D visual delight.  A broadtail collar on a grey suit, a yellow and black mink collar reflecting the pattern on a coat of mixed materials, a white mink anchor accessorizing a dress or a white mink collar on a puffy, frothy white coat, all provided a depth that was immeasurable.
In a world where so much talk is about isolation and exclusion, Faith Connexion is on the opposite spectrum of such protectionism. For their spring/summer 2018 RTW collection, they continued to reach their rocker chic crowd with edgy separates and sparkly athletic wear. But what's so special about what this brand does is that they invite artists from all over to dabble in their fashion. Students from Parsons School of Design do on-the-spot embroideries in their retail location and they are recruiting local graffiti artists to do custom work on army jackets at the shop. Jean jackets with freestyle drawings are the work of NTMB, a collective from Naples, Italy, whose initials stand for Never Too Much Basics, and the tie-dye-effect jeans are the creation of the 20-something Austin Blaisdell, who bleaches clothes on a Los Angeles rooftop.  A brilliant and exciting way to close out the week!