PARIS Spring Summer 2018 Collection Reviews PART 7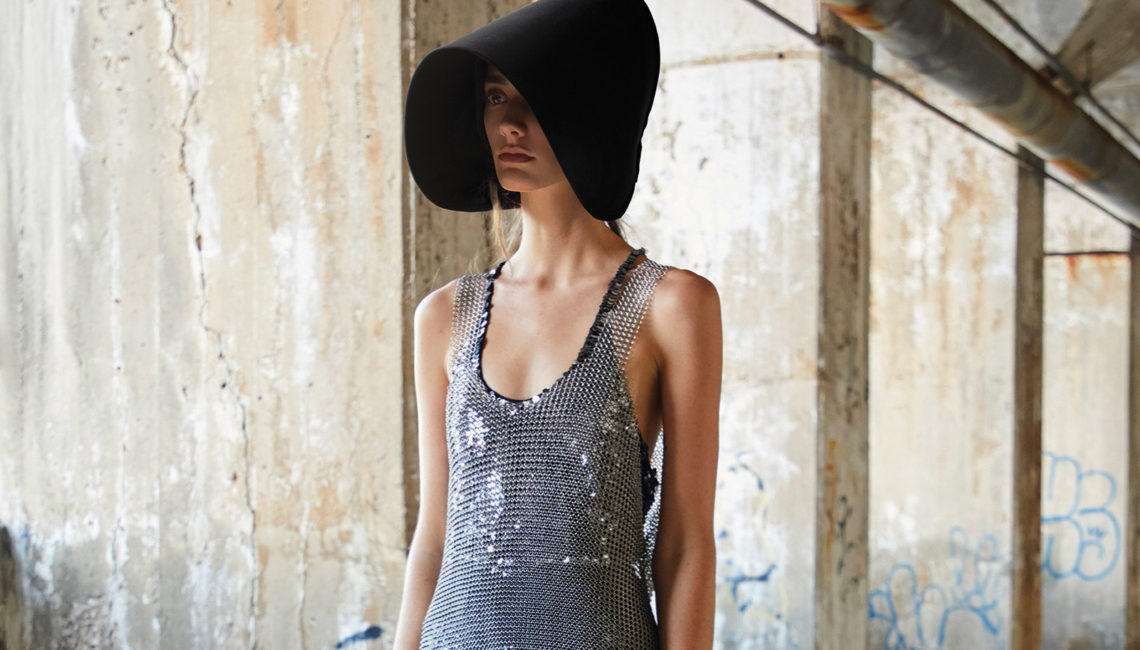 If surprise is a means of measuring the success of a fashion collection then Paris has been doing a pretty good job.  Across many of the collections designers are taking new roads, delivering unexpected looks with twists and turns that are departures from what we've come to expect of them.  This is what makes fashion fresh and fun, and it is adding to the excitement of the spring summer 2018 collections.
Spring Summer 2018 is Coming Up Roses
Vera Wang has forever been squarely in a woman's corner. Femininity and feminism are large drivers of her vision. For spring/summer 2018 she took a page from The Handmaiden's Tale with winged bonnets and minimalist, religion-inspired looks that she chose to introduce by video as she did last season.  In this dystopian world of a totalitarian America and loss of control, Wang said, "control ultimately begets self-expression." Her approach for the season included solid, strong-suited separates with corset tops, garters, and lingerie adding an edge to pantsuits and tailored jackets. Her precision tailoring, unparalleled in the industry, was combined with rich fabrics, lace and beading to convey pure luxury.   Wang is a skillful fashion leader and her message in support of women and their rights came through loud and clear for 2018.
The only things we felt worth saving from Valentino's spring/summer RTW 2018 collection were what the brand does best, their girly dresses, bow blouses, and delicate evening wear. Pierpaolo Piccioli, creative director at Valentino, did interject some futuristic fashion. But his moto jackets in clear plastic with rounded shoulders felt neither modern nor feminine. Crew neck tank tops layered under plunging scoop necks and techno rain coats over intricate sequin separates cramped our brain. We have come to expect sophisticated, ladylike looks that are flattering to the form from Valentino, but none of this season's offerings did the trick.
With an eye cast to the future, Anne Sofie Madsen's spring/summer RTW 2018 collection was ready for space and the new fashion frontier. Techno fabrics in nylon and plastic were crafted into bulky outerwear with lots of zipper detail. Baggie pants and tight tank tops had a rapper vibe that fell somewhere between confusing and exciting.    Overall, the pieces were a bit ill-fitting and androgynous for our tastes.  These were clothes that made you think….and that may or may not be a bad thing. That's why a futuristic theme can be so compelling – it's the great unknown.
Zuhair Murad is nothing if not consistent. Season after season he shows a fervent commitment to making women look and feel like the inner goddesses they dream they are. His spring/summer RTW 2018 collection was a presentation of statement pieces, each reflecting his trademark opulent detailing and masterful tailoring. Murad draws from the past and took inspiration from the Greek warrior woman and what she might wear in present day. Black leather gladiator skirts complete with gold grommets will prepare you to charge and conquer. Murad's collections wouldn't be complete without a stock pile of evening gowns. These were best suited for Greek goddess or the modern day muses that walk the red carpet.
If you've ever seen John Water's brilliant film "Cry Baby" then you would recognize right away where Bill Gaytten found his inspiration for John Galliano's spring/summer 2018 RTW 2018 show.  Think frustrated femme fatale alongside 50's prom queen with a dash of bad boy thrown in.    Seductive baby doll lingerie looks shared the runway with frothy prom dresses and tightly tailored suits with animal print lapels.  Soft chiffon dresses and flutter sleeves suggested that 50's innocence while the dainty bras peeking through added a more raucous edge.  The Galliano label is still struggling to find its footing, and while this collection shows some sartorial promise, we're not sure it will deliver the boost of traction needed.
That "other" brand no longer has the corner on the market in plaid. Hermès spring/summer RTW collection for 2018 made its mark in statement checks and plaids that anyone worth their salt will recognize as distinctly Hermès. Designer in residence Nadège Vanhee-Cybulski uses this as a fun way of branding without the obvious printed logo. In the requisite leathers and suedes, this collection was Hermès through and through oozing all the luxury we've come to expect.  Nothing too short or skimpy, the looks included pants, over the knee dresses, and walking coats that will appeal to a more sophisticated, and perhaps even a more mature audience. Some expected horsey prints on silk crafted caftans and suited separates were among the offerings.
Who highjacked Giambattista Valli and put sweater vests in his spring/summer 2018 RTW collection? Well, it's no matter, because it was salvaged with what we know and expect of Valli – kicky skirts with ruffles galore and girly-girl pretty prints. And what girl doesn't want a gold chain sandal lined with curly lamb fur to cushion her walk? Valli's got that too! We always look forward to the GV show. We love his approach to feminine dressing, always bursting with creativity and excitement. Peel back the layers and this collection is Valli tried and true.