PARIS Spring Summer 2018 Collection Reviews PART 6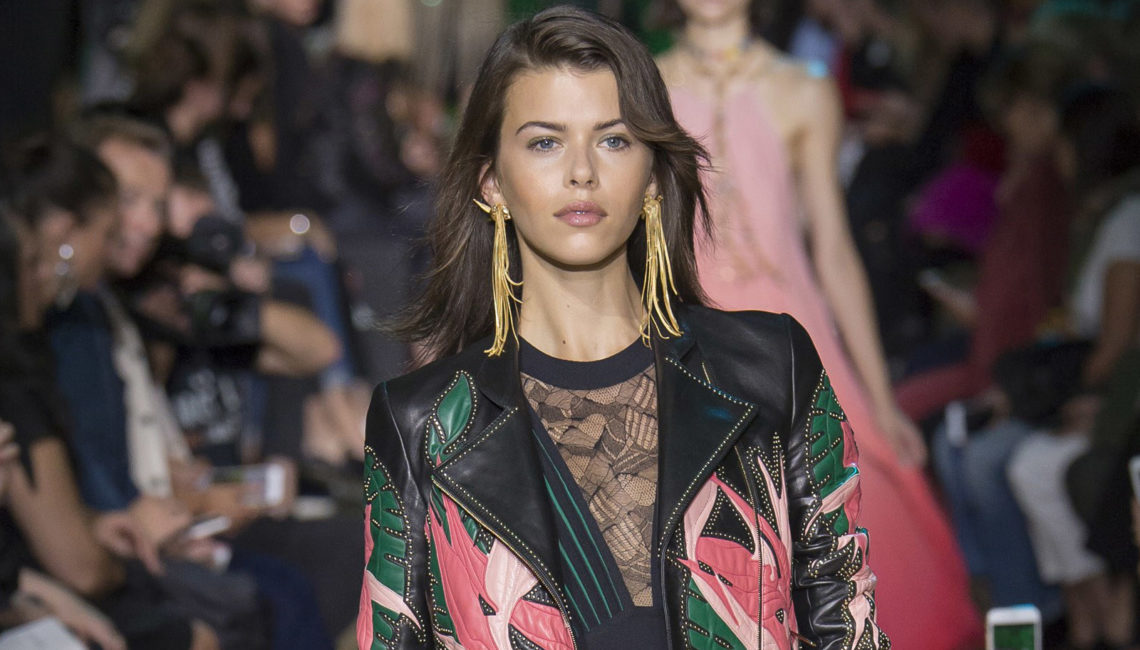 The Paris spring summer 2018 collections have been stirring our sartorial souls with innovation and quality craftsmanship.  In an era of the rising popularity of fast fashion it is refreshing to see the commitment to exclusivity and luxury that is apparent on the Parisian runways.  Certainly some of the themes that have emerged here will trickle down to fast fashion and mass production, and we couldn't be happier!
Color is King in the Paris Spring Summer 2018 Collections
Elie Saab invites you to venture a walk on the wild side with his spring/summer 2018 RTW collection. Relying on intricate fabric patterns of python and tropical leaves, he strays from his trademark delicate beading and feathers for eye catching enhancements. This was definitely a more modern and sleek presentation with jumpsuits that were, by far, the King of the Jungle in this show. Take, for example, his closing piece, a black crepe ankle pant with side cutouts and beaded fringe – this was the classic Saab on the prowl.
Julie de Libran is the modern maven behind the Sonia Rykiel brand and her spring/summer 2018 RTW collection check-mated the competition. Strong, sexy separates with boxy jackets in a variety of patterns are solid wardrobe building pieces.  Vichy black, white, blue and peach checks added to the French feel. She adorned the looks with oversized gold oyster closures with pearl inserts. We couldn't have thought up a better treasure! A handful of crop and bra tops gave a hint of skin and will reveal your killer tan and fit bod!
Well, we can hardly call Alexandre Vauthier's spring/summer 2018 collection "ready to wear" unless you're ready for your close up. These were the kind of clothes that literally take your breath away and are movie star worthy. Razor sharp blazers, satin belts and metallic ruched minis, all paired with knee high neon boots or killer stiletto heels, were power pieces in every way. Rhinestone broaches, earrings, and belt tips heightened the evening feel. While spring/summer 2018 RTW has been largely reserved for grab and go day dressing, Vauthier is quite the opposite. This is stop and stare dreamy dressing.
Clare Waight Keller left her post at Chloé and crossed town to the House of Givenchy. Prior to her 2018 spring/summer RTW unveiling, she met with the scion himself. Ninety years young, Givenchy seemed to give Waight Keller his blessing. She reached back in the archives and reworked some of the brand's key patterns and shoulder shapes. Adding her own twist, she delivered a pair of lipstick red, two toned leather pants and bow blouse with puffed sleeves that was perfectly "of the moment." The men's wear was the real star of the show.  A "wow" kind of fashion oozing sex appeal and effortless style, the skinny pants and satin tops take a man with a deep river of confidence to pull off.  Some strong walking coats and blazers added to the sophisticated chic.
Celine's spring/summer 2018 RTW collection was grand dame dressing with a European sensibility. Phoebe Philo, year after year, builds on her artistic vision for architectural fashion. Voluminous silhouettes, manish pants and trench coats were colored in khaki, olive, white, and brown, which played into the practicality of these pieces. One-size- fits-all kaftans were another mature offering that will appeal to the base clientele.
For spring/summer 2018 RTW, designer Albert Kriemler for Akris turned to American architect and interior furniture and textile designer Alexander Girard for his great inspiration. Colorful wooden doll figurines painted on dresses and pantsuits reflected one of Girard's folk art adaptations. What was remarkable and unmatched were the fabrics that made up this collection. Lighter than air chiffons, soft suedes, and silks gently danced on air with a fragile and feminine feel.
The Balenciaga spring/summer RTW collection for 2018 was a 180 degree, about face, run in the opposite direction from anything central to the brand presentation. Hard core, rocker, rugged RTW from creative director Demna Gvasalia was what it's all about next season. Wanting to incorporate more of his personality and lifestyle and less of the brand's heritage, sweatshirts, plaid skirts, denim, and newspaper prints had more of a street edge for a more youthful and broader appeal.  While we respect and honor Gvasalia's commitment to his truth, regrettably these pieces can be  – and we suspect will be –  easily knocked off by the behemoth discount retailers.