PARIS Spring Summer 2018 Collection Reviews PART 4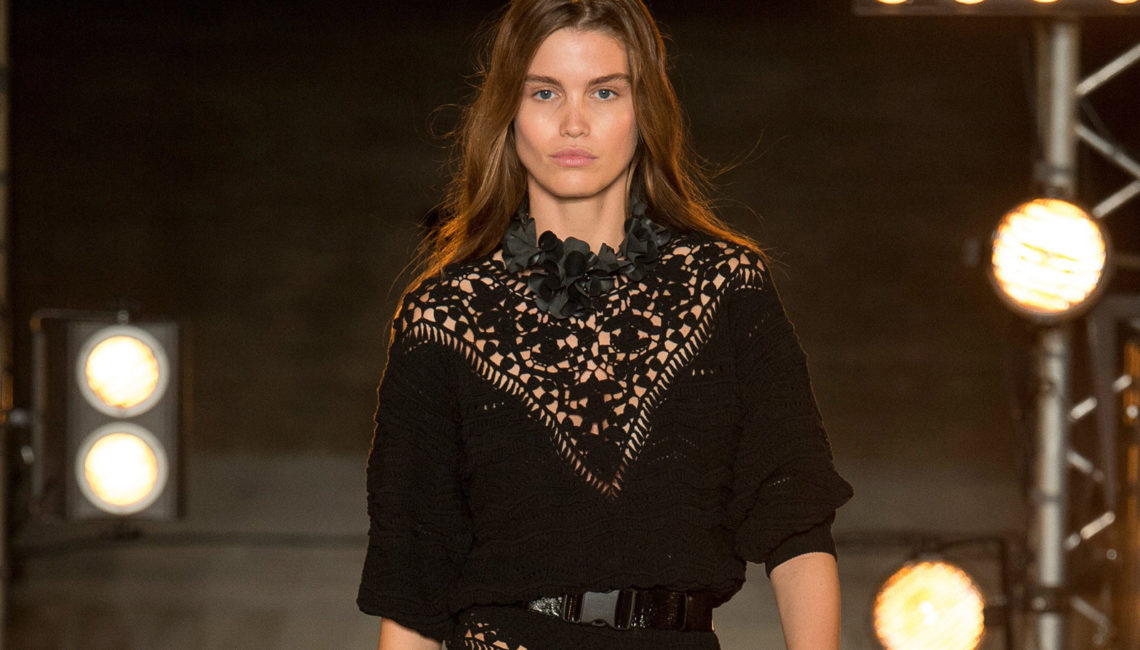 For those with the confidence to make a strong individual style statement, Paris is offering a solid selection of wardrobe building options for spring summer 2018.  With an eye for detail, skilled tailoring and a fresh take on shapes and silhouettes designers are delivering a welcome, modern approach to the season.
Style is Personal: Paris Spring Summer 2018 Trends
Isabel Marant  and her namesake brand exploded when she lent her talent to create for the monster mogul retailer H & M and she's not stopping there. In her spring/summer RTW collection for 2018, she combined men and women's wear to the delight of her loyal following.  Her trademark looks, including high-waisted pants and flirty dresses, were combined with heavy wrinkled cottons, blouson sleeves, ruched minis, and a rocker undertone, allowing Marant to take her place as the queen of casual chic. Broderie anglaise played a role on jackets, dresses, pants and one-piece suits lending a delicate if slightly boho feel.
The puff sleeve continues to be a strong trend for spring/summer 2018 RTW but nowhere have we loved it more than on the runway at Off White. Virgil Abloh, the revered designer behind the brand, had two looks in leather that were head-turners in every way. In black and beige with high-slit skirts, the looks were sexy and sophisticated.  His unique, modern take on classic looks delivered some standout pieces as in his one-shouldered, body-fitting black dress with tulle, a cool alternative to the LBD.  A ruffled diaphanous floral print gown was dreamy, and his floral print pantsuit was polished and powerful.  If making an entrance at the cocktail party is your goal his dresses with the wide, stiff-hemmed skirts may be the perfect offering – they are certainly sure to notice as you lift the skirt sideways to fit through the doorway.
Christian Wijnants played heavily on sweeping dresses and tops with handkerchief hemlines for spring/summer 2018.  Subdued pastels and delicate prints suggested that Wijnants looked east for inspiration. Persian motifs with Farsi graphic tees reflected his love of combining art and history, a theme that was carried over from his 2017 show. While overall we found the looks appealing, they did tend to run together with little variety in fabrics or silhouettes.
We've all been told two heads are better than one, but did you know the same math applies with two outfits side by side too?? Undercover's spring/summer 2018 RTW collection demonstrated just that. Designer Jun Takahashi together with her friend, artist Cindy Sherman dreamt up the perfect pairings. A twinning theme, two models were paired in similar, compliant outfits to create a multiplier effect of epic proportion. With a broad variation in shapes, most dresses were screen printed with art from Sherman. Shown independently the impact of these looks might weaken a bit, but shown in pairs as they were the presentation was unexpected and exciting.  We loved it!
It's almost hard to call Andrew Gn's spring/summer collection for 2018 "ready to wear." It was just that special. For a designer who knows his strength, he continues to look inward for inspiration rather than outside influences. His Japanese background is a main driver for the collection. Some of the most gorgeous colors in blood red and electric blue were beyond moving. Recherché prints and appliqués elevated this collection to couture standards.
When a living legend such as actress/female icon Catherine Deneuve is a loyal fan of your fashion, you not only know you're good, but you also understand the kind of women you appeal to. Vanessa Seward's spring/summer RTW show for 2018 was a 70's revival for today's modern woman. Durag head scarves, shirt dresses with front pockets and floral broomstick skirts were paired with slouchy, pony hair boots to give this collection a street chic sensibility. Ms. Seward delivers the effortless chic that is the trademark of the polished French girl.  While there wasn't much new in creativity, it was a safe bet for those who gravitate to free spirited fashion.
Guillaume Henry, the force behind the Nina Ricci brand, set the stage for his spring/summer2018 RTW collection with fervor and gusto. Strong shoulders topped with epaulets and oversized bellows pockets helped to make his coats the high point of a strong collection.  In neutral colors of beige, butter, and black, Henry's looks were tailored to the military. Slim, lace biker shorts and body suits played with the proportions and softened the edges.  A tawny leather dress with logo belt was a standout favorite. Henry's misstep?  He hopped on the marabou feather trend but his execution was anything but likable.
Related articles