PARIS Spring Summer 2018 Collection Reviews PART 2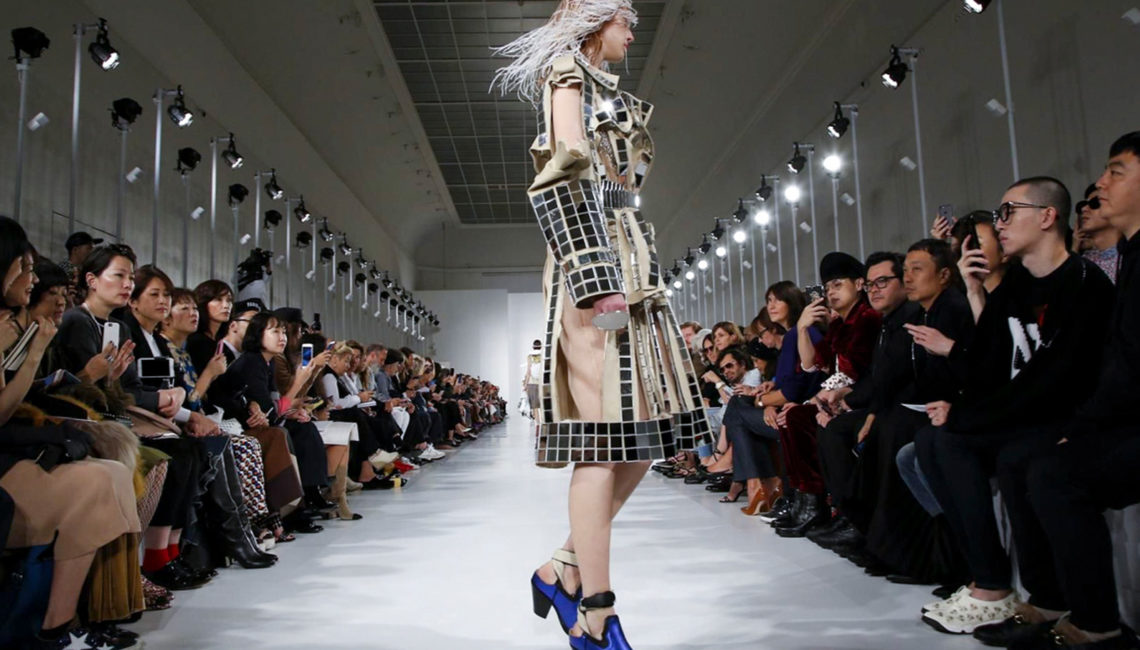 Paris spring summer 2018 is giving us the unexpected twists and turns that make fashion fun; and quite frankly highly addictive.  Innovative constructions, exceptional detailing and skilled tailoring reflect the creativity and artistry that can define a collection.  Designers here are offering the kind of fashion exploration that is sartorial heroin for true fashionistas.  For a season that started out so safe, it is a welcome turn.
More from the Paris Spring Summer 2018 Runways
We have nothing but respect and love for the extraordinary talents of iconic designers like John Galliano. A man of uncompromising standards, his spring/summer 2018 RTW collection for Maison Margiela reflects his discerning attention to detail.  Deconstructed coats cut just above the bust line took the form of chic, casual corsets. One look was belted with a pony hair belt buckle which reminded us how cool this look can be. His accessory du jour was a bridle harness made of fabric and feathers to drape over dresses, tops, and jackets. We love to watch a genius at work.
In reviewing Tuomas Merikoski's spring/summer 2018 collection for Aalto, we couldn't help but get the sense of a burgeoning design student teeming with ideas. There was courage and youthfulness in these pieces. Touching on the trends of the season including metallics, patent, chiffon, and puffy sleeves, this collection showed strongest in its outerwear. A variety of style options with artistic details made it very hard to choose a favorite.
Note to all fashion fans: when taking in the Unravel spring/summer 2018 collection under the command of designer Ben Taverniti reflect on the song "A$AP ROCKY – F**kin' Problems ft. Drake, 2 Chainz, Kendrick Lamar" and you'll have an idea of where this collection is headed. This was a show for women who are on top, in control, and in charge. Boxing short waistbands affixed to ballerina skirts, thigh high white leather boots, and lots of skin all demonstrated there are no rules or glass ceilings in Taverniti's world. Pairing some of the looks with cut up blazers was just another knock-out punch to the establishment.
If you have an engineer's mind, a DIY sensibility, or just a craving to use material found in the garage, you might gravitate to designer Francisco Terra's spring/summer 2018 collection for Neith Nyer. Make- shift tops of PVC, mini-skirts cut on the bias and draped askew, and iridescent chiffons with underpinnings were just some of the undone looks in the mix. It was hard to understand why there was so much nudity in the show, but once you got over the shock value you could really appreciate some key pieces. Ruched mini dresses were fresh, modern, and finished.
We mean no offense when we say that Tsumori Chisato's spring/summer RTW collection for 2018 might be best suited for kids rather than adults. Playful and festive for sure with raffia doll dresses embroidered on shirts, geometric black and white prints, and latch hook yarn jackets, it looked like a show from a preschool jammed with toys. Even the accessories were childlike like with a tiny house purse or mini Matchbox car clutch. While we like fun fashion, this was more fun house than fashion.
If you don't own stock in marabou feathers (if there is such a thing), consider this a trading tip. In Ann Demeulemeester's spring/summer 2018 RTW collection under Sébastien Meunier's creative direction, feathers were THE trend. Meunier mixed up entirely black and white color combinations with enough textural combinations to keep things interesting.  Creamy satins, airy chiffons, and just the right amount of black leather helped to make this collection a tactile dream.
With gilded threads, sumptuous silks, pink in every shade, and delicate prints Manish Arora's spring/summer 2018 RTW collection evoked the elements of a high class, upper east side apartment decorator's dream. Fancy touches at every turn gave even more everyday looks like jean jackets a museum quality feel.   Embroidered trims, tight tailoring, and ladylike softness may have added a touch of nouveau riche sensibility, but it wasn't so garish as to be offensive.   Lots of glittery sequins sewn about suggested this collection was a special occasion waiting to happen. But what a woman of top drawer standards needs most are a pair of silk slippers trimmed in silver fox and Arora's got just the answer!
Related articles