PARIS: Menswear 2017 Spring RTW Collection Reviews Part 5 Finale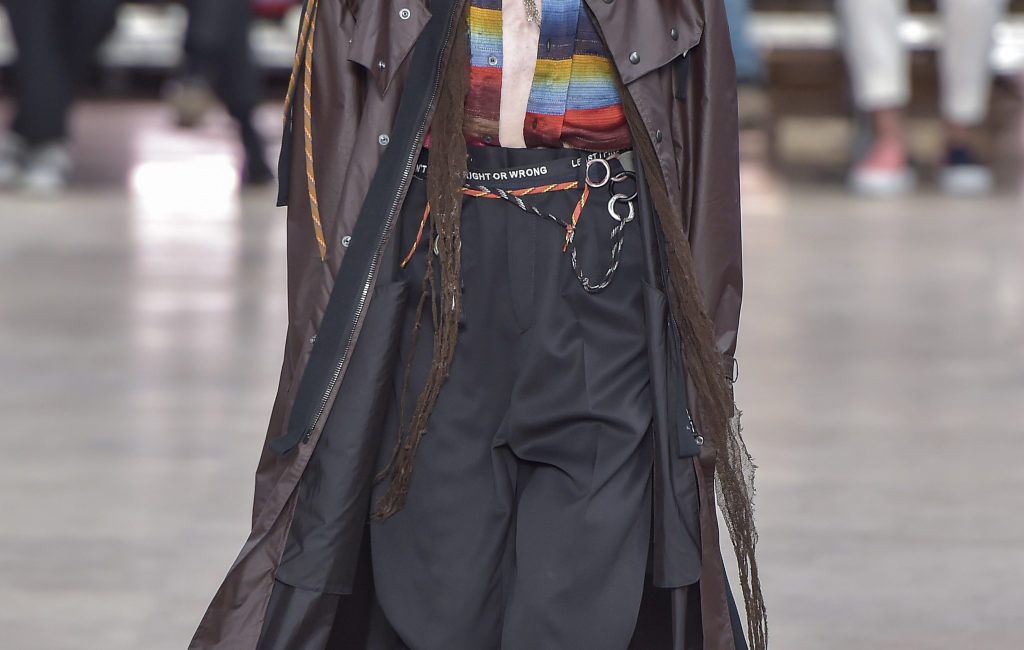 Lanvin designer Lucas Ossendrijver is unapologetic in his approach to fashion. Commenting about his spring 2017 men's wear Ossendrijver said, "I decided to be creative. There's not much else I can do…. Lanvin is all about romance." While we love the effort, the clothes were ill fitting and bland. Use of multi layered stripes, in different colors and going in different directions, helped keep the grey oxford plaid fresh. A few photo print shirts seem to nod to a mini trend seen throughout the season. On the whole, it was the outerwear that showed the most promise. Shiny, crumpled patent leathers, tech fabrics and suede were crafted in the most unusual and exciting ways. Lanvin is an historic brand finding its way into the future and this menswear 2017 collection offering a streetwear sensibility with an elegant edge is headed in the right direction.
The theme of the Kenzo spring 2017 RTW collection was that there was NO theme. The designer duo Carol Lim and Humberto Leon said they channeled an inner 90's club vibe and we can see why. It was a collection of loud, confusing, men's wear and women's dresses that steeped you in sensory overload as if you were one of the partygoers at a club! The silhouettes were a-plenty and included short shorts, cropped tops and stretch pants—— for men?? Oversized grommets and a graphic eye motif – a Kenzo signature – appeared throughout to tie the collection together. Tough looks to pull off but, in a strange way, Kenzo makes us wanna try.
Leisurewear for your inner bad boy rolled out on the runway at the spring 2017 men's wear show from designer Junya Watanabe. Tatted up, beefy models sneered at the camera and gave a cool confidence that made you pay deference as a wimpy wanna-be. Black, white and grey was the predominate color pallet with the walking short and cropped pant continuing to be the hem line of choice. Watanabe cleverly crafted leather jackets in lots of shapes-blazer, pea coat, trench, and parka – usual silhouettes but, paired with the RTW, it was the perfect finishing touch for your tough guy alter ego.
A rain coat made of PVC plastic-who woulda' thunk it?! At the Commes des Garcons spring 2017 RTW collection for men, there was plenty of plastic to rival even the stock at The Home Depot plumbing department. Designer Rei Kawakubo transitioned into suited style shorts with ragged hemlines. It looked a bit like Les Miserables rag tag attire. The prints were very cool and unusual like sharks or black and white faces with red lips but, overall, it seemed like a collection of novelties…guys may buy a piece just to say they did (or could).
Are you looking for one statement piece to add to your wardrobe for spring 2017? At the Maison Margiela men's RTW show, the sexiest, artsiest, blouses- a bit like a pirate shirt with generous sleeves and a low cut front- made our heart race. With prints like a pair of foxes frolicking in a meadow, yup, a guy who sports this look is foxy for sure! Maison Margiela is one of our favorites for always taking great creative risks. This season the suited ensembles cut with raw and rugged edges and with exposed stitching showed easy, confident tailoring. Although this show was relatively subdued for Maison Margiela there was certainly enough of their trademark creative swagger to keep their clients happy.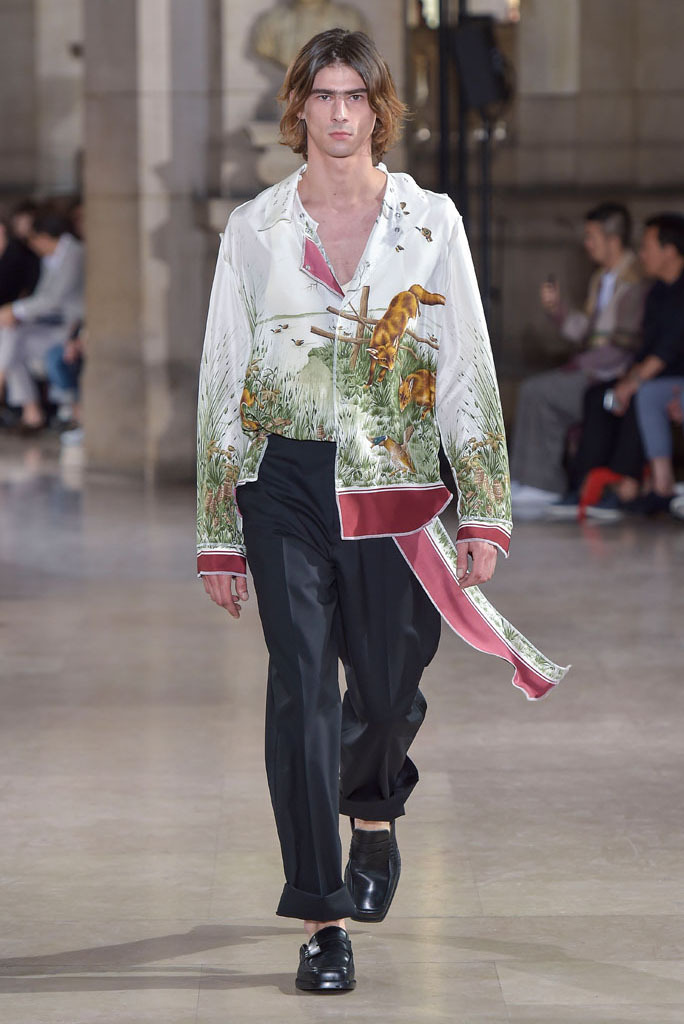 Related articles