PARIS: Menswear 2017 Spring RTW Collection Reviews Part 3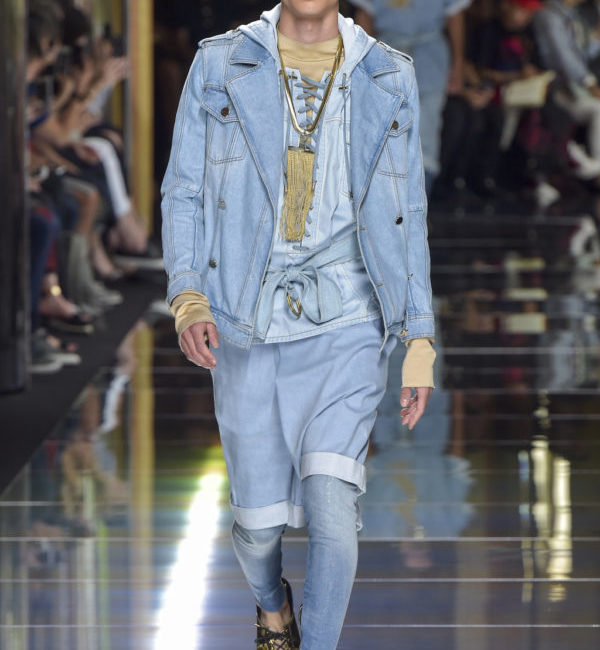 Balmain's 2017 Spring RTW collection takes us to denim heaven – if there is such a place! The jean material was a light wash, silk blend and featured full metal jackets with heavy hardware. This was an effort and execution unmatched by any other designer this season. A few beautifully crafted suedes in toffee, indigo, olive, spearmint and Sedona sand made for handsome moto coats, wraps and skinny pants. One of the strongest his-and-her's RTW collections so far this season, this grouping by designer Olivier Rousteing includes a full range of fashion fusion to take his clients from day to evening. The women's pieces included multi-colored knits that had a Missoni-like vibe and bold color blocking reminiscent of Versace. Jackets and ponchos with over-the-top embellishments of stones and metallics offered a bling factor worthy of Cavalli (his old employer). While it was nothing too new, we still couldn't help but stare.
THIS should be textbook classic casual dressing AND uniform code instated without referendum! The Emanuel Ungaro spring 2017 men's wear collection was just the right amount of traditional conservatism combined with casual upscale prep. Designer Philippe Paulbert crafted linen sport coats in muted color tones with herringbone patterns—not your usual staid blue blazer with brass buttons. He layered vests to give the appearance of a three piece suit and then paired it with colored twill pants or jeans. This collection was polished, contemporary elegance. Men, please burn your golf shirts and khakis and take a page from the Ungaro book.
When Karl Lagerfeld talks, people listen. When he gives a designer a ringing endorsement, that's like God speaking to you from heaven. Kris Van Assche of Dior Homme packed a powerhouse of VIP's in his spring RTW show; among them, Rob Pattinson and Lagerfeld himself. Upon reflection, Lagerfeld said of the show, "I thought it was great — one of his best, if not the best." Ummm, stop, drop and roll….I think our head's on fire! Van Assche assembled a hard core mix of punk rock and 80's glam with black suits accessorized with chest harnesses and buffalo plaid shirts. This stuff might not be for the mainstream guy but will appeal to a certain clientele.
The bold prints used by Phillip Lim in his self titled 3.1 RTW spring collection helped to deliver a strong and youthful statement. Large, abstract florals and hot pink cheetah prints were done with a slight of hand unseen elsewhere. Lim's expertise in tailoring was evident in his cropped pants (another recurring theme this season) and his unstructured jackets that, though casual, managed to have a sharp, dressy feel. Crisp collared shirts were a clean layering piece that added a polished finishing touch. These are certainly outfits that will make your office mates envious.
Cerruti's spring 2017 RTW collection is quite literally all the key trends coming out of the major fashion shows. Cropped pants, three piece suiting, light denim, camouflage, and a crocodile coat for good measure, there wasn't anything that the second year designer, Jason Basmajian, put forth that wasn't marketable, desirable, or sale-able. This was a safe, sophisticated effort that should be met with commercial success.
Related articles