PARIS: Menswear 2017 Spring RTW Collection Reviews Part 2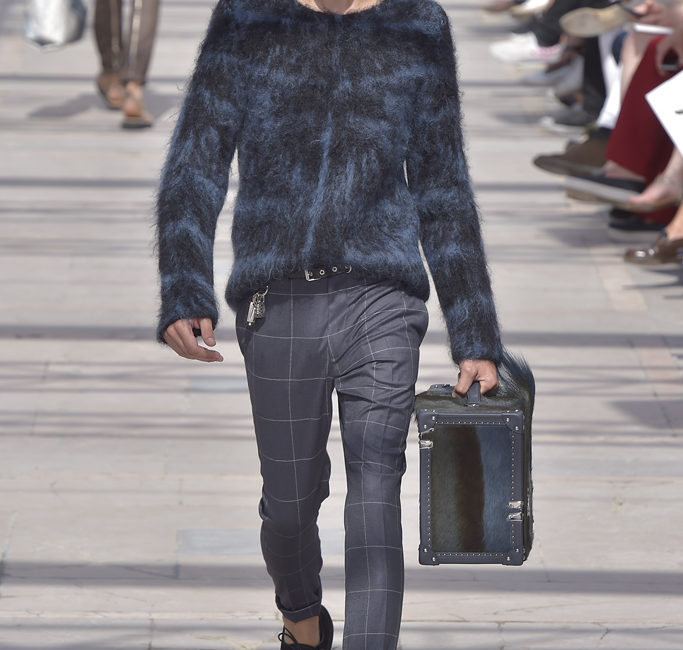 You are defiantly going to want to make a little room on your credit card for menswear 2017 spring . The Louis Vuitton men's RTW collection is investment dressing at it's best…..the kind of stuff that 2Chainz elevates to iconic status in his "Most Expensivest S-ht". Opening the show with a 3/4 croc trench coat laid the ground work for skins of all kinds. Ostrich jackets and hide hair trunk bags were among other accessories that are worth a rider on your insurance policy. What designer Kim Jones did so beautifully was to use window pane patterns mixed with plaids and texturized the looks with mohair to give a lot for the eye to behold.
Well, we completely forgot about seersucker as an awesome warm weather look but…..Carven's spring RTW reminded us how cool, crisp, clean, and chic it can be! Lots of pastel hues paired with some knock out colored kicks, these looks were youthful but translatable for lots of lifestyles. The pants had a front single crease pleat and cropped hem, a continuation of the silhouette we've seen throughout these spring collections.
There was a certain soft masculinity amidst the Dries Van Noten spring RTW collection for 2017. Lots of boss-man suits and overcoats which were softened with volume and fluidity. Wide leg pants and linen fabrics gave the clothes an ease and mien. The color pallet was a mix of neutrals set about a backdrop of ivory. Lots of camouflage patterning which continued to be a solid trend for spring.
Sometimes the choice of fabric and accessories is all it takes to launch a collection into awesomeness. Ann Demeulemeester uses beads, strings, and feathers to add a touch of "jewelry" and then picks satin, chiffon, and lightweight wool to give the clothes a diaphanous effect. Tying it all together with a satin obi belt, these looks were interesting and alluring. Furthering a feminine feel within a masculine collection, Demeulemeester included crochet stitched sweaters that were artsy and generous. This was fashion that had a certain sex appeal.
There was a bit of irony in the dollar bill prints that rolled out on Givenchy's' spring RTW runway the same day as Brexit was passed. With a camouflage color overlay, this was a patterning that made you think a lot about what money buys. Designer Riccardo Tisci has been in charge for over a decade making him quite an anomaly among fashion houses. The advantage is that the brand maintains a constant, high quality product that appeals to men with a certain propensity for machismo fashion. The audience sat upright and at attention when, at the end of the show, Tisci paraded out 11 haute couture gowns. Tongues wagging, the gowns were slender, beaded, and some had silk neck ties as a finishing touch. Hold on to your wallets, gentlemen, a dollar bill isn't going to quite cover it.
If you disassemble the outfits coordinated in the Loewe spring RTW collection, you have some really nice separates. Generous linen tunics and capri pants were foundational items that would work well within your current closet. Muted and rustic color tones set a nice mellow mood that evoked languid days on the beaches of the Spanish coast. Jonathan Anderson coordinated the looks with gauzy head wraps and models set in make shift boats effectively furthering the cool, Bohemian vibe.