Paris Fashion Week Spring/Summer 2017 Collection Reviews Part 7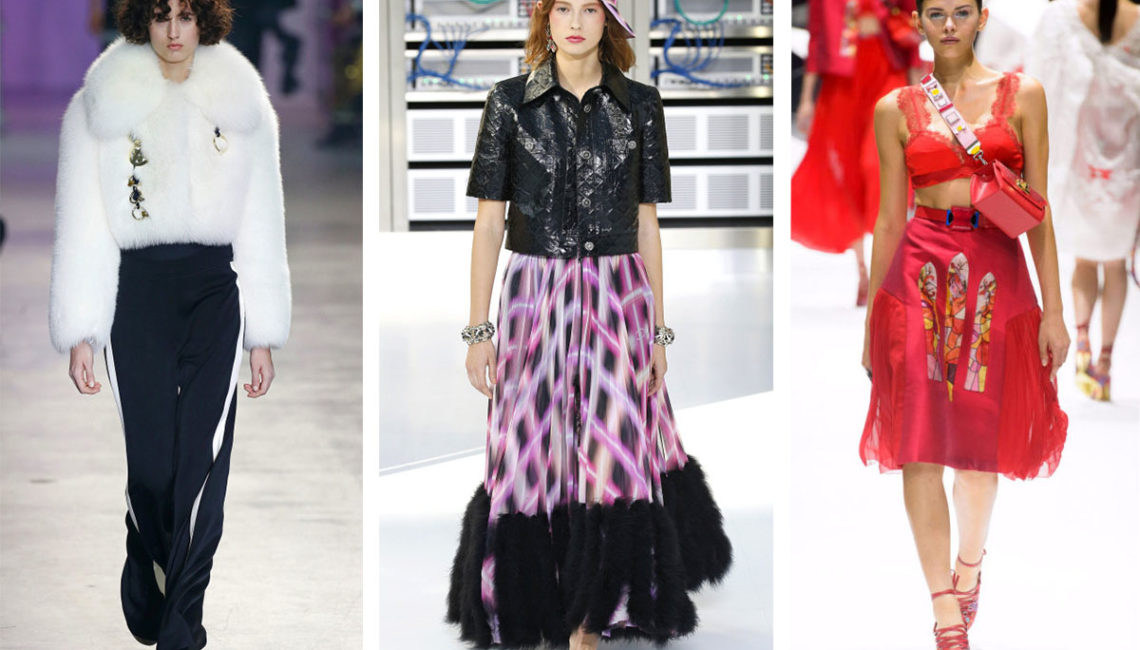 The sewing machines were very busy crafting Roland Mouret's spring 2017 RTW collection.  Architectural shapes flattered the figure and patchwork techniques layered  the looks in a multi-dimensional way. Interesting  textured fabrics included black and white patterned mesh, cotton with lace embroideries and glittery organza's in delicious soft pastels.  Repeating a trend we've been noting, Monsieur Mouret presented fitted tops over roomy skirts and pants.  Sexy came in cut-outs and bare shoulders. Metallic fabric made an appearance with a two toned pink and taupe dress with an ivory over coat. This was a collection of clean and modern looks for spring.
From baby doll dresses to bra tops and lastly ball gowns, the Giambattista Valli SS 2017 collection addressed a girl's ever changing styles and moods. If you're feeling flirty, ruffles, flounces and lace created pretty, romantic looks. If your naughty side came into play, Valli hinted to some come hither looks in black, lace bras or midriff blouses to show a little skin. Model of the millennium, Gigi Hadid closed the show with the fait accompli …a black see-through mesh dress with jewel inserts that was the epitome of every girl's dream.
Ellery's spring RTW 2017 collection reminded us of what an awkward teenage girl trying to express herself might wear. Oversized men's suit coats, ill-fitting sack dresses and thigh-high boots which were bulky and unsexy aimed for a smart street edge.   Adding silver pull rings, buckles, and zippers just exaggerated the attempt to be edgy. But all was not lost. Deconstruct some of the looks and you had some solid fashion staples. Ruffles were creatively adapted as the hem of a pant leg or to accent sleeves.  Sharp embossed leather cropped jackets and walking coats in cool colors of red or merlot could add a real "wow" factor to the right outfits. Feeling like this is the first time we've seen this interpretation, a moto jacket done in white fox was just the right amount of cool.
Oh Chanel, Chanel, how we love thee so. The bottomless pit of creative genius, Karl Lagerfeld rolled out a huge presentation of 85 looks for spring 2017. Much was familiar and yet, at the same time, different. There were fresh, new takes on tweed, a trademark for Chanel, and there were also beautiful, bright, bold, water colored prints.  Intermixed in the line-up were quilted leather pants and jackets which were a nod to a younger clientele.  The trend in ruffles continued and lots of lace and soft edges added to the femininity of the collection. A billowy dress with fur fringe on the hem line was as gentle as a warm breeze. In a strange coincidence, this was the second time we'd seen a designer use the baseball cap as a mainstay accessory. I guess spring training must be on the mind.
Alexander McQueen's influence and tutelage are clearly on display with Sarah Burton's presentation for SS 2017.  Just enough rocker edge combined with old world historical fashion references and power suiting tamed the jittery nerves of fashion's old guard. Burton managed to make boho-inspired styles look glamorous not poverty stricken. Leather never looked so delicate yet so tough with bra tops, petite moto jackets, floral embroideries and plenty of metal charms. Beautiful lace in dresses and tops were elegant, delicate and sexy.  On the other end of the spectrum were richly colored and patterned knits as well as Celtic checks that again evoked McQueen's spirit.  Burtons's handling of ruffles in a range of fabrics reminded all of us that these pieces are almost couture quality craftsmanship.
Embracing all the strong trends we've seen come out of fashion week spring 2017, Shiatzy Chen's SS RTW was like a sampling of the best of the best. Bra tops, hints of lingerie and metallic fabric were all present and accounted for but ruffles were shockingly absent. Some of the strongest pieces were all white looks in lace, crisp cotton or fluid fabrics, some with shiny silver pleating that gave way to bold patterns evoking stained glass designs. Another unique twist was the inclusion of some Asian touches with mandarin collars and soft embroideries.
Largely a play on proportions, the Kenzo spring RTW collection for 2017 featured blouson sleeves and tight micro-minis. With an accent on shoulders, design team Carol Lim and Humberto Leon showcased their command of tailoring and fit. Boxy jackets paired with wide leg trousers were cut so close at the waist that these pieces looked neither sloppy nor unfit. Bra tops were on the menu here as were metallics; both have been frequent players this season.  There were also some interesting print treatments of photo collages. Towards the back of the collection, Lim and Leon introduced silhouettes which referenced the eighties. A collection of disco dresses with plastic disc charms and sequins flooded the runway with the same party atmosphere you'd wear them in.
Related articles