Paris Fashion Week Spring/Summer 2017 Collection Reviews Part 6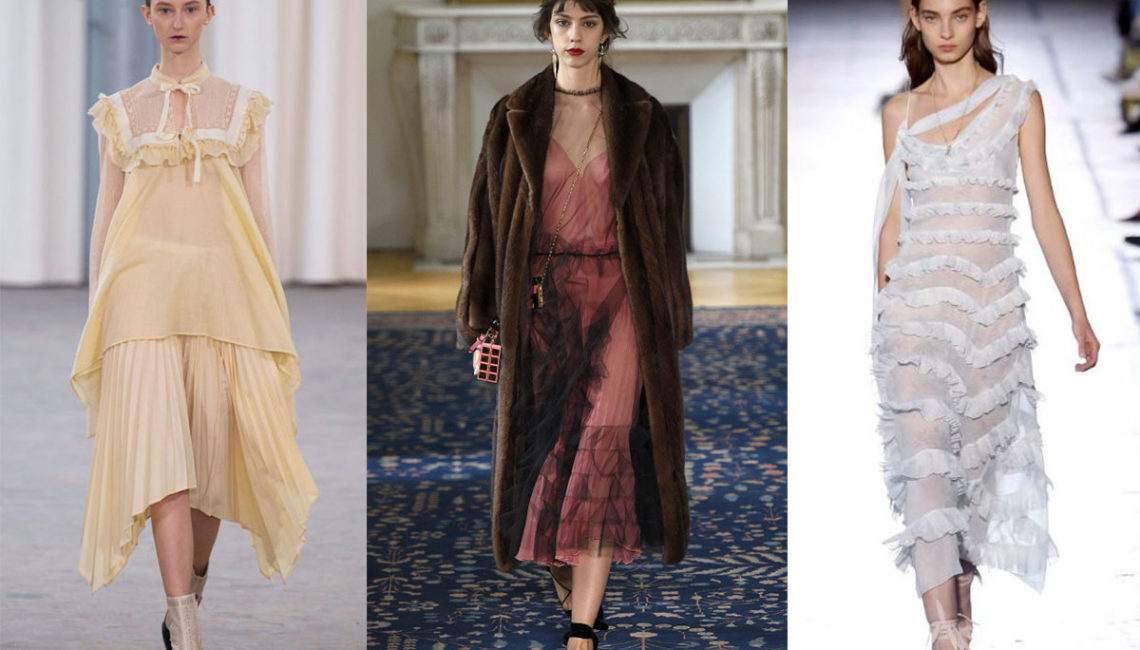 More from the runways of Paris as the SS 2017 collections march on…..
Phoebe Philo 's SS 2017 collection for Céline lacked a cohesive theme or message.  Menswear inspiration came in the form of jackets that were boxy and oversized or elongated and tailored.  Soft pleats and knotted hems in pastel dresses gave the collection a feminine vocabulary.  Abstract anatomical prints and black crochet detail made a statement, but as to just what she was trying to say, we're not exactly sure.  Ms. Philo seemed to march to the beat of her own drummer, with little recognition of the key trends that have emerged for the season.  While that kind of independence and creativity can be refreshing, this collection felt restrained.  That being said, there were certainly some wearable looks within the collection that will find their way into fashionable closets.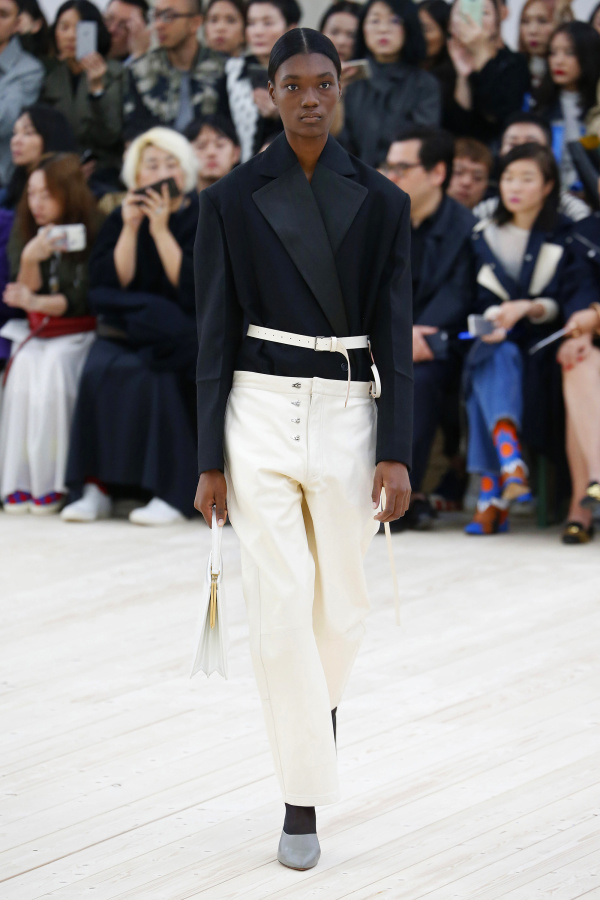 Bill Gaytten took the house of John Galliano to a new and welcome place for SS 2017 with a collection that proved that pretty and soft could still be modern and sexy.  Extensive use of diaphanous fabrics, some with crisp geometric patterns, others with beautiful embroideries of lace or beads, were shown over silk shorts and bra tops.  There was a hint of the boudoir, but the strong cuts and tailoring suggested the confidence of the street.  A black and white dress straight out of the Thirties added an air of innocence to the runway.  For those more modest moments, linen was given a new twist with a distressed treatment that lent a slightly tough edge to bib-front pants, a trench and a jacket.
Riccardo Tisci showed us there was another way to do feminine looks without the pleats and ruffles.  For Mr. Tisci there is a powerful side to the feminine story and he showed it beautifully in his SS 2017 collection for Givenchy.  Crisp tailoring and clean silhouettes delivered just the right notes of sensuality and confidence.  Whether it was a tailored black suit with oversized pockets or a diaphanous slip dress with a moiré pattern worn over a tank dress, these clothes suggested a woman who is comfortable and self-assured.  Even when he went to a wild mash-up of patterns and stripes, the looks still had a simple elegance.  It wasn't a matter of less is more; it was a case where all is good.
From the very first look we were sold on Pierpaolo Piccioli's solo debut for Valentino.  His SS 2017 collection was full of the modern, romantic sensibility that has become the label's trademark.  Airy, diaphanous dresses with some of the most beautiful embroideries we've seen so far took our breath away.  A favorite? A deep V-neck with delicately beaded flora and fauna designs.  A dainty little white dress with a light tropical print and silk-inset pleats was young and fresh.  Blush pink jacquard pants reflected an easy chic.  A hot pink high-collared cape was pure sophistication.  And then there was the ¾ length notch-collar mink coat.  Mr. Piccioli may have single-handedly signaled the return of the classic mink.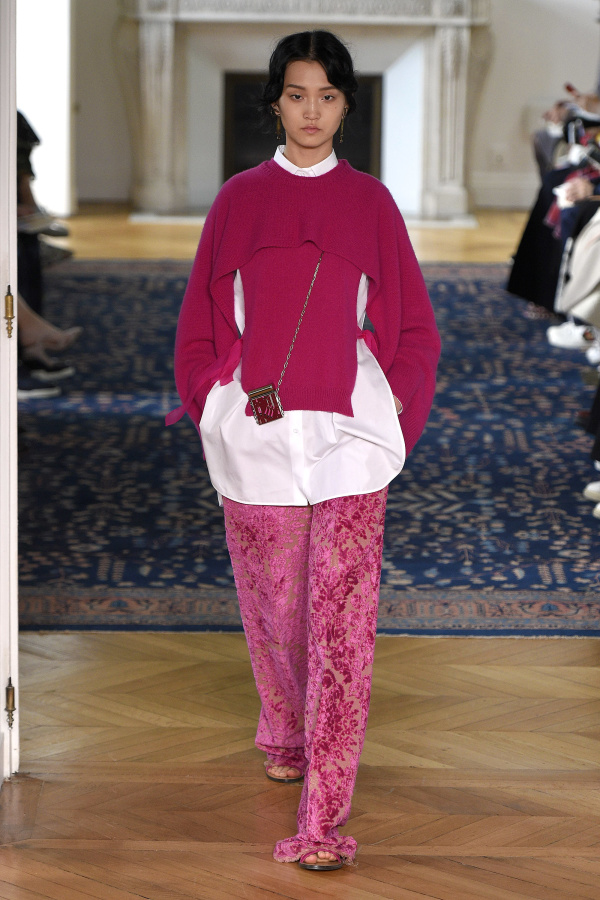 Valentino
Polished, sophisticated, luxurious.  This is what we expect from Hermès.  Once again for SS 2017 they did not disappoint.  It is all about the tailoring and the fabrics here.  Silhouettes were simple, with the high-waisted pant or skirt a theme in this collection.  Discrete cut-outs gave their buttery leathers a modern twist.  A white leather suit with tiered fringe was unexpected and sensational.  A series of diaphanous column dresses floated easily and elegantly.  No risks but plenty of rewards at Hermès.
From the Mary Janes to the soft prints of florals and birds there was a purity and innocence to the Veronique Branquinho SS 2017 collection.  Delicate ruffles and lace bibs, bow-tie collars and the modest, roomy silhouettes carried the theme.  Even a peak-shouldered, elongated bomber jacket was softened with ruffles and bow-ties.  A black sleeveless jacket shown with a wide legged pant had a harder edge and stood out in defiance.  Cut-out seams on a tailored white jacket were the perfect detail to make this a wardrobe "must-have".
We felt a rush of sadness as the Sonia Rykiel show approached, remembering the fashion maverick who passed away just last month.  But we are happy to report that her spirit is alive and well in the SS 2017 collection.  True to Ms. Rykiels' vision of designing clothes to address the needs, the spirit and the lifestyle of real women, designer Julie de Libran delivered innovative silhouettes that ranged from voluminous looks for easy movement to seductive, slim knit dresses to handle a different job.    There were fresh takes on the label's trademark stripes and knits.  Bold fox boas accented a few looks.  The French have a way of making fashion seem easy and this collection was full of innovative and exciting pieces perfect for creating that cool, effortless style.
Related articles