Paris Fashion Week Spring/Summer 2017 Collection Reviews Part 4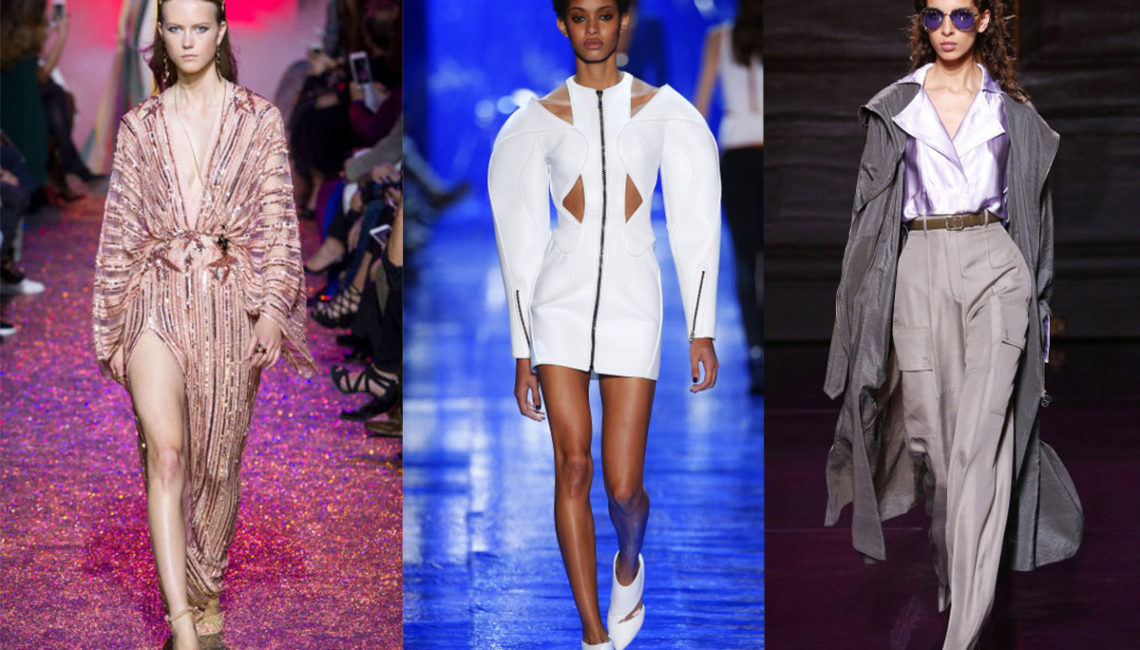 It was really hard to put a finger on the motivations for Pascal Millet's summer 2017 collection. While the designer suggested that Princess Caroline of Monaco, the 1976 vintage, served as his muse, his clothes had a bit of a 50's flair here and there. Jumpsuits, short and long, were accentuated with headscarves, a clear nod to the retro. Using a myriad of fabrics from casual cotton to rich silk, he created youthful and spring-like looks. On the whole, it was a presentation of polished, relatable styles perfect for the woman who appreciates understated elegance.  One outfit stood head and shoulders above the rest…a denim high- waisted pant, slim fit sport coat and silk bra top peeking out from underneath. This was the perfect suggestion of cool confidence.
C'est magnifique! Andrew Gn's SS 2017 RTW was one of the highlights of Paris Fashion Week. Gn's show was a reminder of how beautiful fashion can be and how fine design really matters.  His sophisticated showing of day to evening was pretty, delicate, special and very top drawer. Light, airy chiffons with floral embroidery were done in baby doll dresses and ball gowns. He used denim in an elegant and artistic way. Some all-white or black cotton eyelet pieces made their way in as a basic building block for a strong spring wardrobe staple.
Issey Miyake's spring 2017 RTW collection demonstrated his command for the contemporary with a focus on minimalist lines with maximum effect.  Dresses and Capri pants had a tubular shape superimposed with shards of triangles. The juxtaposition of rounded and sharp edges played into Miyake's brand awareness. Pleating is another strong suit for the designer. He put forth a geometrical pleated top that had a Twilight Zone, dizzying effect. Varying the color tones from primary to neutrals, the collection was well rounded and within the expectations of his loyal following.
It would be easy to say that the Haider Ackermann spring 2017 RTW collection made us happy.  Just looking at the bubble gum pinks, neon yellow and tangerine colors brought a smile to our faces, but that wasn't even the half of it. Plisse pleating gave a subtle texture and dimension that made the candy colors look rich and sophisticated. Furthering the experiment, Ackermann moved to metallics. Gold and silver were there, yes, but shiny copper, green, and lavender were of-the-moment hot! Tantalizing textures of soft wool, flowing silk and sleek leathers added to the luxe vocabulary of the collection.
Elie Saab's spring 2017 RTW show was American iconography in full play. The Eighties were on display here again, this time with a heavy disco vibe.   Stars were everywhere as the decorative accent of choice.  There was plenty of glitter, to be sure, on dresses, pants, tops and even baseball caps, giving the collection a playful edge.  The fine silks, leather, sequins and fringe reflected the Saab trademark of laying it on thick with the best textiles available. Metallic colored fabrics wove their way throughout the collection confirming a clear trend coming out of Paris Fashion Week. From micro-minis, to jumpsuits, to a touch of athletic-chic, Saab's muse works every angle of her party persona from day to evening.
True to the DNA of the Mugler brand, designer David Koma presented Avant guard fashion with just the right amount of sparkle for SS 2017.  Mini-dresses featured black and white and silver geo patterns. Mugler's iconic version of a woman's pant suit made an appearance too.  All black, a nipped waist with big shoulder pads dusted with rhinestones, this was powerful and impressionable. With the addition of electric blue and orange colored leggings, the collection had a modern mood.
It took us a minute to catch our breath after watching the Nina Ricci spring RTW 2017 collection glide down the runway. Creative director Guillaume Henry managed to put forth pieces that were love at first sight – the kind of looks that give you butterflies in your stomach and make you feel lightheaded.  Rich purples, the kind of colors reserved for the royals and the pope, were seductively applied to lingerie tops, velvet pant suits, sequin skirts and dresses. The leathers were divine in supple cowl-neck tops and sleek straight skirts; they were coordinated with glistening satins that just made us want to run our hands around the whole thing. What was especially exciting for us was Henry's artistic mix of purple shades. Pairing violet, plum, aubergine and eggplant he highlighted them with taupe, olive, and brown. It may have been more on par with a fall pallette but who's complaining?
Related articles