Paris Fashion Week Spring/ Summer 2017 Collection Reviews Part 3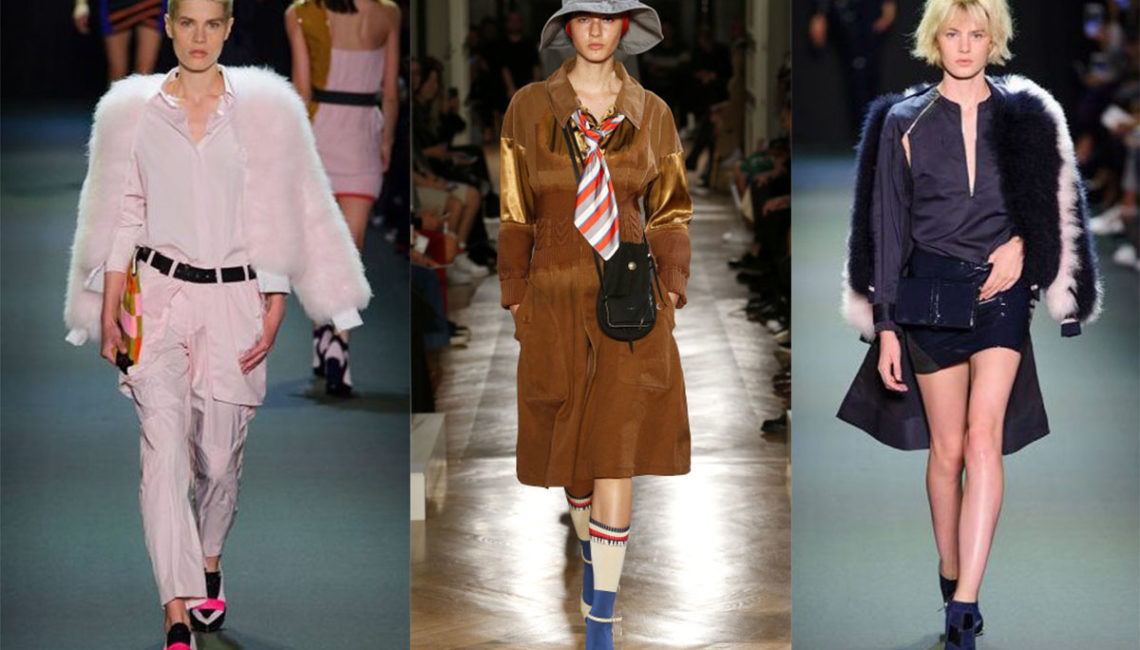 The focus was on Dior this week as Maria Grazia Chiuri takes over from Raf Simons.  For this SS 2017 collection  during Paris Fashion Week, she offered options for all the different facets of her clients' personality.  Feeling a bit sporty?  The quilted jackets and Capri pants were spot on.  The corseted looks, bandeau tops and leathers had just the right downtown edge.  Crisply tailored jackets and clean silhouettes, including a double breasted jacket with mini-skirt, appealed to the more polished sophisticate.  Delicate tulle dresses with lovely embroideries, some in 50's inspired silhouettes, offered an airy elegance.  Welcome Ms. Chiuri.  It looks like Dior is on good hands.
A certain "savoire faire" and IDC in-your-face cool is exactly the kind of attitude you'll need to pull off the looks, whether a piece or an entire ensemble, from the Barbara Bui spring 2017 RTW collection. Anytime you put on high-shine lurex, it's gonna' cause a stir and a few stares…it's super sexy, after all, and you sure don't see it every day. Pair it with her marabou baseball jacket and you have style right out of the pages of Vogue magazine. Neon added visual pop to the show. Cut-away, flowing skirts and tankini tops had us wishing for spring in a big way.
The outrageous, glamorous spirit of the 1980's was on full display in the SS 2017 collection for Emanuel Ungaro.  Sexy off-the-shoulder looks, dramatic sculpted shoulder treatments and bustier dresses evoked the glittering club scene of the period.  Flashes of contrasting bold colors and clashing prints and brocades demanded attention.  Ruffles were everywhere, used a bit too liberally for our tastes.  Appropriate for peasant blouses and soft, artistic shoulder treatments, they looked forced as borders on leather pants or dresses.  Among the collection there were still some simple separates suitable as wardrobe building blocks including a cute little black dress with a flouncy skirt, a soft cream gown with a high slit and the black peasant blouse shown with a cream wrap skirt.
From the oversized, slouchy silhouettes to the unappealing patterns and color palette, the Undercover SS 2017 collection missed the mark.  We appreciate creativity and the cohesive musical theme that ran throughout the collection but the artistry of the patterns would have been better reflected in framed posters.  The voluminous shapes seemed sloppy.  The 50's inspired baggy suits at the end seemed cliché.  Let's hope for better things from Undercover.
Amidst the palette of black, white and red, the sharp cuts and deconstructed silhouettes of Yohji Yamamoto's SS 2017 collection reflected his trademark modernity and innovation.  These were clothes for the hip and confident, but he added some softer touches to make the looks easier to wear.  While you may not want to overload on these looks there were plenty of worthy options in this collection to offer a welcome twist and a special statement to any wardrobe.
Junya Watanabe gives us what we have been missing this fashion season delivering bold creativity in over-the-top, eccentric and dramatic looks.  His master manipulation of fabrics is evident in the highly editorial looks that marched down the runway for SS 2017.  Underneath all his spikey constructions were some solid streetwear looks with a fresh punk attitude and a just the right tough edge.  A denim jacket with leather sleeves, studded leggings and shorts and even a metallic silver leather skirt were solid wardrobe building blocks for a certain downtown girl.  Surprises came in the pretty floral print skirt and an ensemble of fluid grey pants and beige top that showed a softer side.
Related articles