Paris Fashion Week Spring-Summer 2015 – Day 1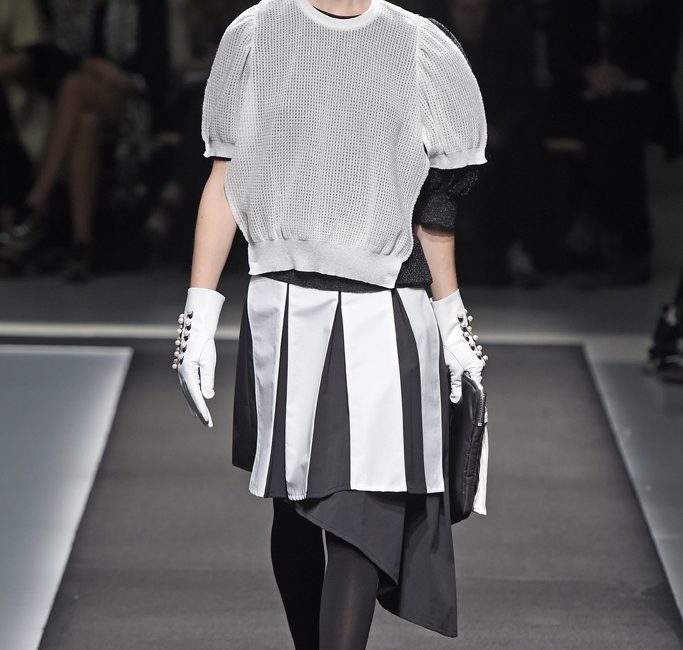 What a difference a day makes! Imagine yourself oversleeping and waking up in a moment of panic to a seemingly different universe. In its first day Paris Fashion Week Spring-Summer 2015 delivered unexpected creative twists and turns that made Milan Fashion Week a foreign memory with London Fashion Week and New York Fashion Week now just a far-away blur. We doubt that Paris will continue taking such drastic turns as the week progresses, but at present a hard creative edge is dominating the runways.
As Paris begins to introduce their take on Spring-Summer 2015 classic garments are reworked with an injection of modern technology into once-traditional finishes. Lace, for one, is often associated with fancy eveningwear, old school formality, preciousness; today's experimental introduction is giving us a stamped cut-out look referencing paper craft, waffle making, even felting.
Among the more "sporty" looks arriving today are very well cut garments based on simple, casual dressing. Ignore the styling – it can really be outrageous– and focus on the shoulders, the way the garment falls, the overall tailoring. There is something special here.
In terms of proportion, we are seeing a more elongated silhouette with an evident, yet soft angularity. With the shorter pieces, expect lots of skin showing; it is Spring-Summer after all.
Draping, also a distinctive message among the other Fashion Weeks, shows up here in beautiful details from sash references to multiple textile unions. We love these treatments and can't wait to see more as the week moves ahead.
More on Paris next…
Related articles