PARIS Fashion Week Fall 2017 Reviews PART 7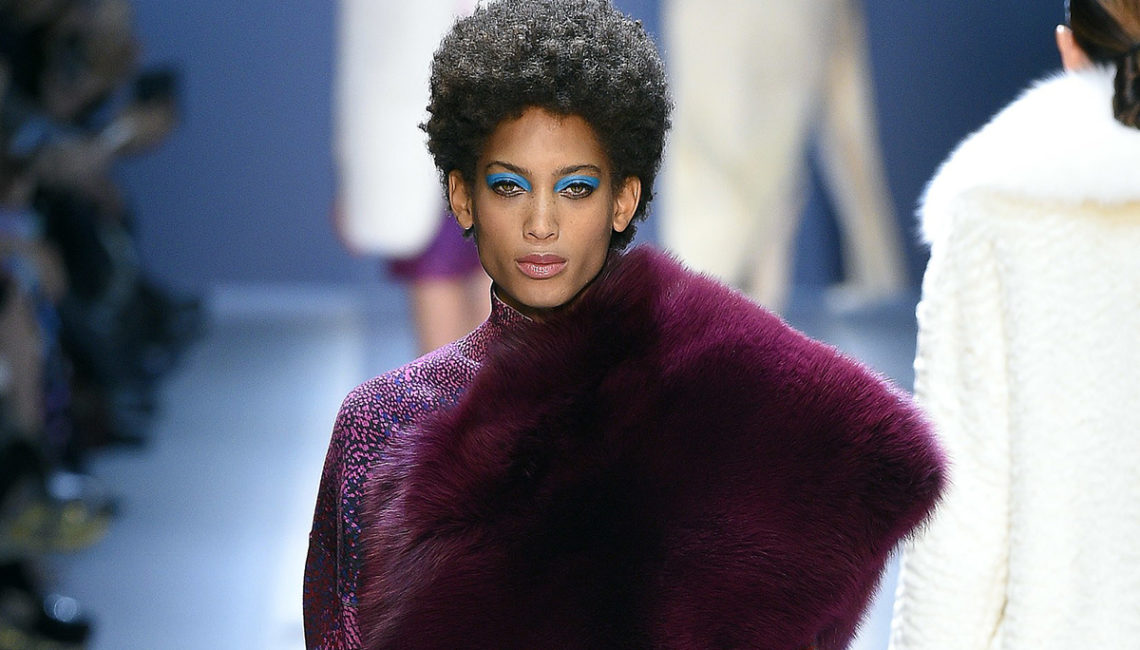 The Paris Fashion Week Fall 2017 collections continue to showcase the creativity and innovation in design that make fashion fun.  The runways here have been full of the unexpected and artistic.  Themes that began in New York have carried through, but Paris added its own twist.  Key trends for the season will be confirmed and new directions for future seasons will emerge.
New Directions For The Future- Paris Fashion Week Fall 2017
Color of the most epic proportion filled the runway at Valentino's fall RTW 2017 show. Lead designer Pierpaolo Piccioli threw caution to the wind along with all the political symbolism that has pervaded the shows to give us purely beautiful fashion. Raspberry, cherry, Bahamian blue and sunshine were among some of the solid standouts on silhouettes that were loose-fitting and breezy.  Piccioli paired matching leather boots to top off the looks. A mink intarsia coat mimicked some of the graphic patterns of his RTW.  A suit of white mink sewn to strips of organza showed off his superior craftsmanship and creativity.
If your style profile leans to the clean, streamlined and contemporary than Lutz Huelle's fall 2017 RTW collection will speak to you. Solid colors and smooth fabrics combined to reveal a plethora of solid choices to build up your wardrobe. Huelle had a little fun too! Showcasing his design innovation, he cut a denim jacket on the bias and added curly lamb fur to make it walking coat length. Done in royal blue, this was a standout piece for the collection.
The swirled color of marble provided the inspiration for patterns that dominated a range of RTW and outerwear silhouettes in the Leonard fall 2017collection. But the collection then moved on to other prints, more traditional for the label, which allowed for bold, inviting color. Blues, teals, and purples made up the mix. Richly patterned intarsia minks were wearable art.  We've seen a lot of moto jackets over the many fashion cycles but we think we've found our favorite. When an ivory shearling moto jacket trimmed in silver leather and hardware with ivory fox collar appeared, we couldn't think about anything else other than, "when can we get our hands on that?"
In this interim fall 2017 collection for Givenchy, the studio team delivered a smaller-than-usual assortment of polished looks that did justice to the Givenchy DNA.  With surgical precision they crafted pants, dresses, and coats all in red, with ruffles, lace, sequins, fringe and fur adding to the glam factor.  Paired with red, sheer pantyhose and sexy stilettos, to say these were powerful looks would be a gross understatement.  Red has been a strong color for the season, but when it comes in the form of a red broadtail and mink car coat it packs an undeniable punch.
Pattern mixing has been a common theme this season, but when designers take the next step of creating "multi-media" looks, the results can be outstanding.  For those of you who are new to the mixed media concept in fashion, it's nothing like pattern mixing. The idea is to add texture first and heighten interest second. Kolor's fall 2017 RTW collection offered perfect examples of this design concept and if the looks here are any indication, this is a technique we hope to see used a lot more.  Taking solid silhouettes like wool topper coats or bomber jackets, designer Junichi Abe added details of fur patchwork to give the signature three dimensional appearance that defines media mixing.
Exceptional and intricate detailing applied to beautifully tailored silhouettes is a trademark of Sarah Burton's work at Alexander McQueen.  And for her fall 2017 collection she didn't disappoint.  With leather top stitching, fringed hemlines, rich embroideries, beading, feathers and fur, her team imagined and materialized a dream-like collection of whimsical folly juxtaposed with serious, buttoned up intensity. Long leather coats that were of such high quality you could almost see your reflection in the skins were sleek and sophisticated. The artistry of a sheer gown with richly patterned beading and feather trim took our breath away.  The subtle elegance of a dusty rose shearling with leather topstitching made us weak in the knees. Using the same dusty rose shearling in a cropped moto jacket Ms. Burton reminded us that dreams do come true.
Related articles