PARIS Fashion Week Fall 2017 Reviews PART 6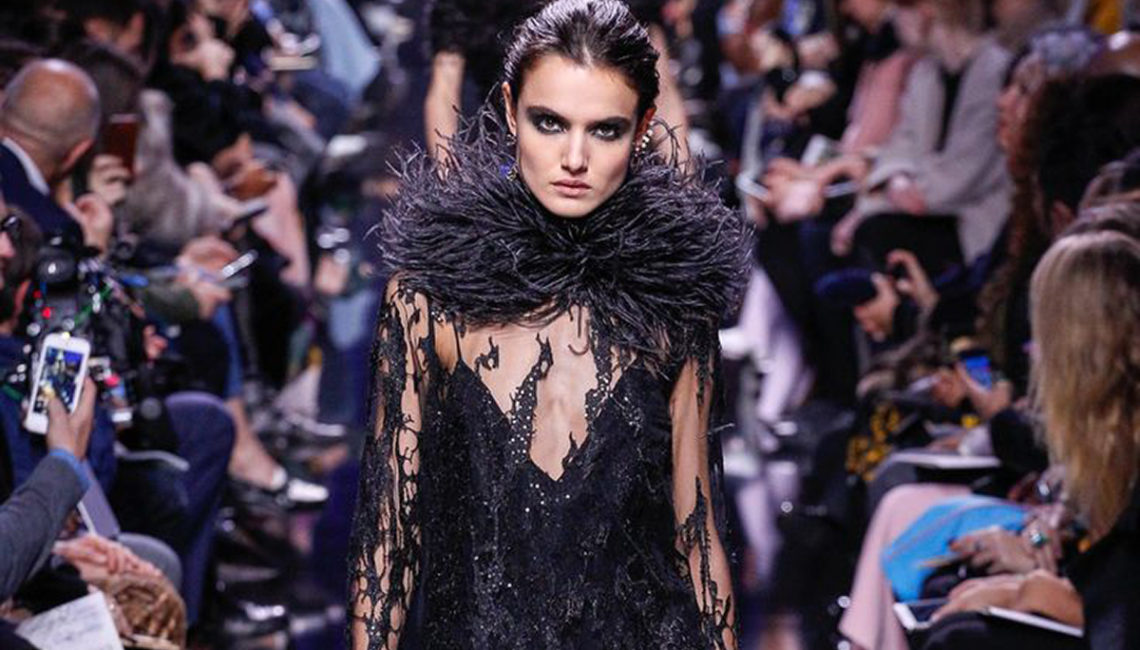 Unapologetic luxury seems to be a key theme of the Paris Fashion Week Fall 2017 collections and we're loving it!  Luxury comes in many forms, from the finest fabrics and furs, to rich embellishments and embroideries to the craftsmanship of highly skilled tailoring. Designers here are pulling out all the stops, redefining luxury with a more modern sensibility that is pure excitement.  So much to see, so much to love in the Paris Fashion Week Fall 2017 collections!
Luxury Comes In Many Forms… Paris Fashion Week Fall 2017
An artist and a designer, Tsumori Chisato blends both worlds beautifully in her 2017 fall RTW collection. Images of dripping, colorful paint came through in long fur swatches attached to ivory fabrics. Long goat fur and curly lamb in vibrant pastels continued the trend for colored fur. A window pane black and white shearling coat provided a view into the artist's genius.   Adding large berets to accessorize, what could have been better?
For girls who say, " Bring on the night",  Elie Saab's fall RTW for 2017 was just right for the occasion. Saab dug deep into the fashion tool box using feathers and fox, ruffles and crystals, sheer fabrics and rich prints to deliver his opulent message.  Saab's silver studded, hand painted black leather jacket with black fox trim reflected the hard-edged rocker chic that's guaranteed to get you past the velvet ropes when clubbing. For the more refined, red carpet set, a two-toned black and blue tiered fox cape with marabou feather collar was light as air but heavy on style.  No matter the affair, Saab said of the collection that it was "dark, romantic stuff." What more do we expect from the ruler of the night and all things bright?
You've heard the phrase "Two heads are better than one"?   Proof comes in the sister act of Laura and Kate Mulleavy of Rodarte. We can just imagine the ebb and follow of mind reading that goes on between these two girls.
"Add grommets all over," says one sister.
"Use contracting colored leather," responds the other.
"More lace," they say in unison."
For fall 2017 the sisters have done what they do best, mixing soft, romantic details with strong, hard-edged nods.  Their collection was just the right balance of pretty girl dresses with a wild side in leather. Perhaps the most interesting accessory we've seen in the fall line-up is Rodarte's ruffled, leather opera- length glove. This could be the coolest detail to add to any look. Just imagine these gloves over a blazer, paired with a white tee or, as the girls showed them, with lace dresses. A black and white long-haired goat stole illustrated the duality of the collection, offering endless styling options.
We love it when fur is used as a vehicle to make casual clothes look rich and, in turn, top off couture just the same. Fur really is a translational textile that can evoke many exciting fashion emotions. In the Céline fall 2017 RTW that was exactly what happened. The natural markings of fitch, a fur that is rarely seen, gave the perfect sport-luxe appeal to a coat shown atop a casual black pant and tee shirt with a back pack slung over one shoulder. While the rest of the looks were stiff and rigid with a very "all business, no pleasure" kind of attitude, this one look was enough to make us wild with excitement.
Sophisticated, precisely tailored, traditional style may be the DNA of Akris, but for fall 2017 they added just the right twists to speak to today's modern woman.  Their shift dress in hot pink calf skin is sure to be one of the must-haves of the fall season.  What about interwoven leather strips to make a window pane pattern for a cropped jacket or duster coat? No objections here, either! Bring on modern day manifestos for fashion. With a focus on outerwear Akris delivered some of the strongest investment pieces of the season.  Classic silhouettes imbued with luxury included a denim blue mink with leather inserts, a rich amethyst broadtail cardigan, a reversible fox and leather hooded raincoat and a floor length, butter soft olive colored leather coat lined in matching fox.
O.M.G to the 10th degree! When you see incredible tailoring, the rest just falls into place. That's exactly the impression you get when you take in John Galliano's fall 2017 RTW presentation. It was old world craftsmanship on a supernatural level. Lots of double breasted jackets and coats made from the finest cashmere, alpaca, and merino wool conveyed exactly what it means to value fashion as art. Let's just say that Galliano created a long coat in broadtail with oversized curly lamb collar that left the rest of the designers in the dust.
Yves Salomon is one of the world's most renowned fur designers.  But, rather than resting on their laurels, the house took a new approach for fall 2017 delivering a collection of easy, wearable and versatile fur fashions that fully complement the lifestyles of today.  Long vests in a variety of furs transition easily from casual weekend afternoons to sophisticated lunch scenes and more formal evenings.  Intarsia inlays in floral patterns or, a more complex herringbone effect, reflected the master craftsman's hand.  Keep in mind, if you're a designer who uses natural skins to create a collection, you have to pick what's available a season before, making sure to create fashion that is relevant, captivating and salable. This is no small task but it didn't hold Salomon back from creating the most epic outerwear.
Related articles