PARIS Fashion Week Fall 2017 Reviews PART 5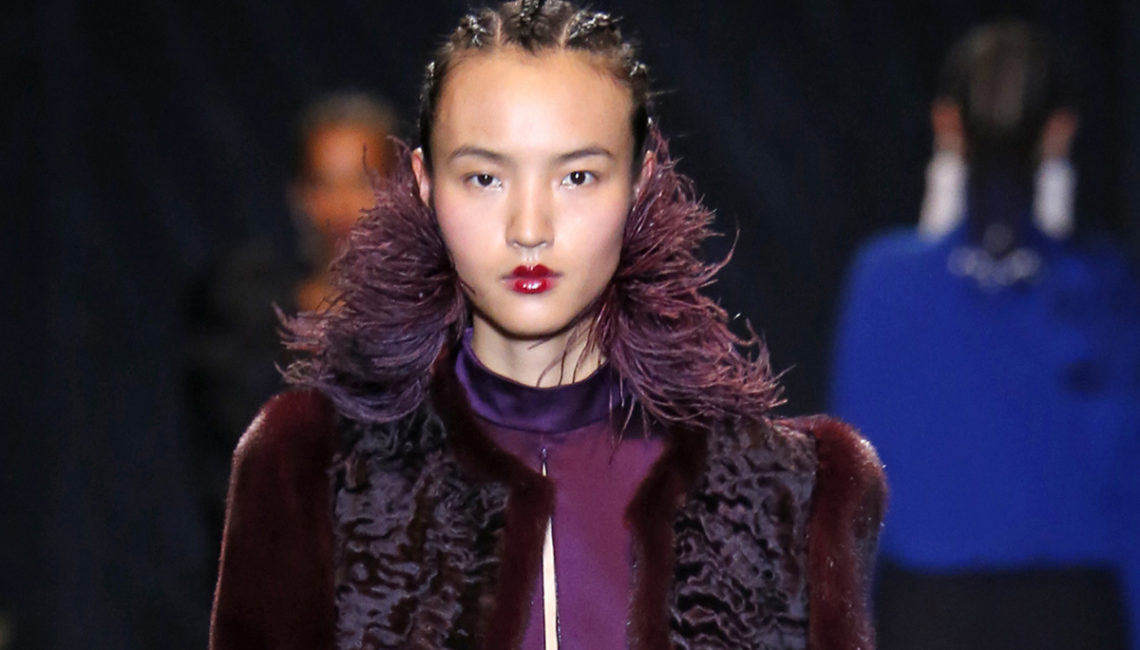 On the Paris Fashion Week fall 2017 runways there's scads of extraordinary looks, but out on the streets there is plenty of eye candy too! Here, fashion week is an all-encompassing visual feast 24/7.  The storied French sense of style is real.  It is everywhere.  From jeans and t-shirts to fabulous furs, the French have a way of wearing clothes that elevates even the simplest of looks, making them sexy, sophisticated and purely chic.  For anyone who loves fashion, Paris is the mecca.  What a privilege to be a part of it as the Paris Fashion Week fall 2017 collections continue.
24/7 Style At Paris Fashion Week Fall 2017
Do you have a secret soft spot for the bohemian, eccentric, and opulent?  Think Auntie Mame, the wealthy and progressive heiress played by Rosalind Russell in the film of the same name and her wardrobe of feathers, robes, bell sleeves, and rich trimmings.  Well then, the Andrew Gn fall 2017 RTW will speak to you. Mame makes no apologies for her penchant for luxury and neither will Andrew Gn nor his loyal followers. Mink trim on sweeping robes was just the right kind of upper east side urban chic. The most beautiful iridescent organza dress with coordinating cranberry Russian broad tail, mink and fox jacket reminded us of Mame's famous quote, "Life is a banquet and most poor SOB's are starving to death." Not true here.
There's no arguing that Zuhair Murad's clientele is well heeled with a social calendar that runs global, 24/7, jammed with high profile engagements. But even the extreme socialites need daywear and Murad tried to meet this demand in his fall 2017 RTW collection. Murad and his clientele don't want RTW that's too…how do you say…..boring…so details including fringe trims and intricate appliqués were aplenty to give the signature look of luxury Murad is known for. A blush pink car coat with mink patchwork panels was as delicate and baby soft as his clients' well-kept skin. A black and white fox and curly lamb chubby was the one piece we all could use regardless of our pedigree.
Body conscience and architecturally significant, Haider Ackermann's fall 2017 RTW collection was tight! Fine gabardine wools for ankle pants paired with heavy silk black and ivory blouses were striking and strong. Even the use of curly lamb fur defined the shapes with precision. Curly lamb gauchos with long dusters were a casual chic we've rarely seen. Cropped curly lamb jackets with satin lapels were more grown up, but paired with a crisp white tee, even Ackermann would approve.
A contemporary take on leather construction and styling came through at the Drome fall 2017 RTW show. Patchwork detailing with velvet and leather proved to be an artistic take on textiles. Asymmetrical, cut on the bias hem lines were another modern technique. The "paper bag" waistlines on cropped pants were fresh and youthful. Curly lamb jackets with multicolored fur added another layer of dimension to this already complex show. A collection that was created with a lot of imagination, it will take a lot imagination to appreciate and wear.
The trend of curly, long haired Mongolian lamb in a rainbow of colors continued at the Nina Ricci fall RTW 2017 show. Billowy walking coats and purses punctuated the otherwise sexy, slinky dress silhouettes. Plunging necklines with bra tops exposed gave the whole show a certain soft, sex appeal. Touches of leather and lace played to a cowgirl sensibility that designer Guillaume Henry hinted at with bolo ties and saddle bag purses hung on waist high belts.
Sonia Rykiel's fall 2017 RTW show was safer than we're used to seeing from this label.  Traditional cable knit ponchos, lounge wear, and easy, breezy dresses were lovely, but there wasn't a whole lot of her signature outlandish style to be found. That's just fine by us. Wearable, approachable RTW is in high demand from today's consumers and Rykiel seems intent to deliver. Strong shearling coats and capes added to the versatility and fur cross body bags played up today's trends.
Related articles