PARIS Fashion Week Fall 2017 Reviews PART 4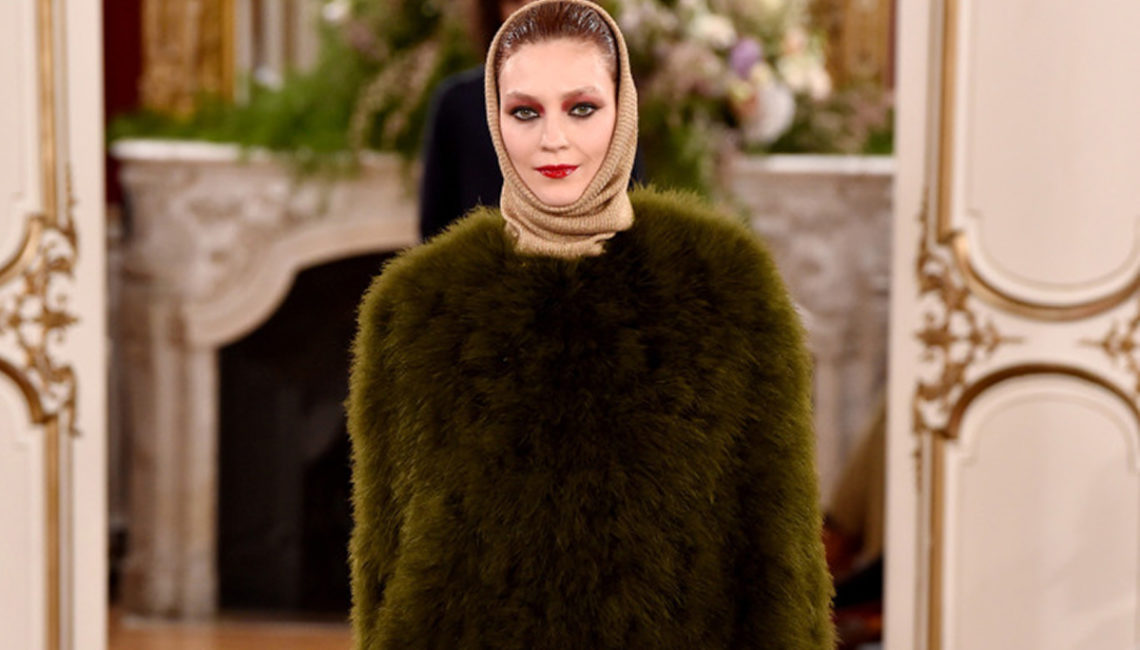 The Paris Fashion Week Fall 2017 collections are reminding us that one of fashion's key challenges is to re-imagine the old to create the new and extraordinary.  Designers look to the fashion archives, pulling favorite references from decades past to determine shapes, tailoring and details.  They then add new twists and unexpected treatments to create their own message.  Throughout these Paris Fashion Week Fall 2017 collections we've witnessed that designers here have met the challenges and the results are creating a positive buzz among both editors and retailers.
Paris Fashion Week Fall 2017 – Re-imagining The Old To Create The New & Extraordinary
Youth is definitely not wasted on the young according to up-and-comer Vejas Kruszewski and his self- titled line, Vejas. Winner of the 2016 LVMH Special Prize, this budding creative force put forth a RTW collection for fall 2017 full of fresh, modern looks that bridged uptown chic and downtown cool.  Artful shearlings had a cool streetwear edge. Unfinished edges on trousers kept things modern with boxy and stiff linen fabric to complete the looks. Even though the collection was small, there were solid his and hers wardrobe choices.
For his signature line, Christian Wijnants brought a whole new level of pattern mixing to his fall 2017 RTW collection. We kept asking ourselves, "Why is this working?"  But it did. A litany of mixed colors and intricate designs layered together spoke to Wijnant's true creative genius and shined the light on what he contributes to the fashion industry. Among the delicate balance of paisley, stripes, and abstract floral prints, deep, terra cotta colored shearlings caught our attention. Orange continues to be a strong trend and this would be a lovely addition to anyone's wardrobe.
For Robert Montgomery's fall 2017 RTW collection for Each X Other, it was all about the details.  Asymmetrical cuts, cutouts, ruffled lapels and ribbed detailing kept things fresh.  His play on proportions added to the novelty.  Taking one look at a time and digesting the message it was easy to see that this was a collection heavy on solid separates.  Jumpsuits with cutouts and colors of periwinkle and blood orange showcased his creativity. What Each x Other did with fur was equally as impressive. A black and tan curly lamb patchwork car coat or a leather poncho in color blocking provided the visual pop that makes an outerwear statement.
Vanesa Seward understands balance when it comes to creating looks that appeal to both her younger and more mature clients.  She knows that without exception and despite their age, these ladies lift their pinkies when drinking tea and know how to spend money. In her fall 2017 RTW collection, Seward's looks were clean, uncluttered 1970's jet-set style. A gold lamé jumpsuit with navy top coat piped in chestnut colored leather was exactly what you'd wear to catch your private plane. Another show- stopping look was an elegant brocade coat with dyed fox trim. To show that her girls had a lighter side, she introduced colored marabou capes that took the serious edge off.
When you witness genius, you just know it. It hits you square in the gut and makes you breathless with excitement. That's exactly how it was to watch Jun Takahashi's fall 2017 RTW collection for Undercover. While the designer said of the "utopian" themed show that he was looking to make everyone equal, his craftsmanship soars well beyond others in his space. Even in utopia, people deserve clothes that offer a bit of cozy, comfy chic. So Takahashi worked in shearling trims, macramé knits, fox tail accessories, and patterned fur sleeves to help send this message.
A key coat can be the one thing about your wardrobe you'll never regret. Thrown over your jeans, ball gown, yoga pants, or PJ's, it makes an entrance every time and can cover up a multitude of sins. In Loewe's fall 2017 RTW show, creative leader Jonathan Anderson gave us plenty to consider. A golden beaver walking coat glistened under the lights, a leather and satin trench coat was slick, and a fox stole/cape combo had a "oh, this…I just threw it on" kind of confident attitude.
Related articles