PARIS Fashion Week Fall 2017 Reviews PART 3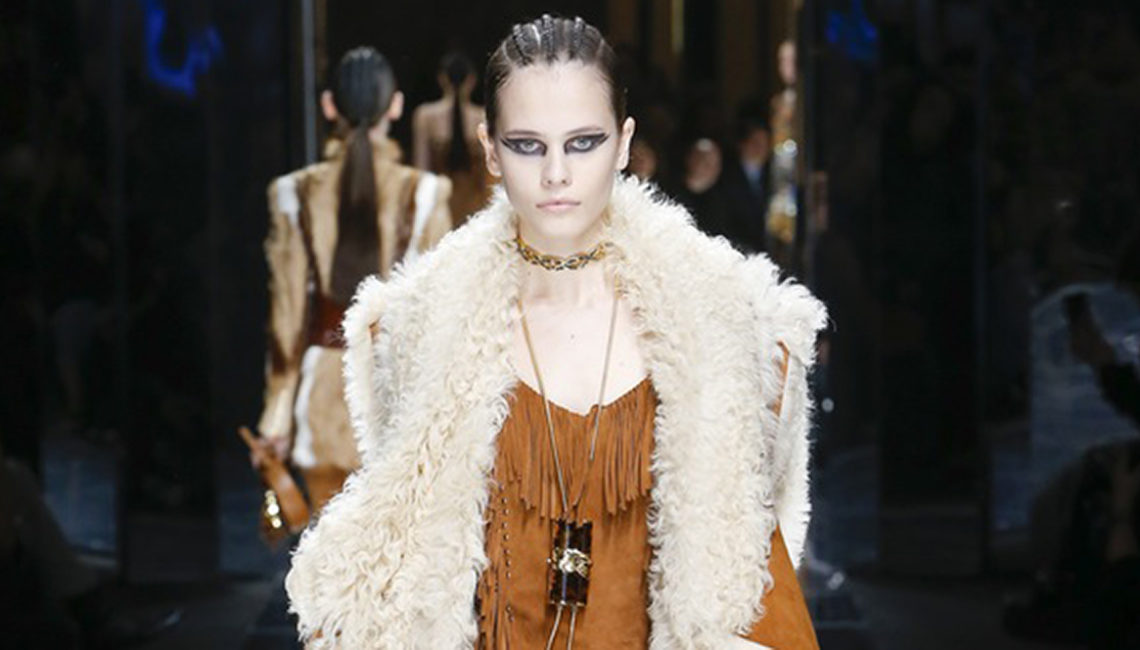 There is something more intellectual about the Paris Fashion Week Fall 2017 collections.  These clothes demand a deeper look, a keener eye.  Designers here are presenting impressive levels of sartorial sophistication.  For the pundits who swear we are moving more and more towards disposable fashion, the Paris Fashion Week Fall 2017 collections gave us plenty of reasons to believe in investing in luxury fashion.
For the Discriminating Eye…The PARIS Fashion Week Fall 2017 Collections
Lingerie slip dresses with boyfriend sweaters layered over proffered the kind of fashion that says, "yeah I wake up looking this fab." For Clare Waight Keller's fall 2017 collection, her last appearance as lead designer for Chloé, she played all the right notes.  The PYT of today demands effortless, casual, laid back RTW with the smell of big money behind it. And Ms. Keller delivered!  Her drop-waist car wash coveralls provided just the right balance of uber-cool.  A distressed suede, double-breasted car coat with yellow buttons and shearling collar had a vintage vibe that played well with the millennials. And excuse us, but anyone who shows up in a suede track suit means business and pleasure.
Have you ever seen sand art in a glass? Wavelike color streams rise and fall giving you a tranquil and easy feeling. Well that's exactly how we'd describe one of our favorite looks from the Pascal Millet fall RTW 2017 show.  Patchwork colored fox in a jacket, shoulder shrug, Adirondack boots, collars, and cross body bags seemed to have that undulating effect. Mixed in with the clean, polished silhouettes for day and evening were strong 70's boho-inspired looks showcasing knit caps and below the knee skirts with matching tops.
The powerful, earthy tones of the Balmain fall 2017 collection were offset with embroideries and embellishments to convey a luxurious craftsmanship spirit.  Olivier Rousteing proved that he is a master of detail with a collection that was rich and opulent, but never crossed into garish.  Mixing croc and python and woven leathers he created Balmain's version of fashion armor.   Printed velvets had an ombré effect.  The natural beauty of deerskin was showcased in a high-necked tunic and vest.  Long, sweeping floor length sweaters were powerfully worn like magic capes. Voluminous shearling vests had a soft fluidity.  Black and white pony pieces were sophisticated and just a bit tamer. Looking to release your inner glamazon? It's all waiting for you at Balmain.
If you're a bit challenged on how to up your style factor, look no further than Isabel Marant and her fall 2017 RTW collection. Her head-to-toe dressing included coordinates that fit the 'every girl' and her many moods. Rhinestone studded jeans, rich curly lamb jackets, and swashbuckling waist high belts pulled it all together. Add thigh high boots with everything and you've got the look. Another key piece that we've seen for fall is the leather top. Marant offered the cutest of the bunch. With a touch of ruffle and a plunging neckline, this is a Friday night date waiting to happen.
For all you rock star wannabes AND actual rock stars like Rhianna and Beyoncé, you probably already know about Faith Connexion. For those who are playing catch up, Faith Connexion staged their first RTW show for fall 2017 and now things are gonna' get real. You now have access to all their great looks that put a luxurious, glam edge on streetwear.  Of course there were the requisite leathers, fringe and plenty of glitter too.  For pure rocker chic they've got a chubby fox coat paired with gold sequin track pants and a black fedora. For the guys, parkas lined with coyote gave that upscale downtown vibe.  This kind of dressing must be accompanied by the right kind of attitude or you'll miss your mark.
For a line that was built on graphic t-shirts, Off-White has come a very long way.  For fall 2017 Virgil Abloh didn't dismiss his streetwear roots, he simply elevated them through fine tailoring and luxury fabrics. A strong suite of crisply tailored looks in a hounds tooth plaid opened the show.  Innovative denim treatments and flowing, diaphanous dresses followed.  Bandeau tops, high slits, cropped jackets and pencil skirts gave his girl a sexy edge.  His signature stripe on plush fox chubbies and flings was brilliant branding.