PARIS Fashion Week Fall 2017 Reviews PART 1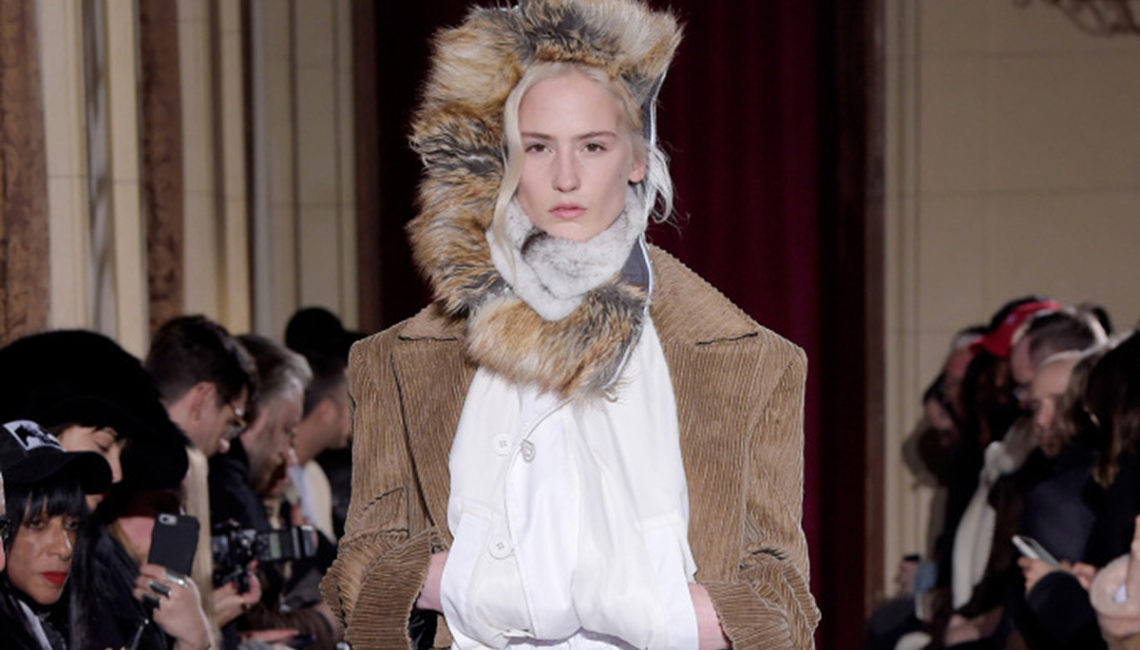 As the PARIS Fashion Week Fall 2017 collections began expectations were high.  The French have that innate ability to elevate even the most casual outfits.  With the simple addition of a scarf, an unexpected layering or embellishment they can make the most ordinary of looks appear sexy and chic.  Fashion and style is part of the French heritage.  With this in mind, the PARIS Fashion Week Fall 2017 collections held the promise that another week of great fashion was in front of us.
Introducing the PARIS Fashion Week Fall 2017 Collections
The leading lady in her own life, world class designer Vera Wang introduced her fall 2017 RTW collection via a film presented on her social media platforms in conjunction with a ceremony honoring her with Chevalier of France's National Order of the Legion of Honor. Her focus was on luxury with strong references to the French heritage of fashion and plush fur stoles helped to tell her story.  A stand out piece was a cracked leather shearling with a military vibe and a sister piece was a shearling shoulder cape that was pure modern chic. Want!
As a new generation begins to dominate the workforce Tuomas Merikoski gives them plenty of strong wardrobe building options in his Aalto fall 2017 RTW collection.  An iconoclastic edge allows these clothes to translate easily from the power-office message to after work play.  Ranging from pinstripe suits trimmed in colored fox to airbrush printed dresses of bohemian maidens in a fantastical Lapland landscape by Sami Saramäki, there was a little bit of something for everyone here. Through a partnership with Saga Furs fox played a role in expanding the luxe message on accessories, trims and outerwear.   This should help the label attract a more grown up, affluent client.  Designer Tuomas Merikoski explained of his efforts, "A puzzle of good things that makes for a democratic view,"
Gotta' say…the Koché collection for fall 2017 RTW made our hearts skip several beats. Wildly eclectic with mashed up fabrics, silhouettes, and shocking color, this was fashion with personality and looks to go with it! A first that we'd seen here in Paris, designer Christelle Kocher crafted a scarlet double breasted jacket made from broadtail strips sewn together to resemble wide-wale corduroy. See what we mean…??!! Cool, cool, COOL! Colored fox has become a solid trend but bold amethyst fox trim transformed a grey topcoat from the ordinary to the extraordinary, and when paired with grey wool and coordinated with grey sweatpants….heck yeah!!
St. Laurent and Anthony Vaccarello, the mastermind behind the brand, made sure we were clear on a few key trends for fall RTW 2017. Considering Vaccarello is only in his second year at St. Laurent, he will undeniably set the tone for RTW for years to come. The first message:  Must get knee high slouchy leather boots to wear with EVERYTHING! Second:  Must get lots of great leather pieces to wear, period. Ruffles and flounces didn't belie the tough girl chic here.  Architectural shoulder treatments, some in shearling and others in studded crystal helped to define a new type of feminine power dressing.  The masculine edge of boyfriend jackets in shearling or calf skin helped to confirm the message.  And who can say no to a mink-hemmed mini skirt?
The creative juices were on hyper drive for designer Glenn Martens, the Belgian designer behind Y/Project, in his fall 2017 RTW collection. Voluminous silhouettes in denim, leather, and fur were styled in such a way that the textiles stood at attention. Tulle over fabric was another cool twist on design. It gave the silhouettes a 3D effect. He put forth a fox coat that was so generous three people could probably hide in it to keep warm. Showing true innovation in shearling design he presented a rust shearling sporty jacket with bow trim that was youthful and fresh and a two-tone ribbed shearling jacket that delivered a textural look we've never seen before.
Delicate, angel soft touches floated down the runway at Lanvin's fall 2017 RTW show. Glistening silks and organza and soft textural tones of fur and lace were cut to flatter and gathered to add drama. Touches of gold chains on tiny purses added a bit of jewelry which was just the right lady-like touch to put these pieces in the luxe column. Chevron striped fox delivered a polished drama to a jacket and long vest.  A blush fox collar on a black pantsuit expressed the "tenderness and force" that Bouchra Jarrar has said is her mission at Lanvin.
Related articles