PARIS Fashion Week Fall 2017 Reviews Farewell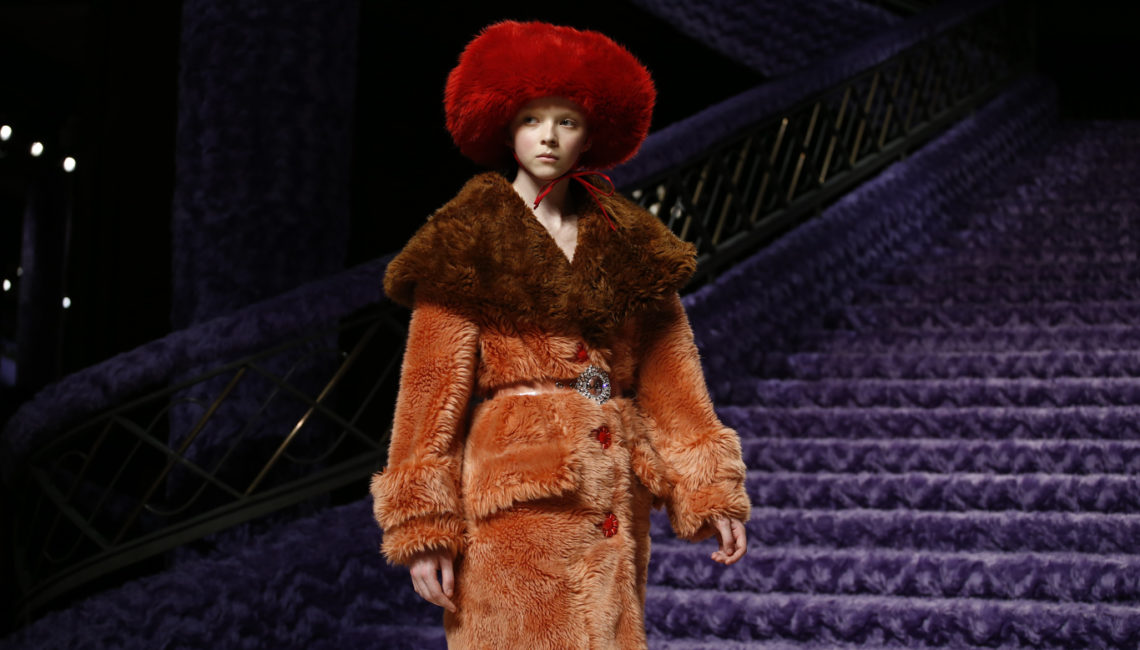 We're sad that this brings an end to our reviews of the Paris Fashion Week fall 2017 collections.  What a fun ride it has been!  Designers here gave us plenty to think about and even more to love.  They added to the themes of the season and confirmed trends we've witnessed throughout the fall 2017 fashion cycle.  In the coming weeks and months these trends will be broken out, dissected and analyzed and much will be written about them.  And among these trends much will be written about shearling.  It was a season of extraordinary innovation and broad use of this luxury fabric as designers introduced creative shearling applications in outerwear, RTW and accessories.  While the Paris Fashion Week fall 2017 collections may be over, we will have plenty of opportunity to showcase the great looks of the season again and again as we move forward.
Our Final PARIS Fashion Week Fall 2017 Reviews
Moncler Gamme Rouge's fall 2017 presentation was a visual cornucopia with plaids, tweeds, florals, folkloric prints and plenty of texture.  Designer Giambattista Valli added graphic intensity with layering and pattern mixing.  Dissecting the looks we found a base of great separates to add richness to any wardrobe. Moncler Gamme Rouge has earned that cool factor whereby even with just the subtlest hint of brand signature you've confirmed your fashion pedigree.  Red, white and blue striping was integrated throughout the collection as straps on bags, belts or stripes on sweaters so everyone else at the après-ski party will know you're on top of your game.  This is a line known for outerwear that consistently delivers quality, craftsmanship, and luxury. From the precious mink collars that added a ladylike appeal to the vibrant patchwork shearling, Moncler Gamme Rouge elevated concepts of cozy chic.
Each season Miuccia Prada challenges the current fashion vocabulary with her collection for Miu Miu.  Oftentimes her creations can look distorted or costumed but they invariably help to define new trends in fashion.  With oversized, voluminous shapes, shocking colors, and decorative details, watching her fall 2017 RTW collection go by felt  a bit like looking though coke bottle glasses. Everything seemed super- sized. Teddy bear faux furs coats in a kaleidoscope of colors felt cartoonish, particularly when juxtaposed against the plush, elegant dyed fox capelets.  Rich knits were brilliantly accessorized with statement jewelry and accessories made even more dramatic with real fox fur.  For anyone who loves to throw back "It's Prada of course," fall 2017 is full of great options.
Really pretty hand painted Chinese motifs and intricate embroidery adorned much of Shiatzy Chen's fall 2017 RTW collection. Heavy silk faille fabric was just right for conveying the ornate motif and when trimmed with mink or fox they oozed luxury.  A beautiful crimson, zebra patterned walking coat trimmed with coordinating mink lapel was as regal as it comes. The mink hemline of a skirt or the tiny tufts of mink peeking out from the lace-up boots were the unexpected touches of luxury that elevated the sportier looks.
The message at Louis Vuitton's fall RTW 2017 collection was all about texture. Nicolas Ghesquière's extraordinary fabric manipulations made you want to reach out and touch these pieces.  Supple leathers layered over slippery satins or wool fabric meant to look like denim created powerful and pleasing sensory waves. Pattern mixing in fox fur was exciting and innovative. A jacket featuring Cheetah print fox sleeves juxtaposed against a graphic black and white fox design on the bodice is sure to set new standards in statement outerwear.  A belted patchwork fox coat was boho chic.  Chains, grommets, belts and purses all gave just the right downtown vibe to this solid set of RTW.
In her Ellery fall 2017 RTW collection Kim Ellery delivered was just the kind of innovative style dressing meant for a woman to take her place at the table. Power dressing came in the form of strong men's wear suited styles and the exaggerated proportions of her outerwear.  The bold, oversized fox collars framed the face in the most dramatic way.
If you've lost that lovin' feeling for the 1970's and want it back, the fall 2017 RTW line up from Paul & Joe may just be your calling card.  Sophie Mechaly crafted a retro glimpse back to vintage fab that was long on luxury.   Wide whale corduroy bell bottoms, a velvet tracksuit, metallic jumpsuits, and All in the Family floral print dresses drove home the nostalgic message.  Floral print on the leather side of shearling was fresh and innovative.  A pastel color blocked curly lamb chubby was a modern day departure and something we could get into for sure.
Related articles