Paris Fashion Week Fall 2016 – Winter 2017 Collection Reviews Day 8- The FINAL Hurrah!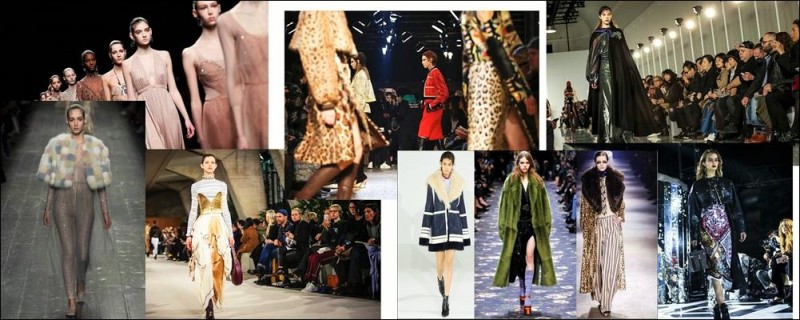 As the runways of Paris close down we begin to digest the messages for the Fall 2016 season. Among the trends that will define the season are sheer fabrics, a preponderance of velvet and lace, midi-length skirts, relaxed, voluminous outerwear and fur, both as a decorative element and used to create statement outerwear and RTW. But this just barely scratches the surface. It was a season most noted for being safer and more commercial than we've seen. Creativity came in more subtle ways and bold, in-your-face experimentations were more limited. Over the next few weeks we'll be digging deeper to break down the key directions and put them in the context of the realities of the current retail landscape and the ongoing discussions surrounding the structure of the shows themselves. With that, we say au revoir to Paris….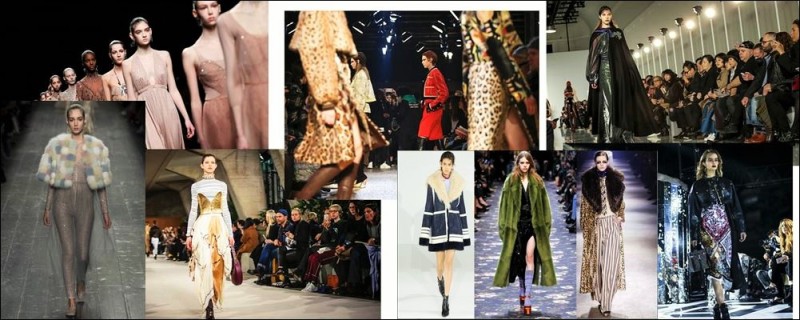 Design team Humberto Leon and Carol Lim pulled out all the stops for Kenzo's Fall 2016 RTW collection with plenty of twists and tricks to add bold visual interest to their collection. Pattern mixing has emerged as a strong trend and using animal print as a neutral goes far here too. Painterly florals were paired with a multi-hued windowpane plaid. The prettiest lavender colored pant suit with a tiger print collar lingers as a sweet memory long after your first look. When was the last time you saw smocking on any adult dresses? Well if you have fond memories of your mom dressing you with this detail, you're in luck. Long, chiffon and silk dresses gracefully floated down the runway with little girl smocked necklines. Blouses had balloon sleeves and ruffled shoulders. Overall the Kenzo collection was jammed full of traditional design details with a creative, contemporary twist that took this collection to the edge, but did not push it over. Even if you live in a quiet town in Ohio, you'll still fit in and stand out in style.
Nothing says "fall" quite like the anticipation of Oktoberfest. Noting says "Oktoberfest" quite like wearing lederhosen. And every time you think "lederhosen" you can now relate to the fall RTW collection from Moncler Gamme Rouge. Giambattista Valli delivered white embroidered ice skating dresses, short shorts, and fluffy Toscana lamb for a Moncler collection that was a bevy of Bavarian style dressing. Touches of red tipped some sweaters and jackets giving a nod to the Swiss flag or candy canes. Outerwear was key with more of that plush Toscana lamb as hems, sleeves, collars or linings. The fashion here was different from anything else to date and stayed true to the cold weather dressing Moncler is known for by their true fans.
Relatability is, by definition, a relative term, but Nicolas Ghesquière's Fall 2016 runway collection for Louis Vuitton will be a commercial as well as an artistic success because it is filled with beautiful, relatable clothes. To be sure, not every look was a hit and the collection lacked cohesion, but there were enough standout separates. Sporty alpaca sweaters were perfect for easy, casual wear. A crinkled leather shearling is a new classic. The belt/buckle print dresses play on what could be a new iconic theme for the brand. Sure he showed complicated shapes and oddly mixed patterns. For some looks there was simply too much going on. But his use of modern fabrics like red patent leather for pixie pants or extraordinary fine satins confirmed the luxury brand's place at the top of the food chain. Outerwear was his real strong suit. A sculptural cropped jacket and trench coat were sharp and modern. A puffer coat in black and gold with shearling collar merged sport and luxe. His take on the fox trapper hat may set a new standard for the season.
Of all the collections this season, this is one of the rare times we can remember seeing denim play any sort of starring role. In the Miu Miu fall RTW collection, Miuccia Prada opened the show with a large sampling of the material styled in a variety of ways. It set the stage for a presentation that amped up comfortable and casual looks to deliver an easy, elegant edge. Case in point….the velvet jean-style jacket with luxurious red fox cuffs. A red fox coat is thrown nonchalantly over a rumpled boyfriend shirt and shorts. A series of argyles enhances the informal message. She introduces rich brocade fabrics used to create long, Victorian type dresses and coats. In the end, her message was a blurring of the high and the low that created easy dressing options for today's woman.
Top stitching, cut away hems, unfinished edges, and decorative buttons are just a few of the details that confirmed Thomas Tait's unique vision and extraordinary artistry. Fine cashmere made up long duster coats in a rust and black color combination. A long, black leather jacket had lace-up ties and a braided pattern. Rich silks were masterfully manipulated and beautifully tailored. The most significant demonstration of Tait's expert crafting skills is in his use of boro, dating back to the 17th century, a term meaning "rags" or "tattered cloth," referring to textiles that have been patched many times. Tait's designs are not meant to be appreciated from afar but with close examination and reverence.
Ahh..What a month it has been…….