Paris Fashion Week Fall 2016 – Winter 2017 Collection Reviews Day 6 Part 1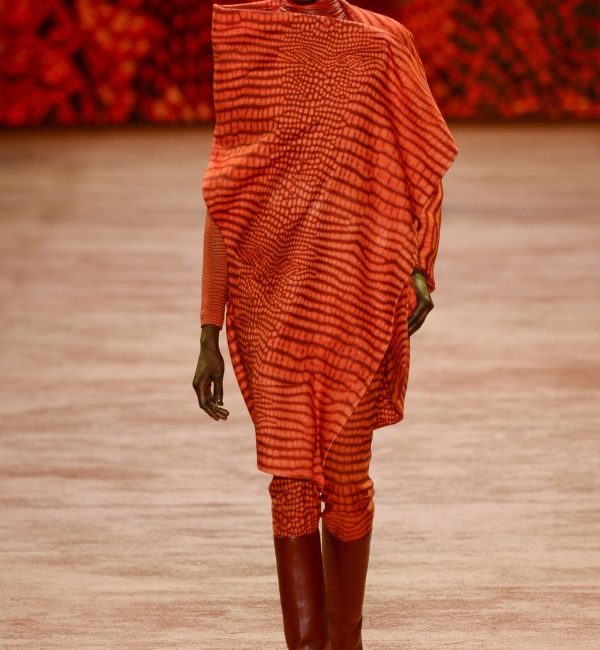 The fall RTW collection curated by designer Albert Kriemler for Akris is the epitome of casual elegance with an African safari exotic flair. A can't-go-wrong-with-any-piece clarity fueled by vibrant orange and aubergine color combinations, animal print motifs, fine wool, cashmere, and leather fabrics makes each outfit speak of refined elegance. A Russian broadtail vest and cardigan reflected a RTW sensibility and were perfect layering pieces dyed in coordinating colors. A brown leather walking coat with pony skin lining was amazing in its fashion-forward approach and everyday wearability. A capelet of antelope fur had a chic, modern edge. The orange shearling bag will surely make the list of "must-haves' for the season. Kriemler shows his masterful skill and creativity by crafting a scalloped leather vest that looked like fish scales. With the animal prints and Savannah sunset colors, wearing the Akris fall '16 collection says "I am woman, hear me roar."
Channeling power brokers from past and present, the Givenchy collection had all the bases covered. Egyptian symbolism came in prints and patchwork throughout the collection. Blouses had metallic breast plate images. Prints of python, leopard and cheetah suggested a fierce attitude. Military trims and cuts gave outerwear a powerful edge. The all-seeing eye lent an ominous look at symbolic power. Then there was the softer side – a layered lace dress, a black velvet dress with fox-trimmed sleeves, an intarsia mink cropped jacket. The brown fox robe with leather macramé was regal and sexy. Nothing in this show was for the meek or weak. These clothes are made for winners.
Zippers and belts hardened the soft edges of organza, leather and fur in the Sacai fall RTW collection but often created too much distraction from otherwise wearable looks. Strong tones of midnight blue, black, gold, orange and plum provided a rich background for the vigorous proportions and shapes. Touches of dyed fox trims coordinated nicely to add a soft touch. Banded elbows, strapped wrists, fluted sleeves and layering effects made Chitose Abe's shearlings some of the most interesting of the season. They were cut to shape the female form and yet wrapped you in warmth and luxury.
Sweetly appealing, the Giambattista Valli fall RTW collection was a far cry from the bold clashing colors and assertive looks that have defined past collections. Rather, pastel colors and light dove grey lent a gentler edge to the soft, classic shapes. Valli keeps his promise to make women feel like women-soft, supple, and touchable. Pleated knee length skirts spoke to feminine charm and grace. His fur offerings were delicate and artistic as well. Multi-striped mink in platinum, white and black was modern elegance. A dusty pink mink with jeweled trim was delicate and pretty. Horizontal mink integrated with floral prints was a fresh twist. Curly lamb collars added a soft touch to a range of looks. This collection was full of the kind of old-fashioned charm where the man holds the door and the woman holds his attention.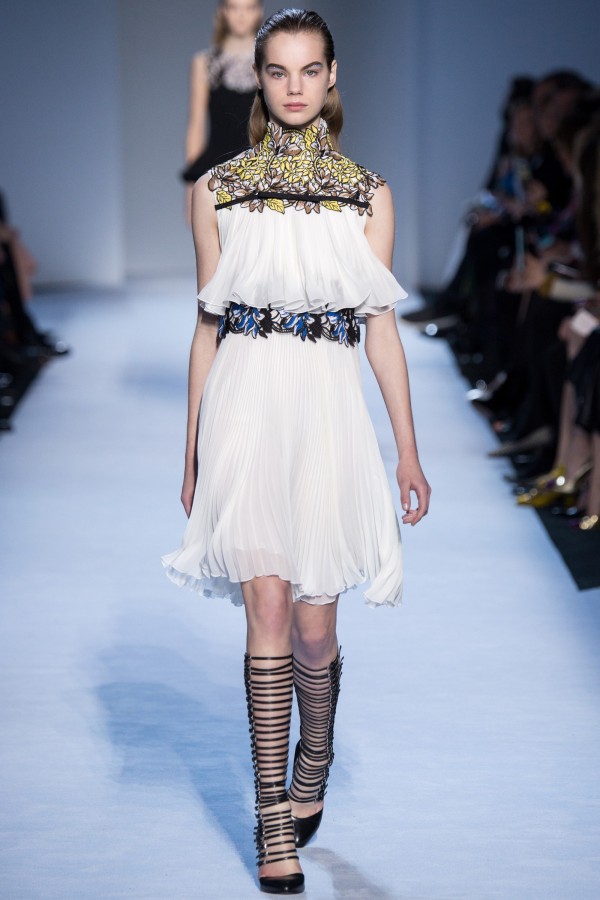 Edwardian collars and long gowns set a tone of puritanical prudence for the Veronique Branquinho fall RTW collection. But fast forward to the meat of the show and Branquinho put forth a modern day tuxedo, ruffled shirts and suits. She added cheetah prints and a range of sheer looks for a fierce and sexy edge. A plush white lamb shearling coat over a cream ensemble with pleated skirt was clean and elegant, a true departure from the buttoned up repressive, restrictive opening looks.