Paris Fashion Week Fall 2016 – Winter 2017 Collection Reviews Day 5 Part 2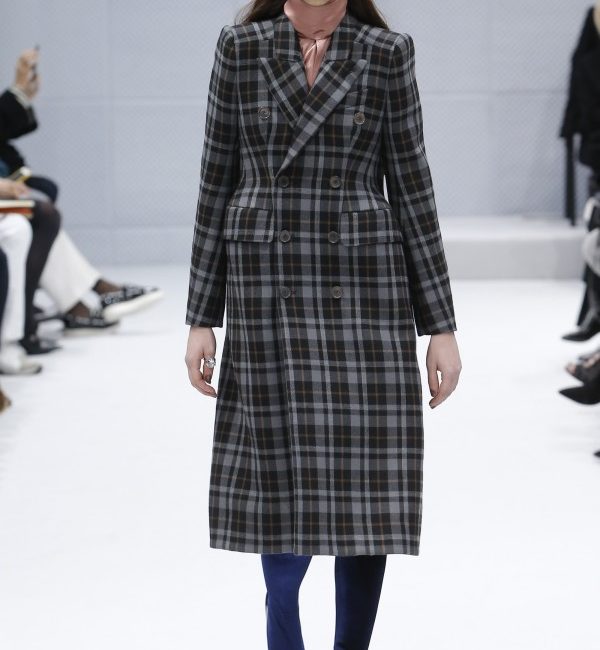 Demna Gvasalia has a clear vision for modern-day dressing and he isn't afraid to introduce new concepts in fashion. For his fall 2106 collection for Balenciaga he presented a mash-up of unusual architectural constructions, busy multi-print dresses and candy-cane leggings that certainly had an element of almost cartoon-like fun. But do women really want a fabric bubble at the waistline (not very flattering) or skirts so wide they could block a sidewalk? Balenciaga hasn't forgotten that the fall/winter 2016 RTW season is going to get cold and a warm jacket is a necessary purchase. Gvasalia appreciates that women don't want to forsake fashion for practicality. A wide selection of overcoats, ski parkas, and motorcycle jackets includes unexpected off-the-shoulder styling and unconventional shapes. Among the collection there were some more classic looks including several square shouldered or off-the-shoulder dresses and a range of trench coats in brown plaid, leather and a golden shearling with oversized collar. His golden beaver coat has a retro-1980s feel . Mr. Gvasalia may have opened a few new doors for Balenciaga, but has he gone too far with this collection?
The Céline fall RTW collection for 2016 was an exercise in relaxed dressing. Elongated silhouettes, wide pants and voluminous outerwear kept things more casual and comfortable, though not particularly body-flattering. A perfect balance of neutral color combinations and fabric selections, these pieces have an ease and luxe appeal for a wide range of women. Long tunic tops do hide a multitude of sins. Dresses with drop-waist belts and cap sleeves are good for many body types. Phoebe Philo did include a few croc pieces and a shearling with croc and leather detail to remind us that true luxury remains an integral part of the brand's DNA. After all, luxury never goes out of style!
John Galliano's brand spearheaded by Bill Gaytten stayed true to luxury RTW and modern wearability. The fall 2016 collection highlighted a nice range of mannish coats with military references and more muted trims that had a "broken in" relaxed appeal. These were juxtaposed against delicate dresses in diaphanous fabrics embellished with bows or ruffles. These can be great basic pieces meant to layer with the season's jackets, sweaters, motorcycle jackets and coats. A collared broadtail vest shown under a textured morning coat was sharp. Everything worn with high top sneakers says "I'm down with it."
A very cool use of pattern creation is found in designer Roland Mouret's fall RTW collection. The silhouettes, like his patterns, are soft and feminine for the overall effect of a very lady-like collection. A honeycomb design with sheer inserts was unique and sexy. It allowed just enough skin to peak out from underneath. Mouret found the most sumptuous red velvet fabric and used it generously. Large circles look like lava lamp bubbles rising up on skirts. Pin dots are used in tights and as an accent on black velvet. It is a small detail with major impact.