Paris Fashion Week Fall 2016 – Winter 2017 Collection Reviews Day 4 Part 2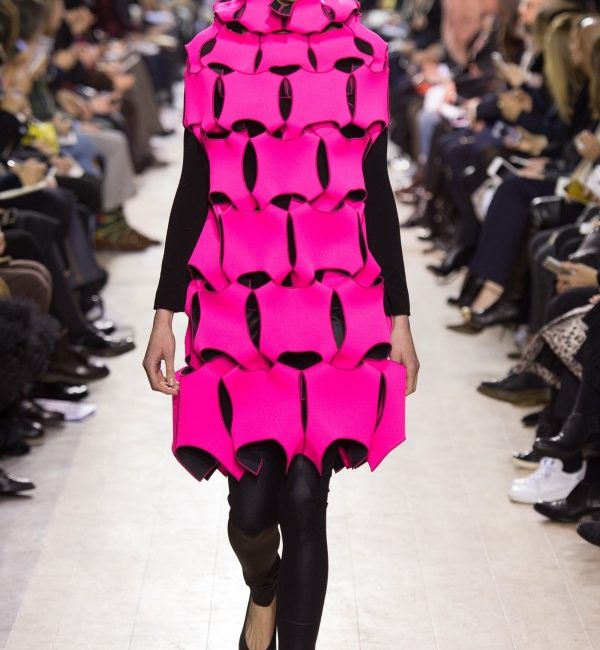 If you drive an electric car, subscribe to global warming, and recycle then chances are you're going to like the concept behind the Junya Watanabe fall RTW collection. Geometric shapes and architectural designs came to life in fabrics made of repurposed industrial material forming a futuristic design vision. These statement pieces were shown over skinny black pants and t-shirts to insure focus. Watanabe's show notes described the pieces by saying that "the geometric shapes are rendered in polyurethane that has been bonded with nylon tricot. It is fabric that is ordinarily reserved for industrial purposes — like lining the interior of a car." Perhaps not the most pragmatic group of dressing options, this collection was more wearable art than true fashion.
Skin-tight pants, plunging V-necks and a bit of skin made for a sexy and powerful statement at Haider Ackermann's fall RTW 2016 show. Metallic animal print leggings were a great start and a cool foundational piece to pick up. The narrow pants served as foil for a range of jacket silhouettes from cropped jackets to long overcoats and boyfriend blazers to a cropped green military jacket that showcased the designer's tailoring skills. We love the juxtaposition of contrasting colors and patterns but the two together didn't add up here. A bright green velvet fabric was introduced in pants and skirts. Another great stand-alone key concept. Break the pieces apart from the whole and you're left with solid separates.
Veronique Leroy continues to be a trailblazer. She's mastered the market in coordinates that mix and match for an easy expression of individual style. Effortless fabrics, smart suiting, and just the right accessories pull her looks together with a touch of 1980s swagger. Ivory long hair curly lamb coats and jackets with their natural tones showing through added softness and whimsy to this collection. Colors of lavender, grey, and olive kicked up the cool factor while bright gold leather was sophisticated and dramatic. Leroy features open weave long dresses and leggings for added visual interest.
We're mid-March and if you've been good and kept your New Year's resolution to lose weight this Mugler collection by creative director David Koma is made for you to show it off. Mugler never has been the designer for the demure. His muse of many years, Grace Jones, epitomizes his strong, fierce woman. From the corset-waisted gladiator skirts to the cinched waists and the oversized embossed croc collars he delivered pure fashion armor. A pop of yellow lightened things up a bit. Thigh high silts in skirts continued to stay on trend for fall. Injected in the dark color palette a few ivory and orange satin skirts and dresses, some with sexy cut-outs, added a softer, even romantic edge.
Another "coloring outside the lines" kind of collection from creative director Jonny Johansson for Acne Studios for fall 2016. Oversized and unfitted silhouettes made from non-traditional fabrics give a feel of confusion and discomfort. "Plastic" suits in shiny red were unforgettable in a bad way – when the model looks like she's chafing, that's not a good thing. Quilted sheen jackets wrapped around like sleeping bags did not enhance and inspire. A pliable rubber material made up mini dresses which were another failed attempt to be truly innovative and interesting. It was all just too hard to understand.