Paris Fashion Week Fall 2016 – Winter 2017 Collection Reviews Day 4 Part 1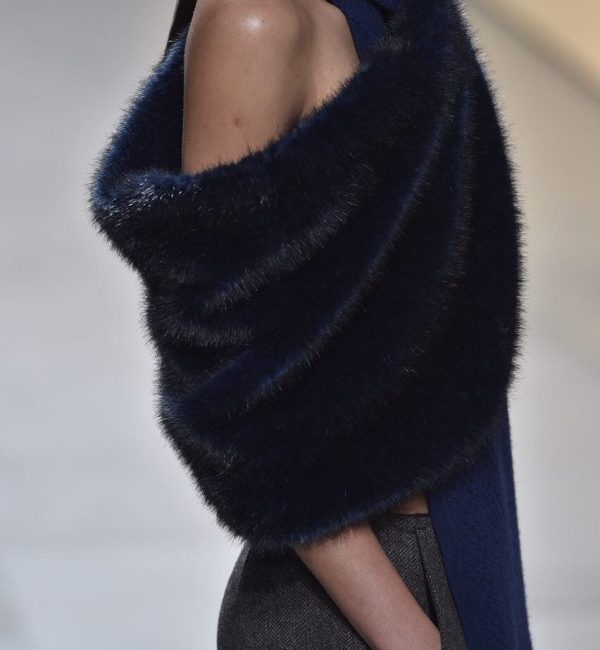 Paris fashion is proving that these designers are masters of fabric manipulation. Draping, pleating and ruching enhance shapes. Designers are not shy about presenting more architectural constructions. Velvet, lace and sheer fabrics continue their dominance here. Midi lengths can now be confirmed as a trend. Voluminous outerwear is making its statement throughout the collections with fur adding the luxe and dramatic touches.
Isabel Marant brought back the energy of the 1980's with a collection that included references of cool club kid looks and preppy wear. Crinkled black and red patent leather mini-skirts, animal prints and trench coats signaled club chic. Argyles and cable knits covered the preppy territory. Marant does a very nice job with plaid topper coats. She uses a generous amount of material to give them movement and a strong presence. Cocktail dresses were bold, ruched with bows or with plenty of ruffles for the edgy girl playing dress-up. The eighties may not be known as fashion's favored era, but this ode to "Suddenly Susan" brings back the best of the times.
A collection with all the trimmings and trappings of a royal Russian czarina. Andrew Gn's fall 2016 RTW was inspired by the formal military uniforms of Nicholas II, the last reining Emperor of Russia. Using cording, tassels, rich embroideries, feathers and fur, his designs reflect an opulence not often repeated today. Cropped capes and fitted jackets are simple yet decadent, adorned with beading. Mr. Gn understands the beautiful advantages of framing the face with fur and he does so with oversized collars of fox, Asiatic raccoon and dyed Mongolian lamb. Curly lamb also trims skirts hems to add to the luxe feel. Andrew Gn delivered a formal affair that has you standing at attention.
Lutz Huelle's fall RTW 2016 show went from the ordinary to the unimaginable. Combining distinctly different silhouettes to create a garment or making unexpected pairings of fabrics the designer creates looks with a downtown edge for the girls who don't always follow the rules. A denim jacket becomes the bodice for a long sequined vest. A royal blue jersey dress gets a set of long sleeves from a leftover sweatshirt. An olive silk bomber jacket forms the upper panel of a camel dress. Sweater dresses with funnel turtlenecks are unstructured and versatile for easy dressing. Huelle features a crinkled patent leather shearling coat with sequin trim that takes things from the ordinary to the extraordinary. A refreshing take on fashion!
Pace yourself when looking at the Emanuel Ungaro fall RTW collection because it's gonna' blow your mind. Fausto Puglisi shows his genius at mixing patterns and colors which explode upon contact. Sheath dresses, midi skirts and cuffed cropped pants are always safe, always appropriate, but never boring when they come in combinations of bold florals, plaids, leopard prints and lacquered lace. Royal blue mink trimmed coats of plaid or floral themes for a dramatic visual pop.
Yohji Yamamoto's trademark minimalism was on display here in a collection of mostly black and white looks. Plunging V-necklines, dropped shoulders and hints of skin gave the collection a casual, slightly sexy appeal. Overall the silhouettes were unstructured and shapeless with a lot of black robes with varying collars and hemlines. But just when you thought that was all, leather comes out as a contrast to the matte black fabric. A shadow technique, the leather slowly fades away down the fabric. First you see it, then you don't. It's like fashion's modern mystery that keeps you wanting more.
Hussein Chalayan's fall 2016 RTW collection was an ode to modernism. Clean, classic shapes came in black and white with crisp white blouses and even-textured knits. Prints of words, digits or computer mappings gave a visual edge without disturbing the austerity. Deep blue rinsed mink provided a soft, luxe touch draped over one shoulder or carried slung low.