Paris Fashion Week Fall 2016 – Winter 2017 Collection Reviews Day 3 Part 2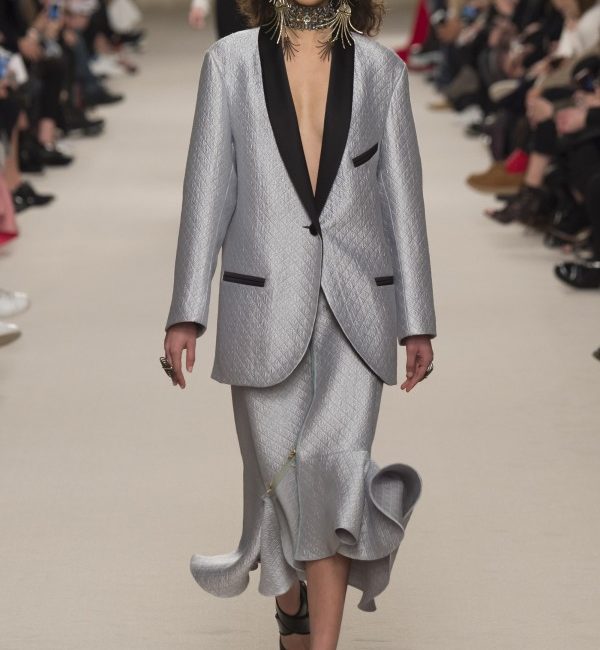 All eyes were on Lanvin at Paris Fashion Week as they presented their first post Alber Ebaz collection and the results were, frankly, a bit disappointing. Sure there were some pretty looks. Delicate lace blouses, an embroidered tulle dress and pleated chiffon skirts offered an ethereal elegance. Rich brocades, metallic lace overlays, and sumptuous velvets bestowed luxury. But the collection lacked a cohesive vision. Some of the silhouettes were loose and ill-fitting. Others were boxy and unflattering. A gold metallic coat with a wide belt was a standout, but didn't fit in. The high notes of this collection came in the outerwear. A navy jacquard opera coat with dyed black Mongolian lamb was exquisite. A coral rinsed fox with a contrasting blush fox collar stole the show.
You really need Spark notes for an abbreviated explanation about what is happening at the Vêtements fall RTW 2016 fashion show and why the clothes look the way they do. This brand and its leader Demna Gvasalia have simply rewritten the rule book on fashion and burned any preceding copies. Urban and edgy politely describe the fall 2016 collection. A mix of F up'd school girl plaid skirts and oxford blouses had a slight punk edge. Henchmen hoodies with skeleton designs or vulgar sayings suggested a darker mood. Heavily padded and exaggerated shoulder treatments showcased skillful tailoring, but looked too costume-like. We are fans of the shiny velvet suits shown in gold and burgundy that had a certain cool factor. This collection may not be for everyone, but it certainly delivers a clear message.
The polished sophistication that has been a Loewe trademark was given a fresh and modern edge this season. Matte silk fabrics, earth tones, long, lean silhouettes and flowing hemlines maintained the urbane feel. But whimsical cat necklaces, metallic gold and black leather bustiers and a dress overlay made of metal rings brought a more youthful vibe to the collection. Loewe's mastery of leather design is well renowned and this season the offerings included a beautiful collarless coat and pant ensemble and some great bags. A basket weave dress was barely there, but still managed to look refined. The blush and black geometric intarsia mink coat was the perfect outerwear statement for Loewe's cosmopolitan clients.
The House of Dior remains true to their DNA of high style and sophistication. Honoring the female form and her sensibilities, the silhouettes are lean and comprised of the most luxurious materials available. Stunning details heighten the allure – a ruffle V-neck trim on a rib knit dress, beaded appliqués on a skirt, and a hint of contrasting fabric at the shoulder of a dress. Portrait collars and shoulder-baring looks add a sensual, elegant flair. Vibrant prints and injections of color keep the energy high. A fitted sheared mink jacket with a portrait collar of dyed chinchilla on one side and dyed mink on the other is sublime. A white sheared mink and black rib knit coat is accented with a stole of dyed chinchilla and fox for a look that is both "wow" and "now". As special as these clothes are, they are accessible too and meant to be worn. I dream of one day answering "its Dior darling."
Issey Miyake takes fashion into a new realm through technology that pulls from the Japanese art of Origami to create sculptural silhouettes from textiles. Accordion pleats and geometric patterns of striping deliver a refractive effect full of excitement and anticipation. Some dresses look like toy Slinkys gliding down the runway. A black and grey Origami coat is spectacular. Varying silhouettes by adding dramatic duster coats or shaping dresses by nipping them at the waist, his creations, though highly architectural, are still crisp and clean and allow for effortless contemporary dressing. This is where art meets fashion – perfect for the woman who is not afraid to make an individual style statement.