Paris Fashion Week Fall 2016 – Winter 2017 Collection Reviews Day 3 Part 1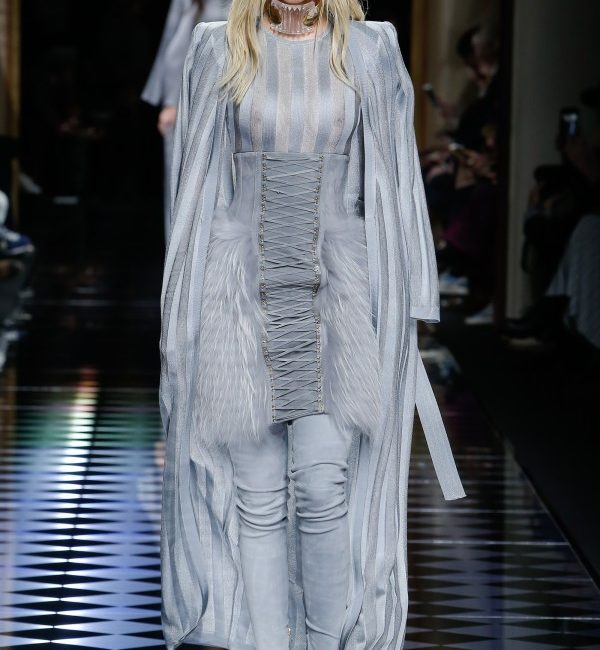 Balmain's clothes defiantly have a place in time, I'm just not sure where. I'd like to say that anyone can pull off thigh-high suede boots, corset tops, metallic waist shaper belts, or side ruffled lace pants but if you're larger than a size 2 and older than the invention of the internet, chances are this fall 2016 collection is a mere pipe dream. Still, it is opulent and gorgeous…the stuff that dreams are made of. Beautiful brocades, luxurious fabrics, pearls and crystals add to the glamorous appeal. Light-as-air feathered fox is used to trim corsets, sleeves, dresses and skirts. Olivier Rousteing, creative director for Balmain, hopes to reach a more voluptuous audience. Using former top model Cindy Crawford and others in his ad campaigns, it's an attempt to be more diverse but this collection is a disconnect from that concept. At the end of the day, though, Balmain's brand is strong and growing so tiny people must be plenty. Nothing wrong with outfitting the bold and beautiful – this collection is fun to look at and aspire to.
Who would think that a mix-up of boudoir looks and military influences could work? But it does in Alexis Mabille's fall 2016 RTW collection. Delicate slip dresses and silky pajamas mash it up with strong statement outerwear. Pin stripes suggest power dressing while pinks and florals add the softer, feminine touch. A kitschy cat theme pops up on prints and is perfectly played out on the illusion top of a dress. Mabille has presented a blend of suited sophistication, sexy seductiveness and plenty of easy-to-wear silhouettes.
There is so much that's right at the Barbara Bui fall RTW 2016 fashion show it's hard to pick a clear winner among the looks presented. Bui chooses a strong color pallet of red, green, purple, and black and skillfully coordinates this in hounds tooth, checks and plaids. A red and black hounds tooth mink intarsia coat with shearling lining was a winner in every way. Leathers are a calling card and provide a polished edge for the Bui girl who takes no guff. Her oversized bomber jacket with dyed green shearling confirms the message. A mini dress with an attached cape is a super cool silhouette, especially when she embroidered a gold phoenix across the chest. Lots of shinny PVC pants add a youthful modernity to the collection. For all the singles ladies, get your Tinder on and an outfit from Bui – you've got a date with destiny.
Rick Owens is a fabric whisperer….he can imagine its capabilities and bend and blend it to create unique silhouettes. We admire the artistry, but in past seasons have felt the clothes were too difficult for most women to understand much less wear. This season he has toned things down just a bit. His shapes, still unconventional and big on volume, don't seem to battle the female form as they have in the past. A rich color palette of soft greens, blues and taupes, deep browns and a vibrant orange give this collection warmth and accessibility. Owens is a purest in his craft and believes that his fashion can't come to life without his blessing or personal touch. He styles each model before her entrance to be sure the draping of each garment is exactly right. Control issues? Perhaps. But this is what insures his message comes through as intended.