OLD SCHOOL GLAMOUR TODAY – Sleeveless or ¾ Sleeve Length?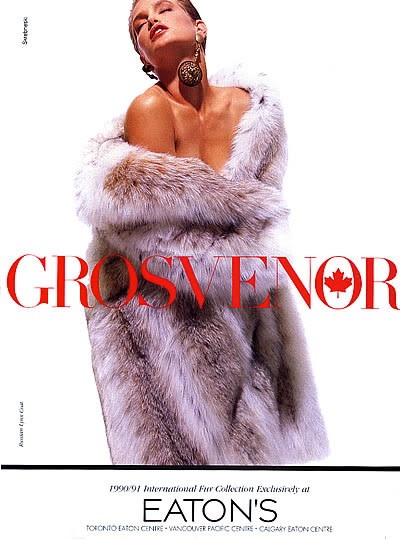 While we immerse ourselves in the Fashion Week madness, we didn't want to leave you without your regular Furinsider fix. So we thought we'd share some useful tips and ideas for those of you who might be thinking about remodeling that old fur coat that Mom or Grandma has generously passed on down your way.
If the coat is from the late 1980's or early 1990's, you are likely dealing with a floor length coat covering your wrist. With that 'baby' you can easily get 2 garments. Think about your options among the many style trends today that can look equally sporty and glamorous.
Why not consider a sleeveless coat/jacket or one with 3/4 length sleeves?
The sleeveless coat is getting some serious media exposure lately. The look may be a little too fashion forward for most, but that changes when it comes to the fur versions. Yes, a sleeveless fur coat/jacket becomes an extension of the super-popular vest and is not only easily adaptable to most wardrobes, it is also a very practical garment. It looks great when worn closed, open or belted (be careful when belting fur as it can damage the hair).
Following the long vest, sleeveless style, the vintage ¾ sleeve length style favored in the 1950's and 1960's is having a renaissance by offering an unexpected modernity to the look. What is old is new again as they say! The ¾ sleeve length is very chic and really cool when complementing jeans or leggings with stilettos or boots.
What really adds to the sleeveless or 3/4 sleeve looks are long gloves. Of course, leather gloves of various lengths can work, but we particularly like opera length for their drama and glamour. These leather gloves can be pricey but bargains can be found at vintage or second-hand stores or the Italian glove maker Sermoneta (when they have a sale). Don't discount knitted woolen versions either (i.e.: The Gap, Hot Topics, Macy's, etc.), they give the look a new, fun spin.
Anyone can look like a million bucks if they tastefully play with their personal style. Creativity is key and "less is more" can work miracles. So whether you opt for a long sleeveless coat or a ¾ sleeve length; either way, you'll look great and will love that coat revamp and the cost savings!
Related articles