NYFW Spring/Summer 2017 Collection Reviews Part 9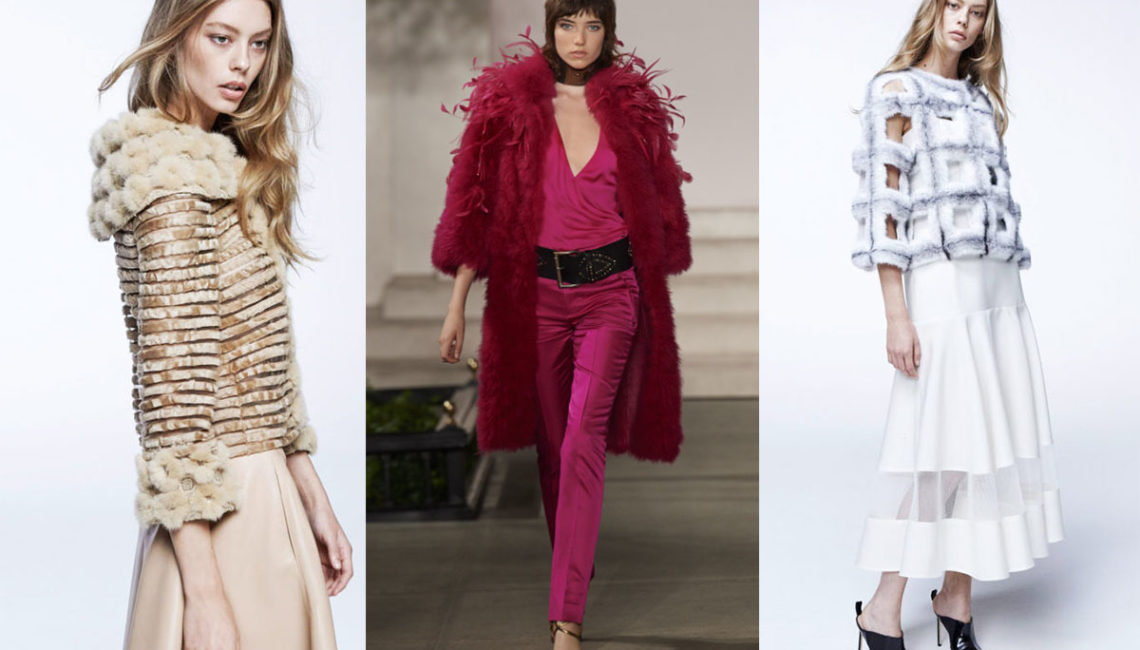 Quite literally there is not a seam or a stitch out of place in the Michael Kors spring/ summer 2017 collection. Reflecting refined and impeccable tailoring, the clothes gave a sense of a woman who's in control. Clean lines and sharp tailoring make for smart looking clothes. Crisp trench coats and coat dresses had a working girl kind of feel. Mixed in were delightful patterned jersey wrap dresses, ruffled skirts, and some open-weave knit wear.  Soft pastels and pretty florals evoke spring…but repeating these florals in browns and blacks was perfect for the "see now, buy now" customer. There is a reason he is the king of American Sportswear…nobody does it better.
Gilles Mendel was NOT messing around when he created his iconic J. Mendel collection for spring 2017. He said of the collection, "This season, I wanted to get back to the real DNA of the house. People come to me to see beautiful things and modern heirloom dresses. It's about the touch, the feeling, so I find it so important to show the workmanship up close." A master at fur design, with this collection he has also proven that lace is his milieu.  Plisse pleated gowns and dresses were pure elegance, exemplifying exactly what Mendel meant when he talked about the heart of the brand.  As always, he remains on the cutting edge of fur design and he introduced some exciting, innovative looks for spring.  A cut out window pane sheared mink was just the right example of vision, craftsmanship, and a one-of-a-kind quality that his followers expect. A pale pink, delicate, ribbon trimmed caplet dotted with tufts of mink was as if it were made for a tiny princess.
We can totally get behind a guy who wants to evoke a sense of happiness and gratitude when creating a collection. That's just what motivated Bibhu Mohapatra for spring 2017. "It's all about the good times and appreciating what we have," Mohapatra said. Regrettably, it required a fine tooth comb to sift thought the melange of dresses to find our happy place. Color combinations of split pea soup green and periwinkle, patterned fabrics that must have been the last of the bunch on the fabric bolts, and high sheen satins that looked like old prom dress material obscured the fresh, modern silhouettes.   What was indisputable was Mohapatra's master manipulation of fabrics in plisse pleats, sculpted ruffles and well-chosen decorative details.
Statuesque and refined glamour defined the Naeem Khan spring RTW  2017 collection.  The show opened with striking black, white and red gowns that were picture perfect. Khan, well regarded for his elegant gown creations, didn't stop there. Moving through, he added intricate patterned dresses made of small beads that evoked a fine Persian rug design. Khan said he wanted to go back to his roots of "simpler, cleaner silhouettes".  If his idea of "simple" comes in the form of bright yellow, full-length petite demi-fringe so fragile that it looked like sparkly feathers, well then, job well done. For the rest of us, we're glad Khan can't help but go over the top with his rich designs.
How the heck did Ralph Lauren get them to close down four lanes of Madison Ave. for his show?? That's power!  Just when we thought we've seen it all in western wear, Ralph Lauren stepped up his game presenting a fall 2016 collection for the "See Now, Buy Now" crowd that was fresh and new. Heavy on the southwestern influence with the requisite fringe, metal buckles and leathers, buffalo plaids and native-American inspired prints, these were polished, handsome looks. Pinstriped pants with floral embroidery paired with a buffalo plaid, low-cut shirt was positively perfect. The intarsia lamb poncho with fringe is one of fall's strongest outerwear statement pieces.  Shift to eveningwear…and there were some simple, sultry looks.  A fun red lamb coat with ostrich feather detail was pure fun!
There was a bit of the fun good girl gone naughty in the Georgine Spring 2017 collection.  Satin slip dresses made a base layer for fluid topper coats. Cut-out dresses hinted at what's lurking beneath. She offered metallics that were liquid and luscious in their movement and continued to push the limits of attraction by showing a vibrant line of red, purple and yellow separates that were more outspoken. Having fun, she added fur looks including the heart shaped fox bags in a variety of colors. A cross body wrapped fur boa became the perfect halter top for day-to-evening and the spotted yellow and black fox jacket was perfect for the girl who doesn't take her fashion too seriously.
Related articles