NYFW Spring/Summer 2017 Collection Reviews Part 8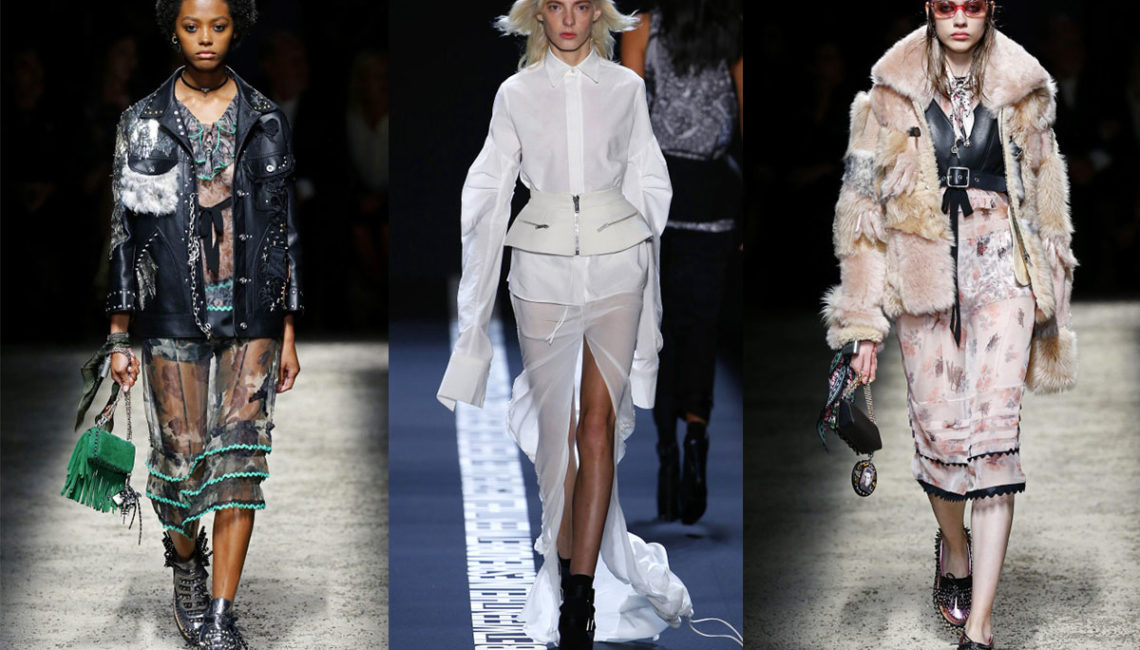 As Spring/Summerr 2017 continues its march down the runways one thing is clear; this season pays homage to a softer, more feminine approach to dressing.  Yet there are still plenty of strong, street-wise looks and a healthy dose of ath-leisure to cover all those daily wardrobe needs.
Tory Burch's meteoric rise in the ranks of the fashion elite has been nothing short of spectacular. She tapped into the appetites of young millennials and Gen x'ers with new money to spend. Classic and tailored, with a bit of funk, her clothes mix and match so well it takes the guess work out of what to wear the morning after too many white wines after work. But her spring 2017 collection was more reflective of her mother's wardrobe lounging in Palm Beach – dare we suggest Lilly Pulitzer-like? One too many moo-moos and maxi dresses made us wonder what's hiding under there. Please Tory, bring back your classic cool we know and love.
Stuart Vevers took a bold departure for Coach 1941 with a SS 2017 collection that was full of hard-edged urban armor.  Heavy on the metal studs and leather fringe, it had a "western wear meets motorcycle mob squad" vibe.   Pretty floral lace dresses under matte black leather and grommet studded jackets flooded the runway.  Strong outerwear for the "See Now, Buy Now" fans included a hot red biker jacket detailed with floral appliques and studs and a plush shearling patchwork coat.  Tough girl chic is a new fashion favorite among the "it" crowd and Coach played right into that demand.
Sometimes designers create collections to show off their forward thinking and pay homage to the craft. That was very much the case for Vera Wang in her spring 2017 RTW collection. A razor sharp collection of modern, powerful looks in all black and white, this presentation showcased architectural silhouettes and precise tailoring.  But perhaps she went too far?  Some of these silhouettes looked like mummy wrapped zombies and others were just hard to work into a wardrobe. Mini-skirts with trains attached gave a billowy feel to the otherwise heavy noir color scheme. Off the shoulder blouses with sleeves that dangled past the knees exemplified Wang's top-notch tailoring but were very hard to appreciate in the wearing. Wang put forth a few bubble gum pearl decorated skirts and dresses. Beautiful on the runway, we imagine these would, quite literally, be a pain in the a$$ when sitting.
Someone just opened the door and let all the glory of spring 2017 in and it was designer Stacey Bendet of Alice + Olivia.  A perfect balance of bright, happy colors in patterns that made the fabric dance, there wasn't much that a girl can't fall in love with. This was occasion dressing that required no occasion. She added just enough pleats, ruffles, embellishment and flair to create looks that were easy on the eyes and heavy on fashion creativity without being over the top. The styling was what really set Bendet apart. Cross body bags, large spec sunglasses, head scarfs, and other easy boho chic accessories added a layer of cool girl's style we absolutely love!
How do you define fashion that is cool, modern, chic, effortless, clean, and necessary?  Narciso Rodriguez. His spring RTW collection for 2017 can't come quick enough for us and every other good fashionista worth her salt. Rodriguez showed himself to be a master artist in cuts and tailoring with sleek lines, smooth fabrics and striking color combinations.  The high contrast of black against white, orange and silver added to his powerful message. These basic building blocks in dresses, duster coats, and pant suit separates will infuse life and style into your everyday routine.
The ladies who lunch crowd are going to clamber over who gets to buy what from Zang Toi's spring 2017 RTW collection. Replete with regal, sophisticated pantsuits and hourglass fitting dresses, the matte silk fabric gave a luster that emanated money and class. Zang has become one of the go-to designers for the ladies and gents who want to make an entrance. Plenty of clean, modern daywear looks in luxurious fabrics and dramatic, elegant evening wear to cover a range of styles. Zang played with soft lavenders and rich violets with embroidered wisteria detail that was just simply beautiful.
Related articles