NYFW Spring/Summer 2017 Collection Reviews Part 5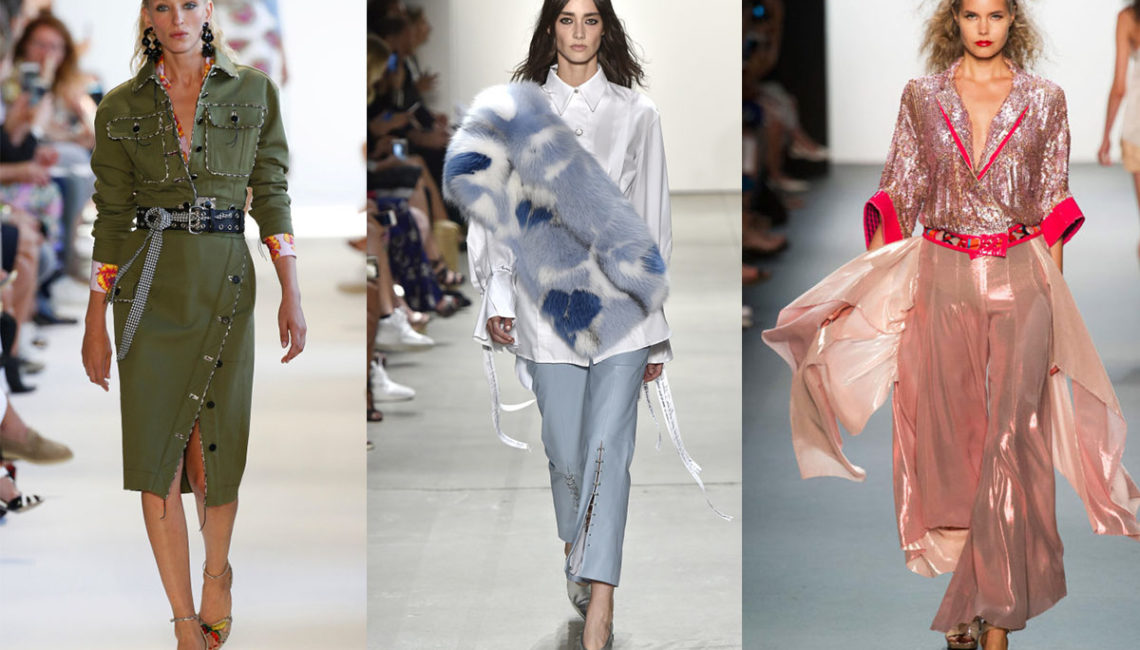 Sure hope Alexander Wang's summer 2017 collection comes with an instruction manual on how to get in, out, and wear his RTW. Wrap around ties criss-cross the abdomen in such a puzzling way; it might take you a day to get dressed. His show was a hybrid mash-up of spring looks for men and women, resort 2017 for the more immediate buys and a debut of looks from his Adidas Originals collection.   For the girls, looks ranged from the pretty, flirty silk and lace lingerie tops to the tomboyish cropped shirts over drawstring shorts.  The menswear had an easy downtown summer-in-the-city vibe.   The sheared white mink bathrobe was the ultimate in casual decadence….Wang's way of thumbing his nose at convention.
Son Jung Wan tried to resurrect the 70's disco vibe for SS 2017 but not to great effect as the sherbet colored patent leathers and metallics gave way to brightly colored and bold patterns more fitting for a garden party.  Wide candy canes stripes and hounds-tooth were the dominant pattern markers, lending a more juvenile feel to the collection.  We've been a fan of past collections but this one seems to miss the mark. All is not lost though, we do respect the craftsmanship and detail work that went into these  garments and are certain that this presentation was an anomaly.
Fragile, flirty and feminine, Prabal Gurung's spring/summer 2017 collection offered everything a girly girl could want. Ruffles, an emerging trend for the season added the requisite feathery movement to his garments.  Soft satins, luscious leather, and plush intarsia fur looks enraptured our every fantasy.  Pleating and draping brought a sophisticated elegance that would work equally well on the pretty-young-things and their moms. Even the metal detailing on skirts and pants couldn't put a hard edge on this collection.  A personal favorite was a salmon colored evening gown with thigh-high silt and long bell sleeves with accordion pleats. There was something so sensual that remained in our memory.
 For Carmen Marc Valvo spring was in the air when he created this SS17 collection. Textured lace, floral appliques, and bows were on the menu on silhouettes that included bubble dresses, strapless tops, tea length hemlines and bathing suits.   It was a collection of separates perfect for the easy, breezy days ahead with a range of looks could take you from the beach to the brunch to the ball.    This season he expanded his menswear coverage, providing looks from a tank top and shorts to a fanciful brocade blazer and ribbon striped jacket and shirt that still managed to look masculine. Was this grouping too heavy on dresses for cotillion parties, proms, bridal parties or other events of the social season?   Perhaps, but this arena has always been his strong suit and his clients are sure to respond well.
 An iconic embroidery detail once reserved for Moschino and Dolce and Gabbana, the cherry and lemon showed up on Altuzarra's  spring 2017 RTW collection. Nothing wrong with that though. It is a happy, festive decoration reflecting the spirit of the clothes.  Floral prints and lively gingham continued the joyous tone as did the midriffs and ruffles that seem to be everywhere this season.  What was super exciting and unexpected were the extraordinary python dresses and accessories. The diaphanous evening gowns that closed the show were refined and delicate.
 Cartoonish, outlandish, and tongue-in-cheek, Jeremy Scott's spring 2017 RTW collection is sure to turn heads.   Mr. Scott knows how to have fun with fashion; delivering looks that may, at first, seem a bit outrageous.  But upon further examination even the less iconoclastic among us can get away with some of these clothes.   This season there were plenty of wearable pieces sure to elicit a smile.  An advertorial feel with bold graphics, bright colors and unexpected twists, this collection asks you to take a second look to allow the full effect to sink in.
Related articles